Everyone has a different perception of the best cloud storage and file-sharing platforms. There are numerous options to choose from, and that's where it all becomes confusing. To clear this confusion, let's first understand the working of cloud storage in more detail and all aspects a user should consider before boarding with these platforms.
While purchasing a new phone or a laptop, we all check its specifications like which CPU, RAM, and GPU it has, how much the storage capacity is, what display technology it has, etc. If you look at the storage capacity, there are two types HDD and SSD.
Nowadays, users prefer SSD over an HDD, and the reason is simple – SSD offers fast read-write speeds, is compact, has no moving parts, etc. Allegedly, most users prefer SSDs to store the files they need more frequently. Some users have taken it to the next level by installing and running a whole OS like Windows from an SSD.
Well, that's all about a home user. But what happens when many people work on the same project and need to access the local storage? Local NAS (Network-attached storage) is an option for this arrangement, but what if someone wants to work from home or a remote place? That's where cloud storage comes into the picture.
What is Cloud Technology?
Computer systems are steadily shifting from local storage to remote, server-based storage- also known as the Cloud. Cloud is some remote server wherein you store your files and can access them from anywhere in the world at any time using the internet. It automatically solves the problem of multiple people working on the same project. That's why Cloud technology is widely used in offices. It's not only limited to corporates. Home consumers use Cloud technology all the time, too. We stream music and video rather than playing from our devices. By keeping our documents and media in the Cloud, we can enjoy the content anywhere at any time.
Now that you have a fair idea of what the cloud is, it's time we go through everything you should check before selecting the cloud storage service that fits your needs.
Selecting the Best Cloud Storage
The first thing to check while choosing any cloud platform is the storage space it offers. Several platforms are offering from 5GB to 1TB free cloud storage. Each one of them provides distinctive features. As users, we should choose the one that best fits our needs. Some of the features are listed below:
Offered storage space
Security – Data encryption
Upload and Download speeds
Privacy policy
Inactivity policy
User interface
Referral system
File Sharing options
Reliability
Collaboration options
Sync features
Maximum file size allowed
App Availability across platforms
To make this decision easier, We've curated the best cloud storage, file sharing, and syncing platforms to help you decide which are suitable for you.
pCloud is a swiss company offering 10GB of free storage. You can claim 7GB storage upon creating an account, while users can avail rest of 3GB storage by completing tasks such as uploading a file, downloading the mobile app, or referring a friend to use their service.
There are no restrictions on file size. You can upload the file of any length that your storage space allows. They also offer a versioning feature wherein pCloud stores versions of your files for a specific period.
According to pCloud, it keeps five copies of each file, distributed to different servers, with 256-bit AES encryption applied to them, resulting in a solid and secure architecture. They also offer an additional client-side encryption (meaning the data is encrypted before it leaves your device) for a fee of $4.99 per month or if you opt for lifetime plan, it costs you $125.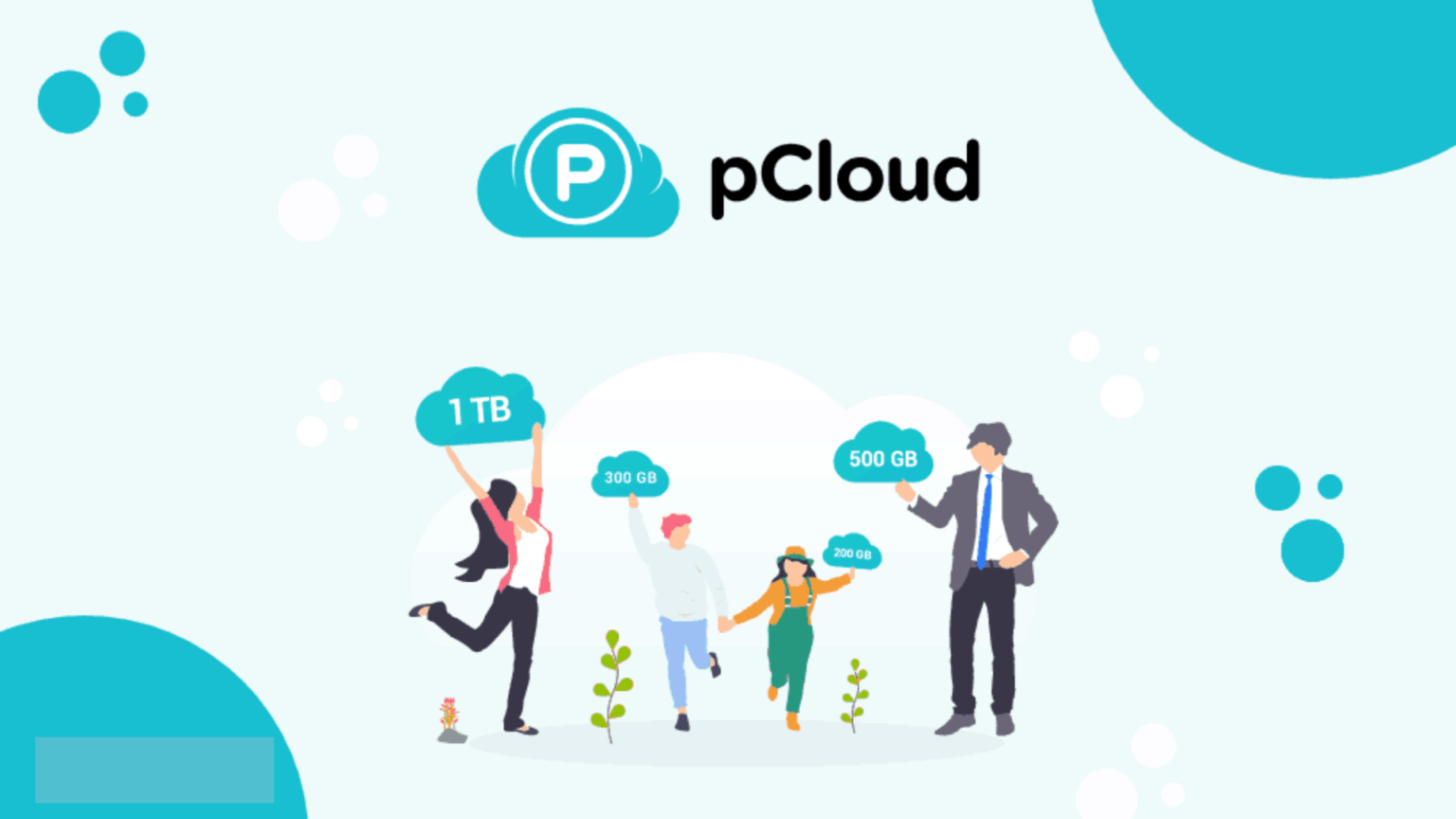 Pricing:
Annual Plan: 500GB for $49.99 per year / 2TB for $99.99 per year
Lifetime Plan: 500GB for $175 one time payment / 2TB for $350 one time payment
Available across all the device platforms and OS.
Unlimited users and device plans are available.
Built-in media player for streaming.
Lifetime license available
High-Speed performance
An additional amount is charged for features like pCloud Crypto or Extended File History.
pCloud does not have in-built features for file editing. Users can only preview their documents in the web interface.
Support is good but not the fastest out there.
Mega is a New Zealand-based company. Earlier, they offered generous 50GB free storage to new users, but now they are providing 15GB. They reward additional storage for something called 'achievements.' Users can unlock some of these achievements by installing the Mega app and inviting a friend to their service. However, there is a problem with this scheme. The bonus storage is different for each achievement. Not just that, but the bonus storage doesn't last a lifetime; it's temporary with a range of expiration dates from 30 days to a year.
Mega has tight security in place, with end-to-end encryption protecting your data even when in transit between your device and their servers. It uses your password as a data encryption key, meaning even Mega can't access your files. That being said, if you lose the key (that is your password), you'll be in trouble leading to no choice but to forget about the data. All these things considered, you still get 15GB of free cloud storage.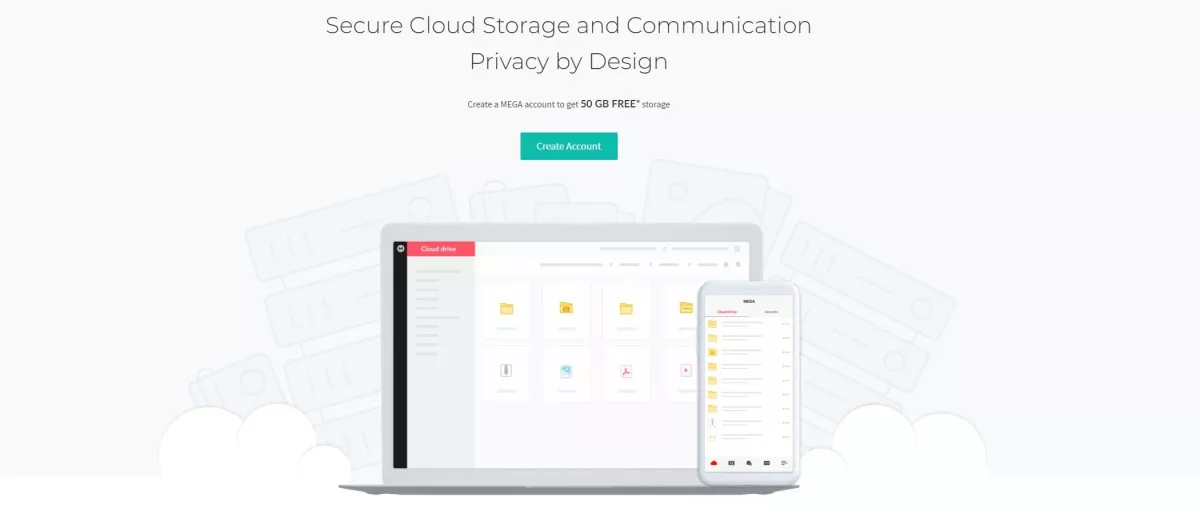 Pricing:
Monthly plan: 400GB for $5.70 / 2TB for $11.41 / 8TB for $22.83 / 16TB for $34.25
Yearly plan: 400GB for $57.08 / 2TB for $114.18 / 8TB for $228.37 / 16TB for 342.56
Fast upload and download speeds.
Selective sync feature available.
End-to-end encryption.
Offers 15GB Free, which can be increased by completing achievements.
2-FA enabled
User-friendly interface. The dark mode is available.
Limited Bandwidth, which varies according to the plan that you have chosen.
Automatically chooses server. No choice is offered to the user.

Some of the stakes in Mega are owned by Chinese investors.

They remove copyrighted content when it is reported to them.
Sync is a Canada-based platform and offers plans for individual as well as businesses. Like Mega, Sync also offers end-to-end and 'zero knowledge' encryption, which means it encrypts data on your device before sending it to their servers.
As the name goes, Sync.com synchronizes files between your devices. They have an app available for almost all the popular platforms, including Windows, macOS, Android, and iOS. Currently, they are offering 5GB of cloud storage for free.
Part of the Sync app works like Google photos. It automatically uploads pictures and videos to the cloud. It also allows previewing PDF, Word, PowerPoint, and Excel documents in its app and web version, making it a good deal for businesses and people looking to collaborate.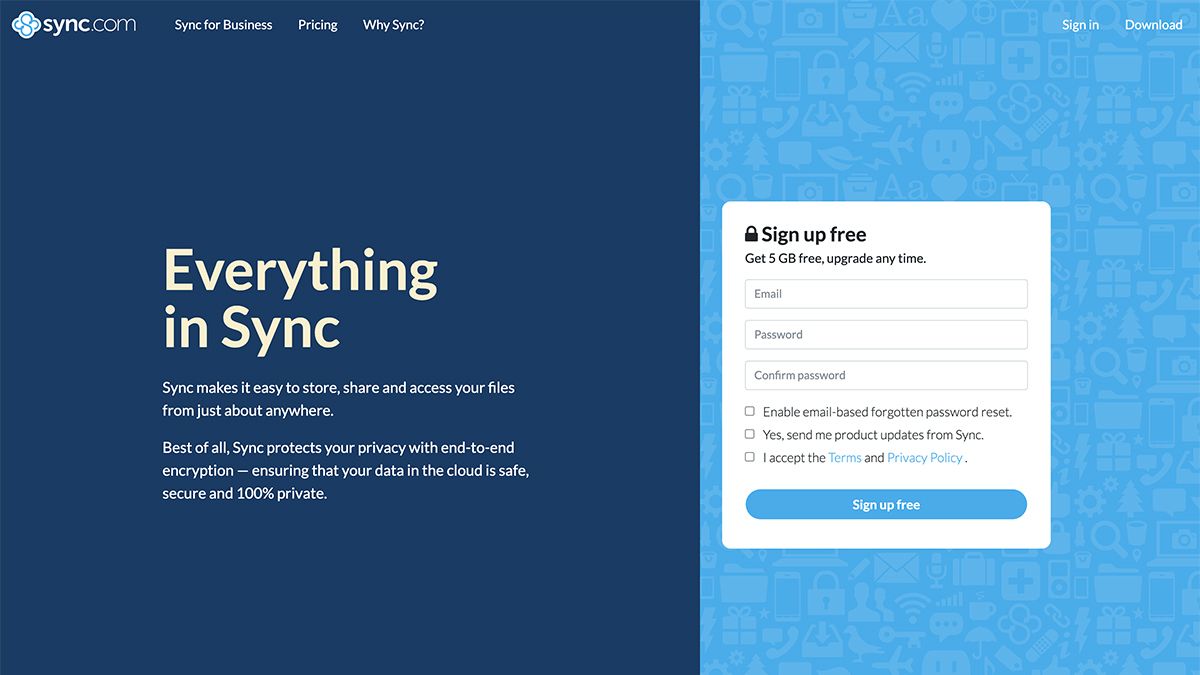 Pricing:
Monthly Plan: $8 for 2TB per month, billed yearly / $20 for 6TB per month, billed yearly / $24 for 6TB, billed monthly
Zero-knowledge encryption, which means nobody except you can access your data.
You can set passwords and expiry dates for your shared links.
Allows users to upload files without registration.
Do not collect unnecessary data from the users.
Lets you restore the previous versions of your files.
2-FA enabled
Sync the files present only in the 'Sync Folder.'
Inconsistent Speed across the globe.
The interface is very basic and needs improvements in design and user-friendliness.
UK-based Icedrive is a cheaper and excellent solution for personal use. Icedrive offers 10GB of storage for free. Its interface is clean, minimal, and very easy to use. Like all other services, Icedrive also has a desktop app, web version, and mobile app for streamlined access.
One of the exciting features Icedrive offers is its intelligent cache control. It is designed for providing near-instant sync speeds from one device to others.
Icedrive also offers a mountable cloud drive, meaning it creates a separate drive on your device, which is similar to you connecting a USB to your computer.
You can stream your music and video files right on their app without downloading the files. The same is true for files that you share with other people. While accessing the shared files, other users don't need to have an Icedrive account.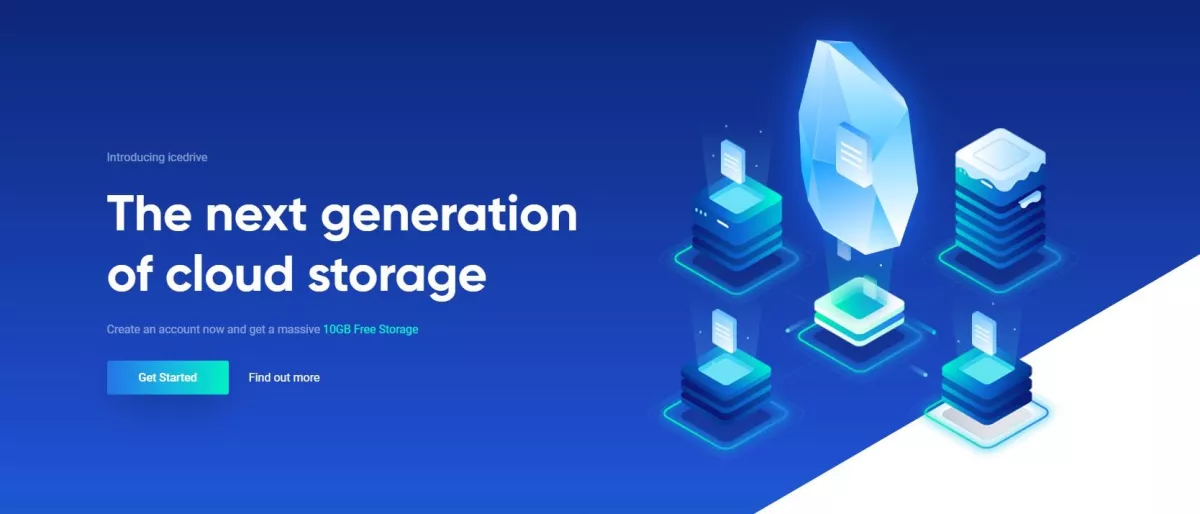 Pricing:
Yearly plan: $19.99 for 150GB / $49.99 for 1TB / $179.99 for 5TB
Lifetime plan: $149 for 1TB
Servers being in Europe upload and download speeds are lightning fast.
Icedrive is GDPR Compliant and provides zero-knowledge encryption.
It has the best and most modern interfaces with a superior design.
Icedrive Supports drag-and-drop upload.
Being a new platform, many of its features are under development.
2FA is unavailable right now, which is essential for the account's security.
Lacks the Selective Sync function. All the folders are synced by default.
If you are a photographer and looking for ample storage online, then Degoo is for you. It is a Swedish company with some of its servers in the US. Degoo offers a whopping 100GB of free storage for anyone making an account.
Degoo Cloud offers 256-bit zero-knowledge end-to-end encryption, with which your data is encrypted before the Degoo app sends it to their servers. It also has its application available for desktop, Android, and iOS. It also has designed a separate app for Huawei phones since the new Huawei phones are banned from accessing Google Play Store.
While Degoo cloud seems promising, there's a catch! With the free plan, you'll get served a lot of ads. Moreover, you can use your account on three devices, and your account gets canceled if you keep it idle for 90 days. These issues disappear when you upgrade to the paid plan.
There is a provision to get more free online space by watching ads, which in return gives you <1GB per ad watched. You can get 500GB more by referring Degoo to your friends and letting them make an account. You get 5GB for each friend that joins through your referral. There is no upper limit to how much storage you can earn for free.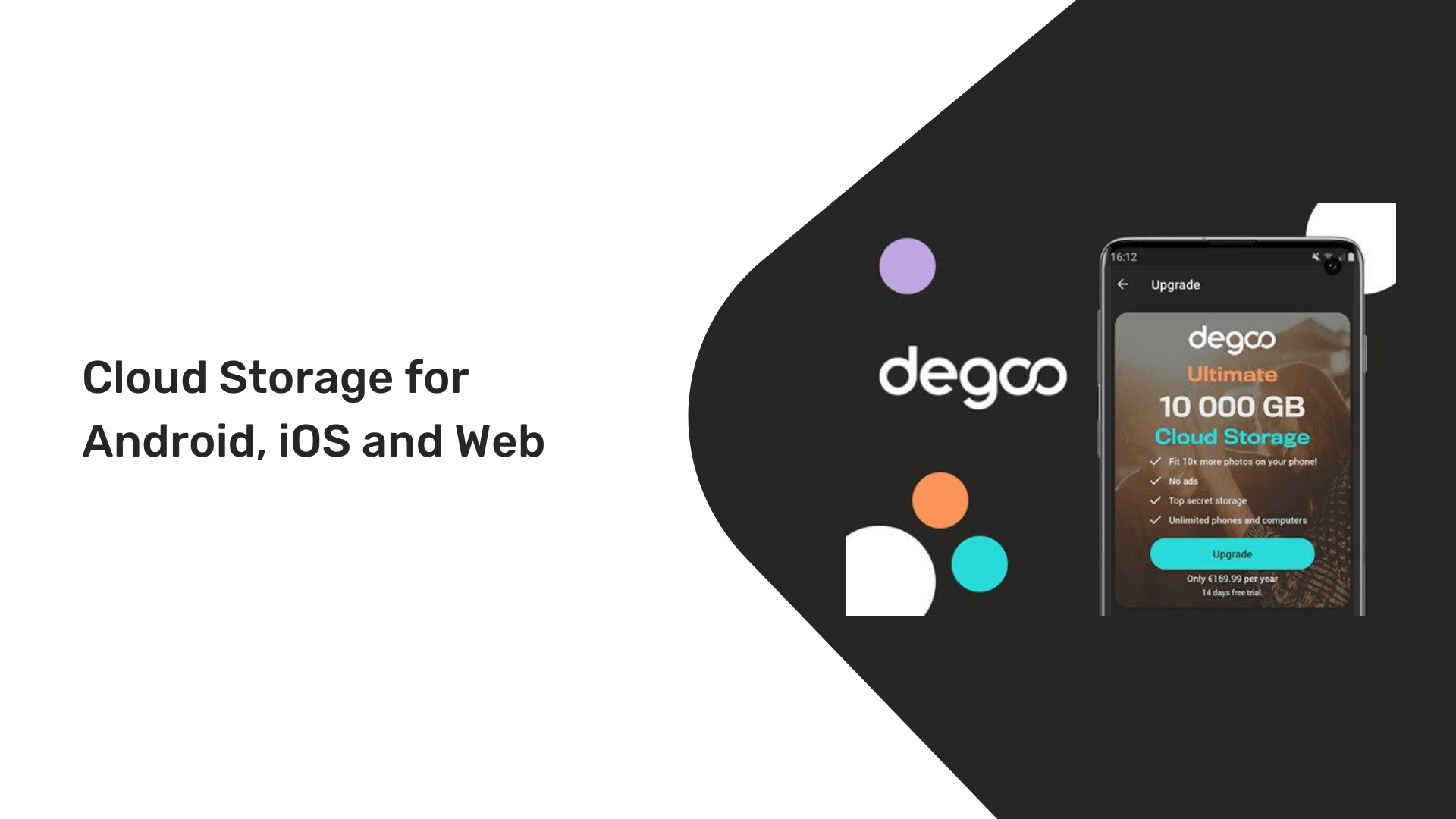 Pricing:
Monthly Plan: 500GB for $2.99 / 10TB for $9.99
More storage than most services.
Multiple ways to earn more free storage space.
Decent upload and download speeds.
The website is hard to navigate.
Shows ads.
The free plan doesn't provide zero-knowledge encryption.
Deletes account if a user is inactive for more than 60 days.
No 2FA support.
Supports maximum file size 512MB only.
Summarizing the Best Cloud Storage
All the cloud storage platforms mentioned above are similar in some way. We use Icedrive here at DroidThunder for collaboration work. So far, the experience has been great.
I would suggest you choose the platform according to your needs. If you are looking for a secure solution, pCloud and Icedrive are a way to go, whereas if you want more space, then MEGA and Degoo are the ones you should check out.