If you are an Android user, you must have come across Custom ROMs. It is nothing but a modified version of the Android operating system with a few tweaks, features, and improved performance. Every Android device has a preinstalled Stock UI or a custom Android skin. However, these official versions are limited by plenty of restrictions from the manufacturers.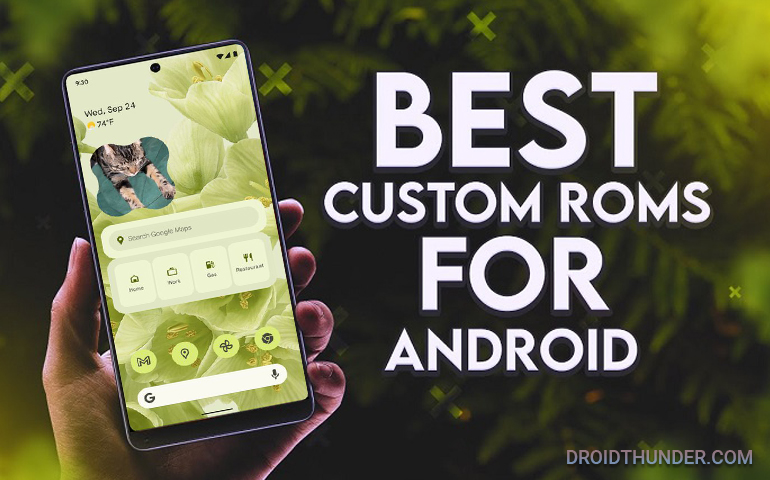 That is why users prefer to flash Custom ROMs on their Android phones. Besides, a custom ROM offers the latest Android OS with a feature-rich interface, more privacy, customizations, better battery life, and no bloatware. Even though Android smartphones have gotten better over the decades, it is still totally worth flashing a custom ROM. Believe me, with custom ROMs; you'll have complete freedom and control over your Android device.
What is a Custom ROM?
Based on Android source code, a custom ROM is a third-party operating system that replaces the Android stock ROM or skin on your device. Moreover, custom ROMs give you more choice and control with more features on your device. If you are tired of waiting for the official Android OEM updates, it is better to flash custom ROM and immediately experience the new UI.
Once Google rolls out the source code of a new Android version, the developer's community starts working on releasing custom ROMs with the latest flavor. As a result, plenty of Android custom ROM distributors are in the market. However, many provide unstable, buggy ROMs that are not for everyday use. However a few third-party distributors offer unique firmware with small or drastic changes in the custom UI.
Advantages of Custom ROM
There are various advantages of installing a custom ROM. If you are stuck on an older Android version and your phone's OEM has stopped providing software updates, you can easily install custom firmware based on the latest Android OS. If your Stock Android has many ads or bloatware, you can flash a custom ROM and get rid of them. Overall, if you want to change your Android experience, Custom ROM is the best way to go.
To flash a custom ROM, you need to unlock the phone bootloader and install a custom recovery. Moreover, don't forget to take a Nandroid backup and update USB drivers. Furthermore, you can install GApps and get Google services as well. These technical terms might sound a little too much for you if you are a newbie. But trust me, I've been there as well. For me, it all started back in 2012 when I came across an XDA guide to root and install ROM on my Samsung Galaxy Fit.
My Experience
Initially, I was scared and hesitant to implement the process. The fear was not about failure but instead about bricking the phone and making it useless. Thankfully, everything went well, and I successfully flashed my first custom ROM. I was stunned and happy with the enhanced performance and the unique features. There was no looking back after that. I started flashing different custom ROMs on my device, one after another.
If you are confused and unable to choose which custom ROM would be best for your Android phone, this guide is for you. We've mentioned the most popular custom ROMs that you should try in this article. We've personally tested these custom ROMs on Redmi Note 8, Poco F1, Poco X3 Pro, Redmi Note 7 Pro, Poco M2 Pro, Redmi Note 10 Pro, Mi 11x, and Samsung M31s. Have you ever installed Windows 11 on your PC? If yes, then the ROM flashing process is quite the same. Wiping or overwriting the memory of old Android software and system files and replacing them with new ones, that's it. Don't worry, flashing a custom ROM is safe and easy.
Best Custom ROMs for Android
Are you bored of using the same old Android UI? If yes, then my friend, it's time for you to enter the world of custom ROMs. Below is the list of the top best custom ROMS for Android that are most downloaded and popular. Try them out and breathe new life into your Android device!
1. Pixel Experience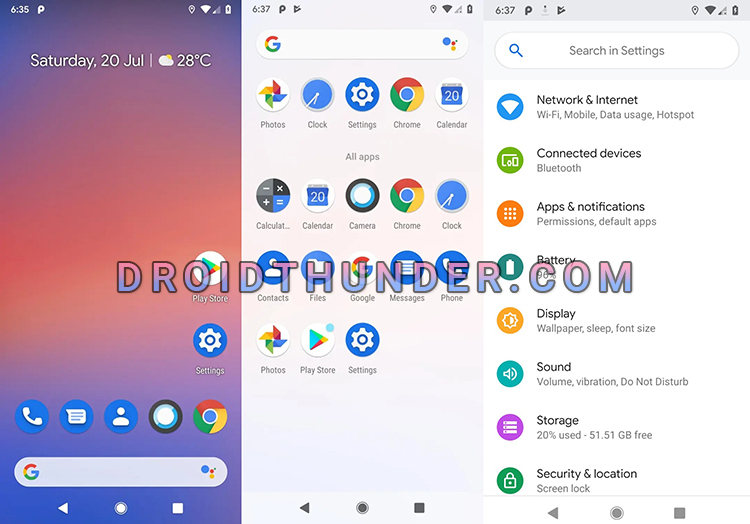 If you are a fan of Google Pixel and love its UI and simple aesthetic, you should try out the Pixel Experience project. Pixel Experience is an AOSP custom ROM based on stock Android. It supports many Android phones from Samsung, Xiaomi, Realme, Asus, and Motorola. Pixel Experience delivers a stable and secure OS with fewer customization options than other ROMs.
Moreover, Pixel Experience aims to offer plain vanilla Android with several Google apps such as the launcher, widgets, wallpapers, icons, font, launcher, lists, and boot animation. All the credit goes to Henrique Pereira, the developer of Pixel Experience.
---
2. LineageOS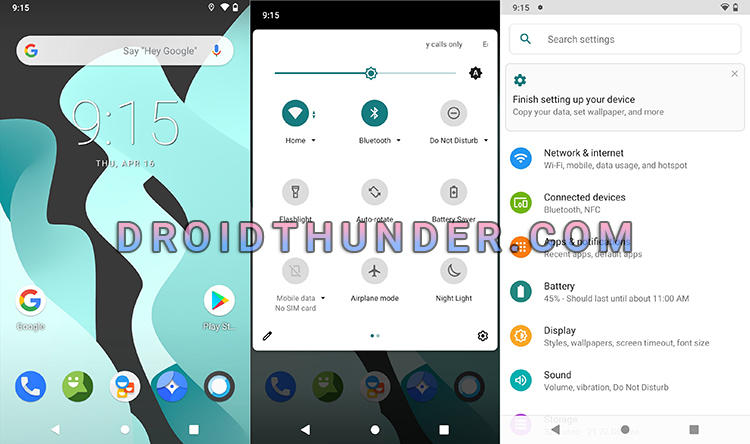 Do you remember CyanogenMod? There was a time when CyanogenMod was the only name that came to our mind when anyone talked about custom ROM. However, due to internal conflict and drama, Cyanogen Inc. discontinued CyanogenMod in December 2016. The developer community then rebranded the project as LineageOS.
Based on the Google AOSP source code, LineageOS supports over 200 Android devices. This lightweight ROM offers various customization features that result in high performance and versatility. If you are looking for a fast and stable custom ROM with timely nightly builds, then LineageOS is a perfect choice.
---
3. Paranoid Android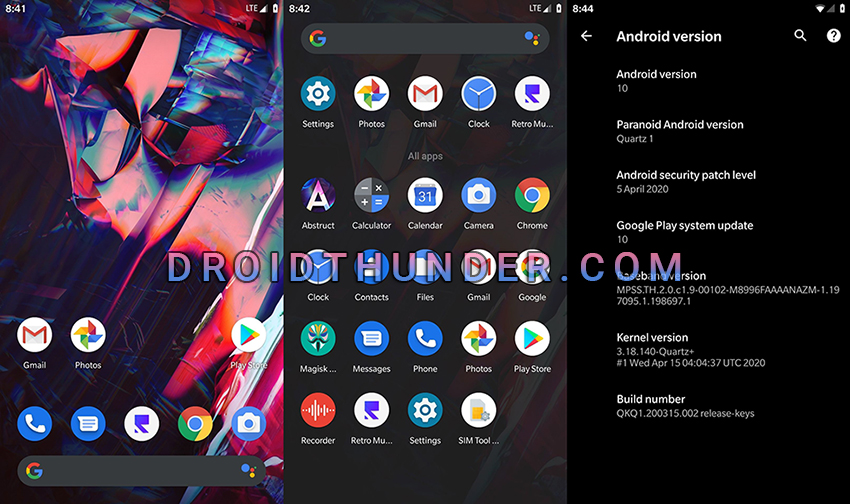 Along with CyanogenMod, the other most popular custom ROM was Paranoid Android, aka AOSPA. Paranoid Android was first rolled out with the Android ICS version in early 2012. It was one of the most downloaded custom ROMs a few years back, after which it shut down. However, with Android 10 OS, Paranoid Android made a comeback.
This firmware offers a soothing and polished user experience with Pie control, tablet UI, Halo, and Dynamic System Bar. Besides, Google brought many Paranoid Android features, the biggest being the Ambient Mode, available in PA as Peek. If you are the owner of Samsung, Redmi, or OnePlus, we recommend you try out PA once.
---
4. Evolution X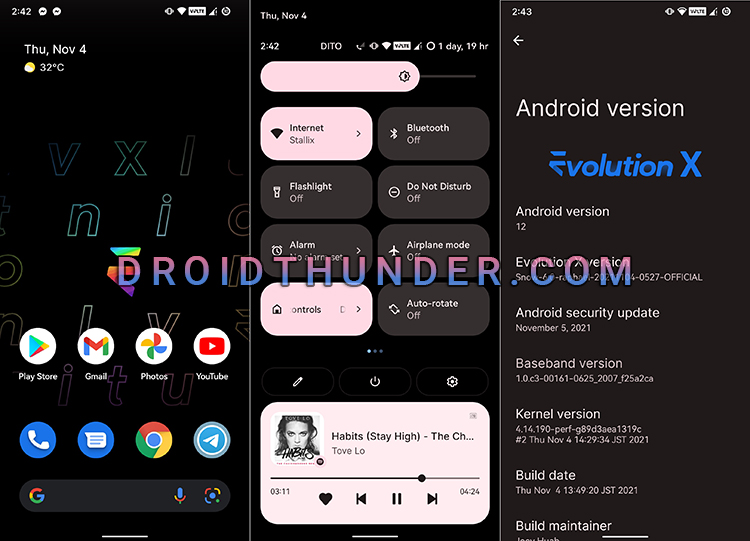 Pixel Experience offers vanilla Android UI with minimum customization. But if you want the same stock Android aesthetic with plenty of customization options, then the Evolution X project is best for you. With Evolution X, you can get the same Google Pixel experience with more control over your device.
In simple words, this custom OS is a stable version of Resurrection Remix. Evolution X builds are rolled out regularly with monthly security patches. The uniqueness of this ROM is that it features both the stock camera apps and Google Camera. Besides, it also provides gaming mode, status bar visibility toggle, and quick settings tile.
---
5. Corvus OS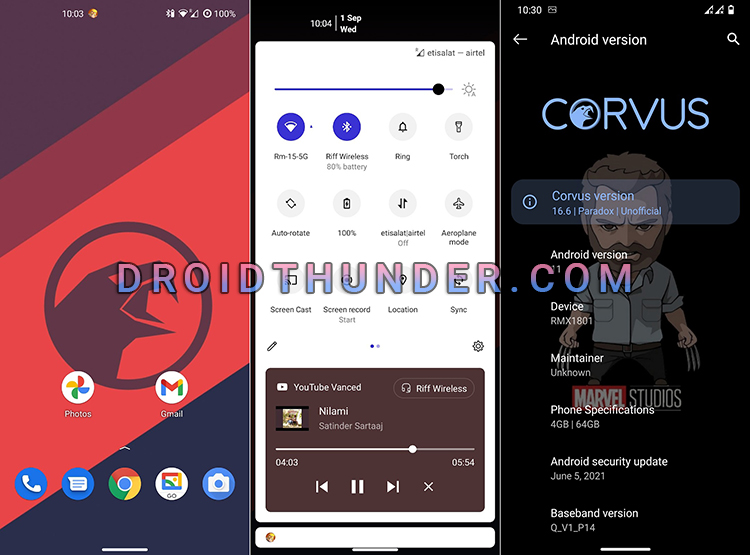 If you want the best custom ROM for gaming, especially PUBG, download Corvus OS ROM. Inspired by Dirty Unicorns, this ROM sports many features mainly focused on gaming. The Corvus OS features include the Ryzen kernel, Game mode, and Hydra kernel. Moreover, Corvus OS limits the heating issues of your Android device. This Android gaming ROM is another retarded ROM with several retarded customizations.
The main objective of Corvus OS is stability and compatibility with many devices. Furthermore, Corvus OS offers a system accent picker, theme scheduling, font customization option, additional notification, and lock screen features. Finally, we can say that Corvus OS is not just the best gaming custom ROM but a full-featured customizable ROM.
---
6. DotOS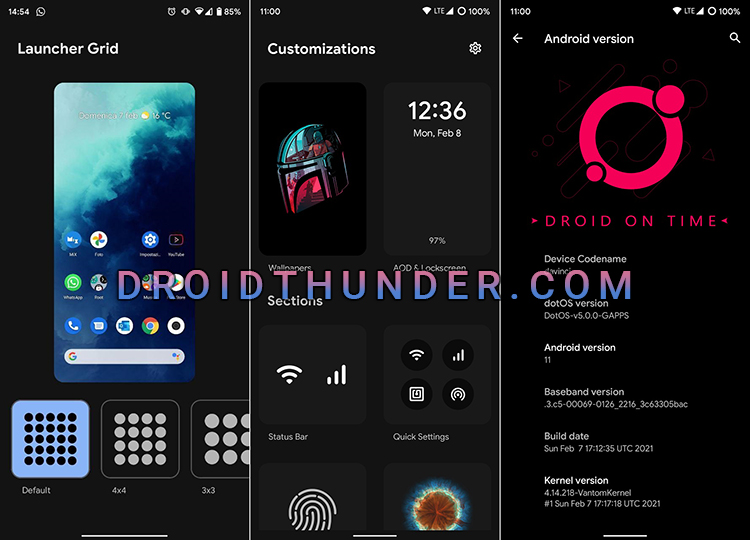 You are wrong if you thought CyanogenMod was the best customizable ROM available for Android. DotOS takes customization to the absolute next level. For users looking for something different from what LineageOS offers, DotOS may be worth trying out.
You'll notice that DotOS looks similar to MIUI yet offers all the perfect features for everyday use. Moreover, Dot OS features a smooth, sleek, and fast UI without sacrificing stability and battery life. Besides, DotOS looks similar to many other custom ROMs. However, use it for a week, and you'll notice its true potential.
---
7. Havoc-OS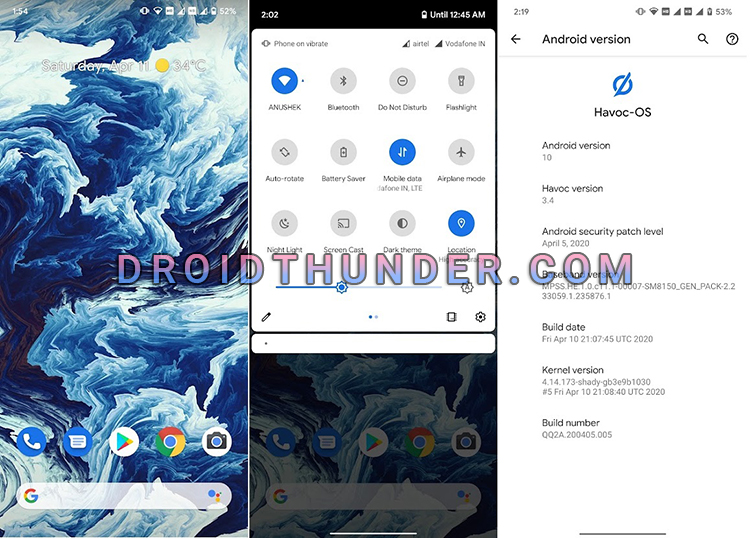 Havoc-OS will be a perfect fit for your device if you want simple and minimalistic features in a ROM. This Android firmware offers a clean and neat user interface that can be easily customized. Havoc-OS is best known for its all-around performance without needing a custom kernel.
Besides, if you want a clean Pixel-like experience without compromising customization, try it once. Based on AOSP, HavosOS supports more than 160 Android devices. Additionally, more new smartphones and tablets are added to the development community. Material design 2.0 is a unique and special feature that users are most excited about.
---
8. AOSP Extended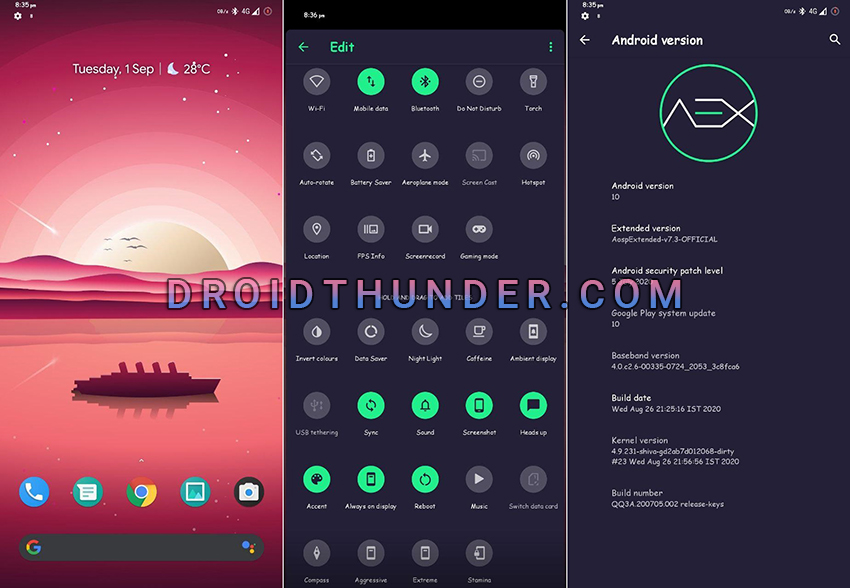 You might encounter bugs in LineageOS or Paranoid Android, but you'll never notice a single issue in AOSP Extended ROM. AEX or AOSP Extended custom ROM is directly derived from AOSP with a massive list of extensions at the top. Due to its stability, AEX ROM has had over 1.2 million downloads worldwide.
With AOSP Extended, you get the vanilla Android experience with support for a decent range of devices. Besides, this firmware update features a customizable navigation bar, Android gestures, system tweaks, etc. Moreover, you can also get official OTA updates regularly.
---
9. Arrow OS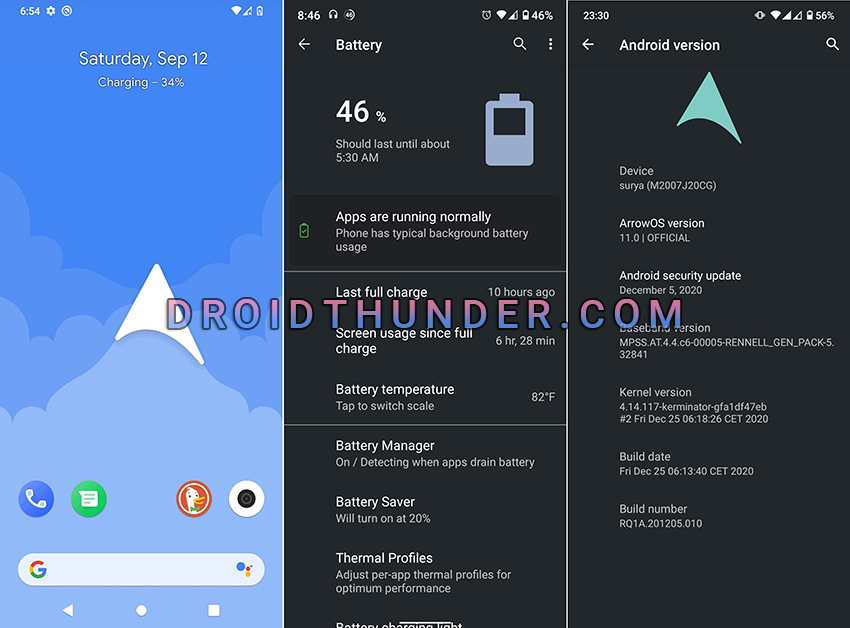 The Arrow OS project is one of the most lightweight and functional custom ROMs available out there. Moreover, it is based on the AOSP code while adding useful tweaks to it. The main aim of Arrow OS is to keep the UI simple, neat, and clean. If you are looking for custom firmware with minimalistic features, then Arrow OS is right up your alley.
Additionally, the developers have added a handful of tweaks to deliver smooth performance with better battery life. The result is a lightweight custom ROM with comparatively better performance and reliability than the stock Android.
---
10. Bliss ROM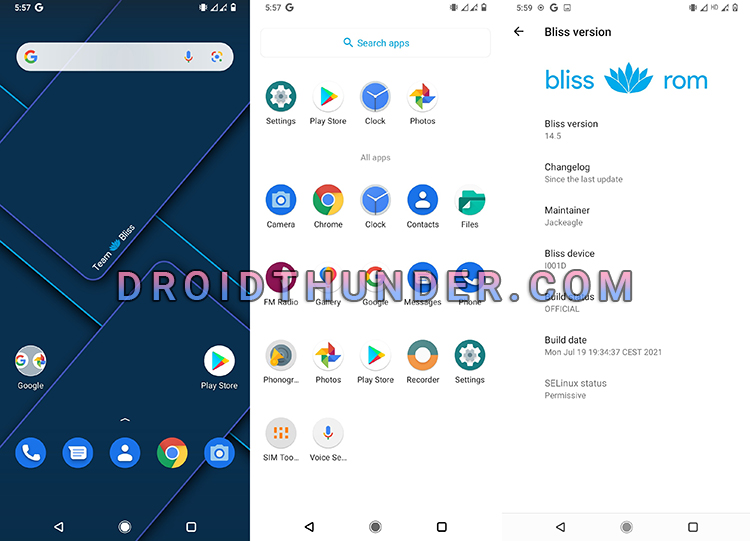 Although Bliss ROM is new in the Android ecosystem, it still has huge potential. The main attraction of Bliss is that it is available for Android smartphones, tablets, and Windows devices like Surface Pro. Moreover, Bliss offers a customized launcher and desktop mode that takes the overall experience to the next level.
Some of you might not like the new system navigation gesture that Bliss ROM offers. However, we cannot disapprove that we need different Android skins to reshape the boundary of user interface design. Besides, Bliss also improves the complete visual aspects of any Android device. This makes Bliss different and special in its own way.
---
11. Resurrection Remix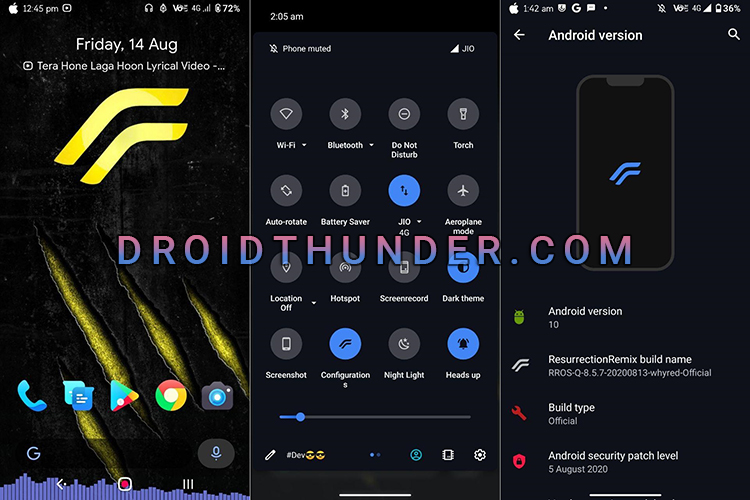 Resurrection Remix is undoubtedly one of the most feature-packed and well-known names in the Android ecosystem. It has a separate fan base for its theme collection. Resurrection Remix offers combined features from Lineage OS, Paranoid Android, Slim, and AOKP. Moreover, Remix also brings enhanced performance, customization, and battery life compared to many custom ROMs.
The latest software update features built-in call screening, live caption, multi-camera API, bubble feature, 5G support, improved call quality, smart replies, and direct audio streaming support. Additionally, Resurrection Remix has a settings panel from which you can change the themes, animation, and lock screen interface. If you want to try something new, give it a shot at Resurrection Remix ROM.
---
12. Descendant OS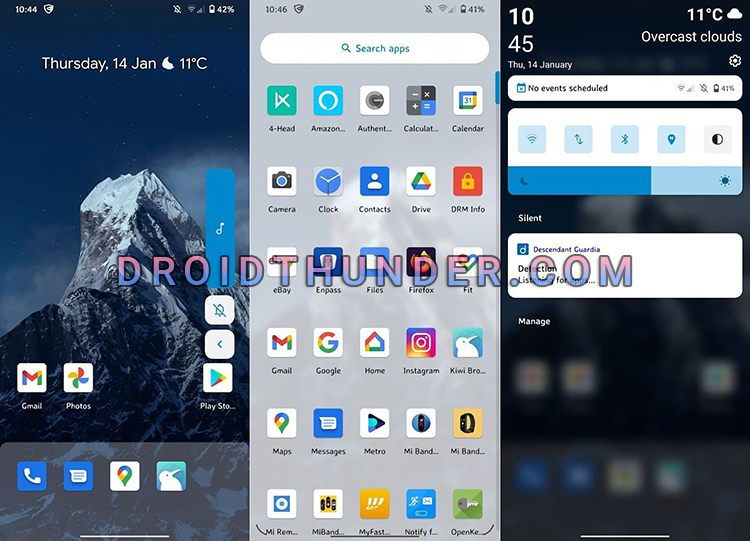 Originally distributed as a Generic System Image (GSI), the Descendant OS is known for its innovative features and the vanilla Android experience. Some of its features include a secure keyguard, UI overhaul, lock screen minus one page, custom ringtones, and emergency mode. Moreover, Descendant OS also brings a new custom dialer, quick settings tiles, and privacy guard from LineageOS.
Furthermore, the Descendant Health feature can keep you updated with instant notifications regarding your health. If your phone screen is continuously on for more than 60 minutes, Descendant will immediately notify you, thus improving battery life. You can also get sleep notifications with tips when the phone interferes with your sleep.
---
13. Derpfest OS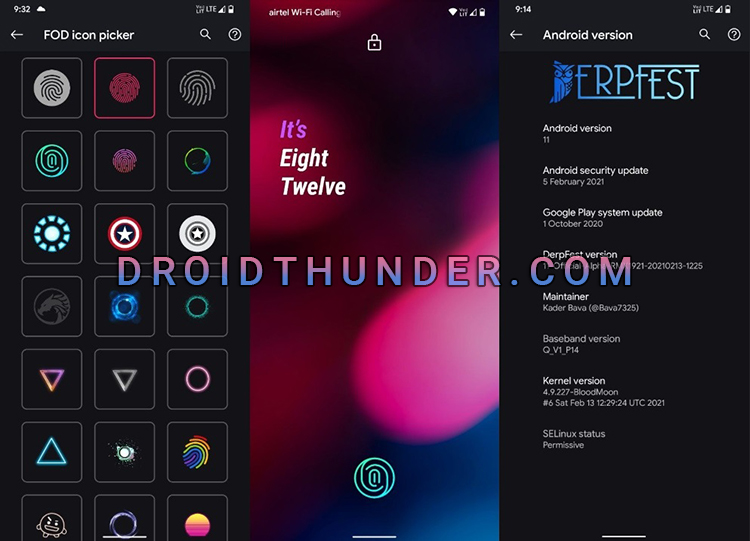 This is the first custom ROM built by some newbies that incorporates the best features. It started with the AOSiP for OnePlus 5T based on Android 9.0 Pie. Due to its immense success, the community built DerpFest OS, which changed the meaning of customizations. DerpfestOS ROM opens up with a third-party launcher called Lawnchair.
With this highly customizable launcher, you can alter every aspect of your home screen UI. You can change absolutely everything from the icon packs, grid style, and colors. Besides, This DerpfestOS also offers a new background blur effect. As soon as you launch the notification center, you'll notice a gorgeous blur effect that gives a premium look and feel.
---
14. crDroid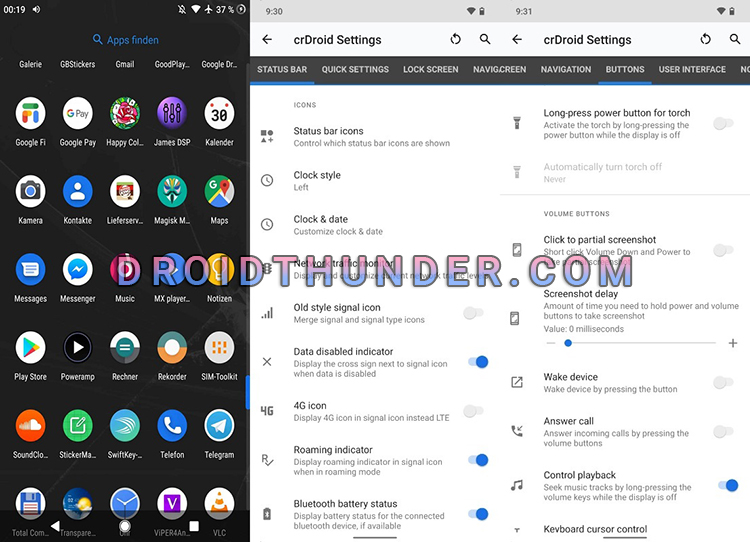 crDroid was first rolled out for Xiaomi Poco F1, running the Android 10 OS. It immediately grabbed the attention of users. After that, crDroid was launched for several other OEMs. The main aim of crDroid is to offer improved performance and reliability over stock Android without compromising the best features.
Although it looks pretty similar to the LineageOS ROM, it offers additional eye-popping features. A few crDroid features include the AOSP (Android Open Source Project) Camera, Visualization toggle, face auto-unlock, Arm-v8a optimizations, Optimus drunk upstream stable kernel, fingerprint authentication vibration toggle, crDroid File Manager based on Amaze file manager.
Like the Google Pixel device, crDroid shows the recent and most-used apps in the overview window. The most talked-about feature is the Android gesture navigation system, recent in the overview menu, and system accent color-changing options. Moreover, it also sports gesture replacement in the navigation panel. You can use this feature to bring back the old classic 3-button navbar.
---
15. Project Sakura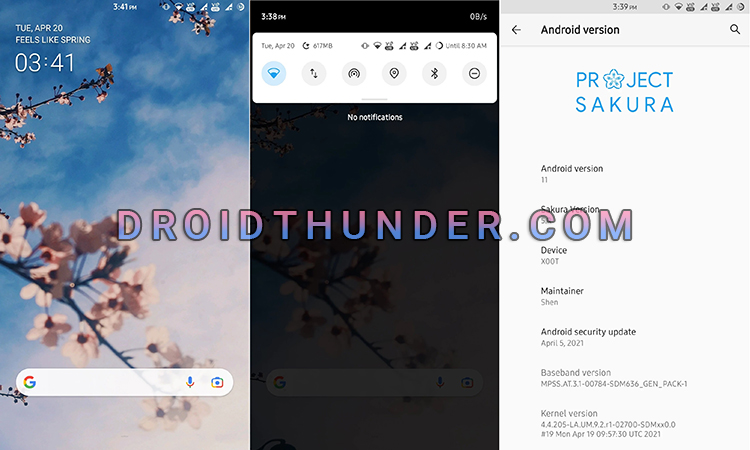 Based on LineageOS, Project Sakura is a feature-packed custom ROM. If you own a Samsung Galaxy phone running Exynos, you might know how difficult it is to unlock the device's bootloader. For Exynos variant users, there's good news. You can easily unlock the bootloader and flash Project Sakura to enjoy the newly launched Android OS.
Along with Samsung, Project Sakura supports Asus, LeEco, Lenovo, Meizu, Moto, OnePlus, Realme, and Xiaomi. Install Project Sakura and get a simple, clean, and minimalistic stock Android experience. Additionally, this custom firmware also offers plenty of visual refinements such as themes, screen locking animation, Magisk module, icons, and fonts.
---
16. RevengeOS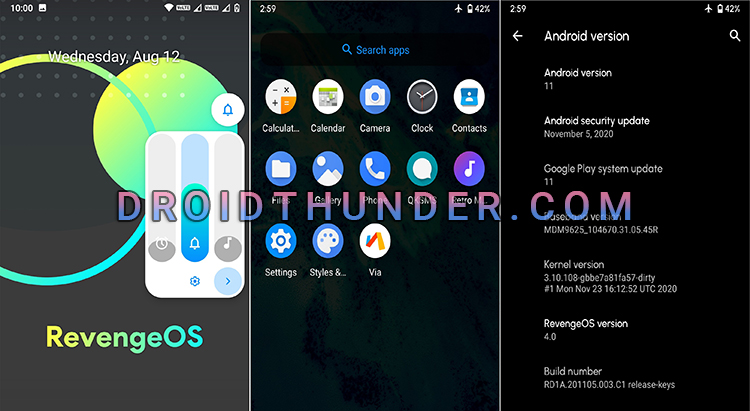 Revenge OS is best for those who want to experience Paranoid Android and AOSP-based goodies. Yes, Revenge OS gives you all without the need to root your Android phone. Besides, Revenge OS brings fast, stable, and minimal customization and a user-friendly experience. The ROM comes with a non-Gapps version means you have to flash the Googe Apps package file separately.
The remarkable thing about Revenge OS is that it allows users to create their own themes with the new built-in theme engine. Additionally, it sports a fantastic battery life without using many resources. It seems that the developers are taking some kind of revenge against the rival custom ROMs. That is why the name RevengeOS. It might be true; we never know!
---
17. OmniROM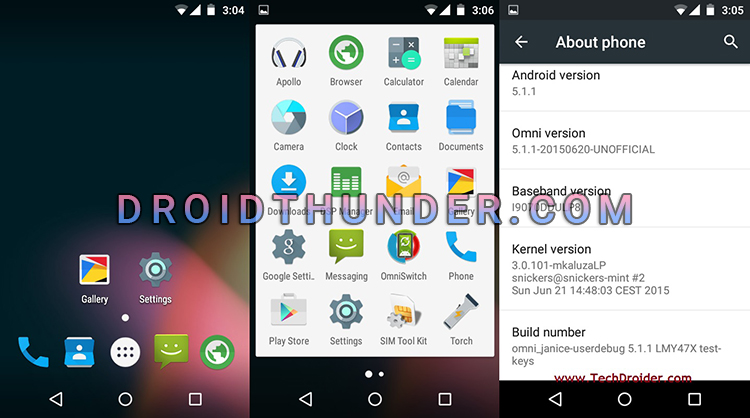 The former CyanogenMod developers developed Omni ROM. There is nothing much to talk about the Omni Custom ROM except that it won't disappoint you. When it comes to legacy, compatibility, experience, and stability, there is nothing like Omni ROM.
With Omni ROM, you can get OmniSwitch app-switcher, active display, Flick2Wake, OmniJaws weather widget app, and open delta update utility features. Furthermore, you can alter the notification drawer settings by activating a background image and configuring shortcuts for a specific time. Moreover, you can make 10×10 dimension icons and shortcuts with a single click.
---
18. Superior OS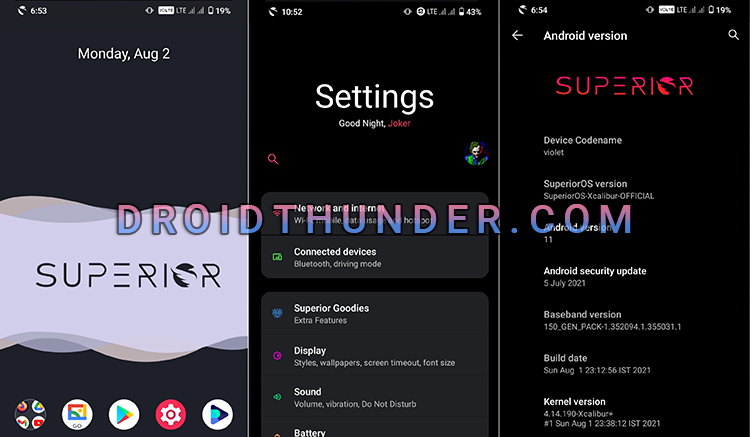 Do you want the best custom ROM for PUBG and COD, then Superior OS is the one for you. If you search in the Android ecosystem, you won't easily find the Superior OS ROM. This is because Superior OS is a unique and simple ROM designed for a few Samsung and Xiaomi devices.
Besides, it is one of the most stable custom ROMs to come into the sea of Android custom ROMs. This ROM allows you to customize your themes and filter out your notifications. Though not heavy on features, this ROM lets you alter the device settings that you would have never expected before.
---
19. Syberia OS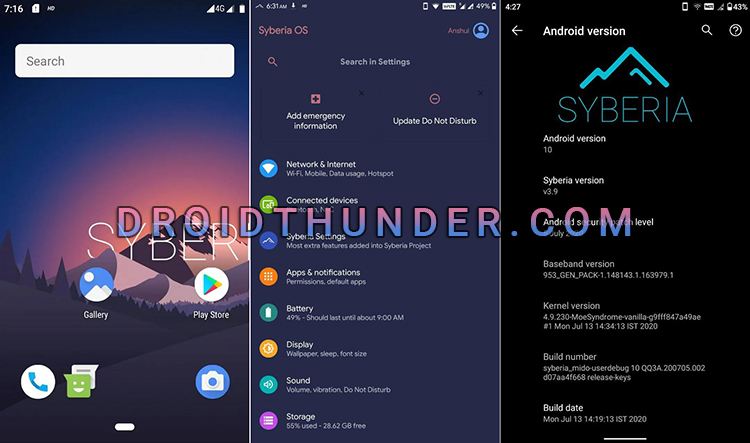 For people who love stock Android but want additional features on top, Syberia OS is the one to consider. Built on top of AOSP/CAF, Syberia OS features almost everything you'd want in a custom ROM. Despite all of Syberia OS's features, it is stable with no lag issues. You can easily get a smooth and lag-free experience with the Syberia OS.
Syberia OS gives more flexibility to customize pretty much everything in the ROM when it comes to customizations. Syberia OS also offers weekly OTA updates, Wakelock and alarm blockers, Custom switch tiles, Screen off animations, and Volume key music control.
---
20. MIUI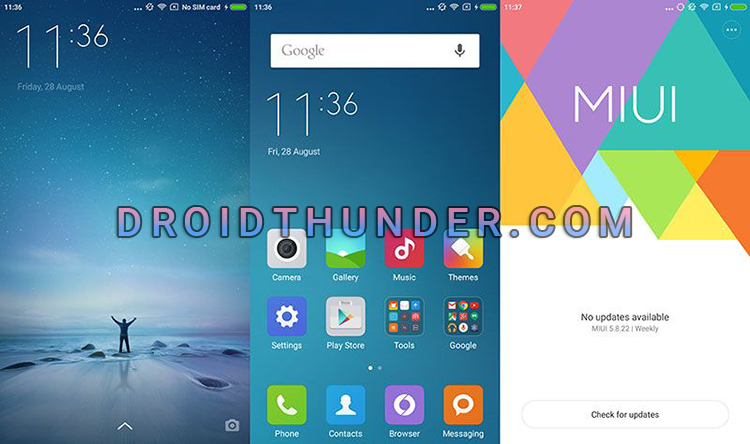 When MIUI came into the market, everyone saw it as a cheap makeover and replica of iOS. However, over time, MIUI evolved and proved its true potential. Like the iPhone, MIUI ROM removes the app drawer and places all the applications on the home screen. Most of the ROMS mentioned in this list sport the same look as the stock Android.
But MIUI is the only ROM that has its own uniqueness. Since MIUI has tremendous customization options, it results in high battery usage. This is the main reason why users avoid flashing this firmware. Another good thing about MIUI is its software and security updates. The developer's community offers authentic and watery-mouth features for every Android version. Personally, I don't like MIUI, but if you are a fan of Xiaomi UI, then definitely give it a try.
---
21. AOSiP ROMs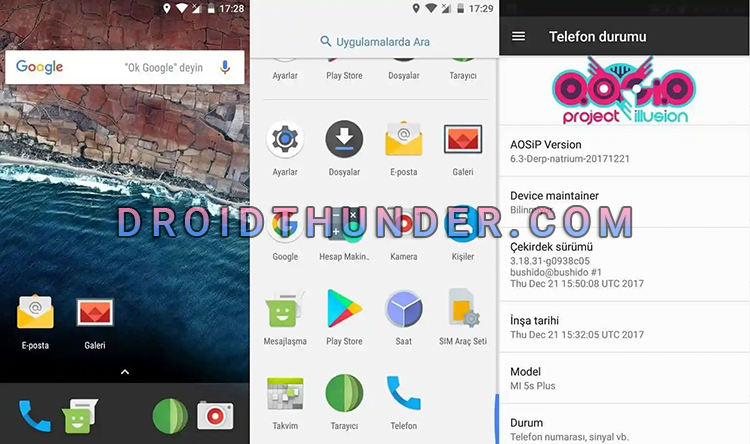 AOSIP stands for Android Open Source Illusion Project. Since AOSIP is based on AOSP, you can get a mixture of features handpicked from all over the Android development community. The main aim of AOSiP is to provide stability, security, and quality features. Therefore, there is less chance that you'll face bugs or lagging issues in this AOSiP ROM.
Moreover, AOSiP supports more than 60 Android devices with compatibility for a few older models. Most importantly, this firmware has pretty good privacy and a GNU privacy guard. This gives cryptographic solid protocol encryption to the device. AOSiP also features SELinux, which blocks apps running in the background.
---
22. Dirty Unicorns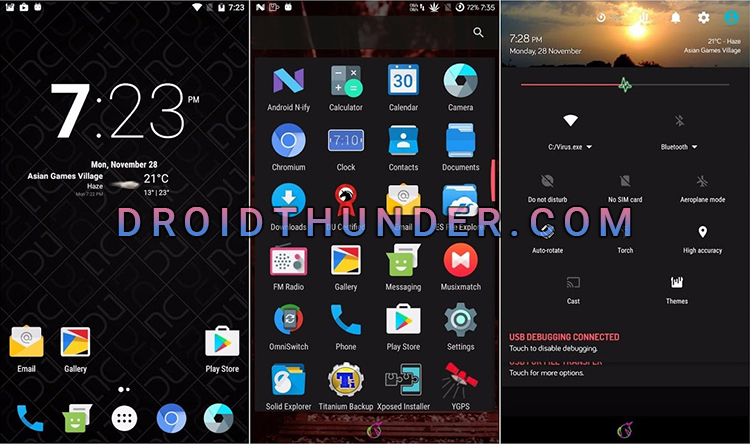 Dirty Unicorns is the first project that started with no name. This firmware was based on AOKP (Android Open Kang Project) and was released for Android Jelly Bean users. Since then, Dirty Unicorns have exponentially grown and now support a plethora of Android versions. The journey started with a one-man and ended with a huge strong community and project development team.
Moreover, Dirty Unicorn ROM gives a feature-rich and smooth UI with better battery life. Many custom ROMS, such as Omni ROM, is based on Dirty Unicorns features. It is considered a well-established development community with bug-free, stable custom ROMs.
---
23. Potato Open Sauce Project (POSP)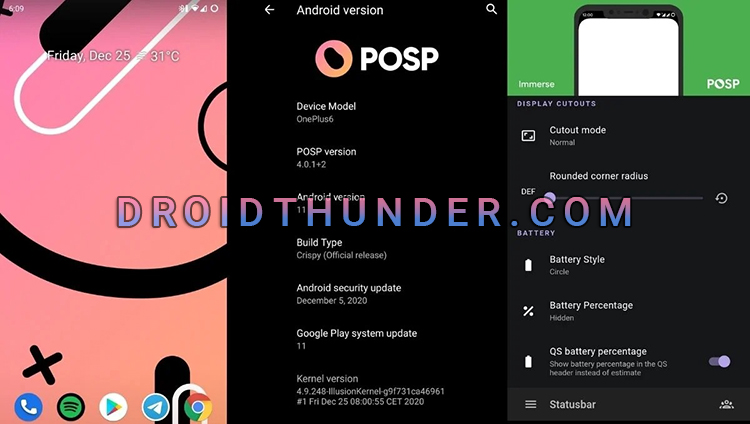 The Potato Open Sauce Project was designed by a team of Indian developers who have adopted the potato as their choice of name. Moreover, it offers a clean and minimal UI and camera and battery enhancement. Even the different versions of the ROM are Dumaloo and Baked Potato. Try Potato Project once if you want the best custom ROM for camera customization.
Besides, Potato Project features an improved volume control system, better performance, stability, notch handling, enhanced CPU-intensive tasks, and over-the-air updates. This firmware ROM nails it in every aspect. Although the customizations are less than other ROMs, it still maintains a perfect balance between performance and simplicity through the stock Android UI.
---
Best Custom ROM for Android: Final Verdict
For sure, custom ROMs make all the difference in terms of what kind of experience you want on your Android phone. If you want to keep your old Android device alive, Custom ROM is the best option. We all know that the custom ROM can never be as stable as the stock ROM; however, flashing it does give you immense control over your handset.