Install Android 7.1 Nougat based CM 14.1 ROM on OnePlus 3 with our step-by-step guide. As always the Cyanogenmod team has shown their skills by launching the Cyanogenmod 14.1 custom ROM, especially for the famous OnePlus 3 smartphone.
This Cyanogenmod custom ROM is based on the latest Android 7.1 Nougat OS. Actually, the first beta CM 14.1 ROM was released last year. But due to a lot of bugs and issues, many android users turned their back towards it and preferred to go with some other unofficial custom ROMs.
But as time passed by, all the bugs and issues are fixed by the Cyanogenmod team. Today they have launched a completely stable version of CM 14.1 build for the OnePlus 3.
OnePlus 3 launched last year was a very big hit due to the amazing & breathtaking features that this phone had. The Cyanogenmod community has put in their full efforts in making the CM 14.1 a full feature packed ROM with lots of customization & functionalities as well.
Also, due to the fascinating features, specs, RAM, and hardware compatibility that the OnePlus 3 has, this Cyanogenmod ROM works very smoothly and without a single lag.
In this detailed step-by-step guide, we'll be discussing some easy steps on how to flash Android 7.1 Nougat CM 14.1 ROM on OnePlus 3. Remember that in this ROM, you are not only getting to enjoy and experience the Cyanogenmod 14.1 features but also the latest Android 7.1 Nougat features.
This Cyanogenmod 14.1 comes with some mouth-watering features. One of them is split-screen mode which enables you to use two apps at the same moment side by side. These features may remind you of the multi-window functionality that the Samsung's Note device had.
You'll also find few changes in the Setting's menu of CM 14.1. In Settings, you can go from one setting option to another without hitting the back button which seems quite interesting.
With the newly redesigned notification bar,  you get the option of direct reply on the notifications without actually launching the apps. The new Data Saver option included allows you to restrict access to background apps when connected to a cellular connection, thus saving a lot of devices battery.
Install Android 7.1 Nougat on OnePlus 3
CM 14.1 comes with 70 new emojis of different skin tones which definitely gives a complete new look and feel while chatting. Let's head on to the actual article on installing the latest Android 7.1 Nougat based CyanogenMod 14.1 custom ROM on OnePlus 3 smartphone.
Screenshot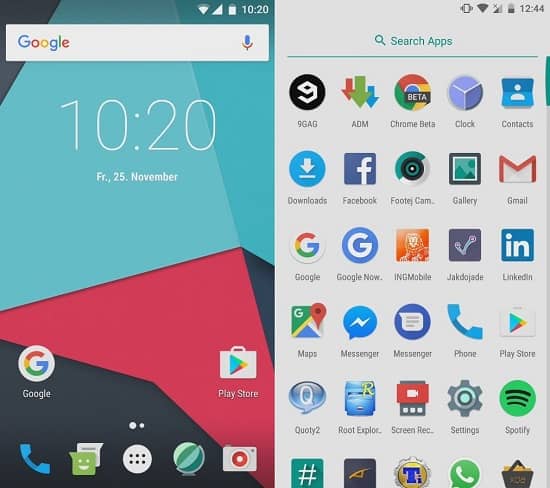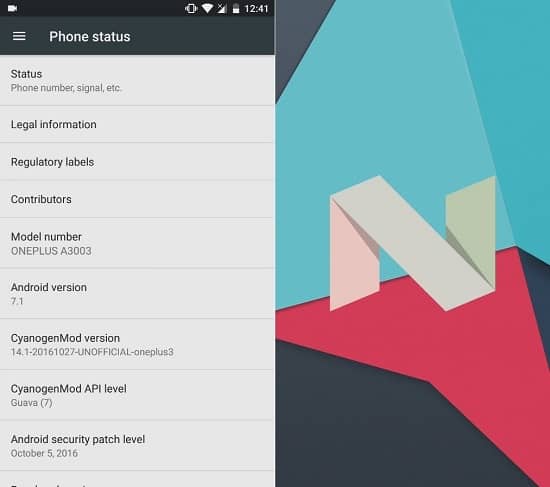 Disclaimer
It is highly recommended to proceed further at your own risk. Neither we at Droid Thunder nor the developers will be liable for any damage caused to your One Plus 3 by following this guide.
Compatibility
This Cyanogenmod 14.1 ROM is only for the OnePlus 3. Installing this ROM on any other device or variant may cause permanent damage or even brick your device. So make sure to confirm the device first and then proceed further.
Prerequisites
Charge your OnePlus 3 to at least 50%.
Backup your phone data and settings before moving further.
Moreover, backup EFS folder present in your phone's system directory.
Also, install the OnePlus USB drivers on your PC.
Enable the USB Debugging mode on your device.
Also, enable OEM unlocking and Advance reboot mode from Developer options.
It is necessary to unlock the bootloader of the OnePlus 3 before going ahead.
Besides, Root and install TWRP recovery on OnePlus 3.
(Optional) Temporarily disable all the security-related tools as well as antivirus on your PC.
Downloads
Steps to install Android 7.1 CM 14.1 ROM on OnePlus 3
Download both the package files in a specific folder on your computer.
Remember not to extract these zip files.
Then connect your OnePlus 3 to your computer using the original USB data cable.
Copy both the zip files on your phone's internal memory.
After copying both the files safely disconnect your phone from the computer.
Next, you need to boot your OnePlus 3 into TWRP (or CWM) custom recovery mode.
There are actually two different methods for doing that. You may use any one of them:
Method 1:  Power off your device completely. Then press and hold the Volume down key + Power button simultaneously until you land into custom recovery mode.
Method 2: Firstly enable the Developers option in Settings. Then go to Settings>Developer options> and enable the Advanced Reboot option. After enabling that option, simply press the power button to pop up the typical power menu. Then tap on the Reboot option and next select the Recovery mode option. This will directly boot your OnePlus 3 into recovery mode without using those key combinations.
As you enter into recovery, the first thing you need to do is to take a Nandroid backup.
After taking Nandroid backup, return to the main menu of recovery and select the Wipe option.
On the next screen, tick the Dalvik cache, data, and cache options and swipe to start the wiping process.
This step will clear all the data present on your internal memory so make sure you've backed up everything before implementing this step.
After the wiping process completes, again return to the main menu and select the Install option.
As you click on it, you'll see all the files and folders present on your phone's memory.
Just navigate to the Android 7.1 Nougat based CyanogenMod 14.1 custom ROM which you've copied earlier and select it.
On the next screen just swipe to start the actual Android 7.1 Nougat custom ROM flashing process.
Be patient and wait a few minutes until the flashing process completes successfully.
As soon as it completes, a successful message will appear on the screen.
Then go back and again wipe the data/cache partitions as you did earlier.
Similarly flash the Google Apps package (containing Play Store, Gmail, etc.) as you've flashed the Cyanogenmod 14.1 ROM.
Do not wipe data/cache after flashing the Google Apps.
This completes the flashing process. Now restart your OnePlus 3 smartphone by selecting the Reboot>System option present on the recovery mode itself.
This first boot will take more time to start than usual. But don't worry as after a couple of boots it'll be normal.
Wrapping Up
Finally! Your OnePlus 3 is ready with the latest and completely stable Cyanogenmod 14.1 unofficial custom ROM based on the all-new Android 7.1 Nougat OS. To confirm the same go to Menu > Settings > About Phone. Enjoy the full-featured Android N ROM on your OnePlus 3. If you have any problem with this process, then do let me know.
Credit: XDA