Install Android 7.1.1 Nougat based Lineage OS ROM on One Plus 3. Android users who are a bit geek minded always tend to try something new on their smartphones like flashing custom ROMs. Although there is a wide range of custom ROMs available out there in the Android world, still the most preferred and used ROM is Cyanogenmod.
The sad news is that the Cyanogen Inc. has finally confirmed the shutdown and discontinuation of their most-used ROM. But don't worry as a new successor of Cyanogenmod called the Lineage OS is taking up the mantle by following the footsteps of CM. In this step-by-step guide, we'll be discussing on how to install the latest Android 7.1.1 Nougat based Lineage OS ROM on a One Plus 3 smartphone.
This ROM is considered as the most stable and customized one to date. Let's check out some amazing features that this ROM has. Lineage OS ROM enables you to make various customization changes within the visual aspects. This includes changing the themes, adjusting different looks of the notification bar, changing the homepage layout, and much more.
The Lineage OS comes by default with a Stock Android design. But since it is completely customizable you can change its look and feel wherever you want. Lineage OS offers better privacy with the new Privacy Guard feature. With this feature, you can change the permissions required by every app installed on your phone.
This way you can easily find out how your phone is being used by the installed apps thus making it the most effective method in improving the privacy of your phone. This feature also has the notification support. So whenever you install an app and it requires a particular permission for running, immediately a notification will popup with which you can adjust the permissions according to your requirements.
Install Android 7.1.1 Nougat LineageOS 14.1 on One Plus 3
The updates for this ROM are released quickly after the Stock Android releases with some latest and advanced features. Lineage ROM also helps in improving your phone's battery backup. Basically, it comes with absolutely no bloatware which means there are no background running apps or unnecessary services thereby increasing the battery backup. Those to wish to experience the latest Android 7.1.1 Nougat features can proceed to the guide given below.
Screenshot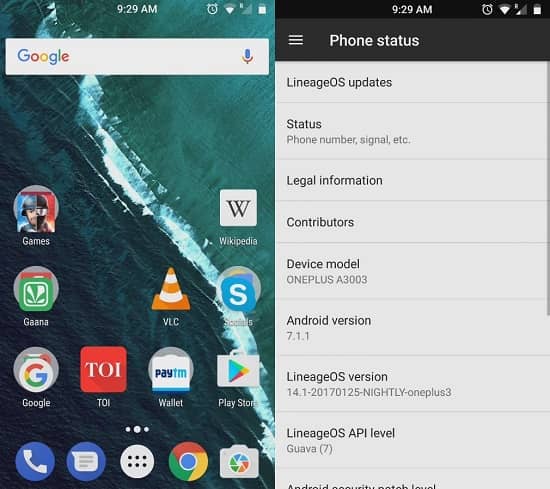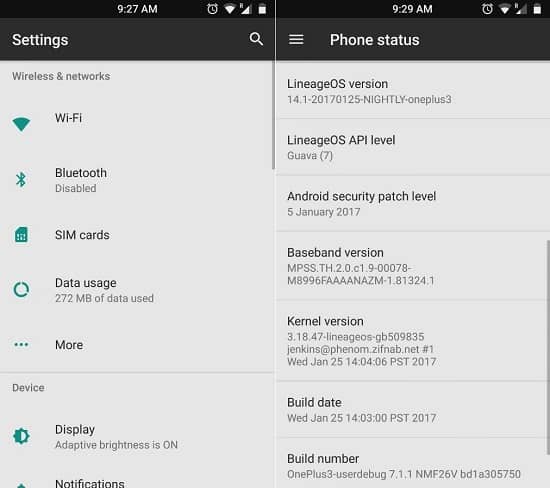 Disclaimer
We recommend you proceed further at your own risk. If any damage happens to your One Plus 3 by following this guide, then neither we at droidthunder.com nor the developers of this ROM will be held responsible for that. Although I assure you that no damage can happen to your phone if you apply every single step as it is mentioned in the article. Follow every step carefully without implementing anything on your own.
Compatibility
This Lineage OS ROM is based on the latest Android 7.1.1 Nougat OS and must be flashed only on OnePlus 3. Flashing this ROM on any other device or variant may cause permanent damage or even brick your device. Hence, confirm your device first and then proceed ahead.
Prerequisites
Ensure to charge your device to at least 60%.
Backup your phone data and settings before moving further.
Backup EFS folder present in your phone's system directory.
Install the OnePlus USB drivers on your PC.
Also, enable the USB Debugging mode on your phone.
Besides, enable OEM unlocking and Advance reboot mode from Developer options.
It is necessary to unlock the bootloader of the OnePlus 3 before going ahead.
Moreover, Root and install TWRP recovery on OnePlus 3.
(Optional) Temporarily disable all the security-related tools as well as antivirus on PC.
Downloads
Android 7.1.1 Nougat LineageOS 14.1
Steps to install Android 7.1.1 LineageOS 14.1 on One Plus 3
Download both the package files in a specific folder on your computer. Remember not to extract these zip files.
Then connect your OnePlus 3 to your computer using the original USB data cable.
Copy both the zip files on your phone's internal memory.
After copying both the files safely disconnect your phone from the computer.
Next, you need to boot your OnePlus 3 into TWRP (or CWM) custom recovery mode.
There are actually two different methods for doing that. You may use any one of them:
Method 1: Power off your device completely. Then press and hold the Volume down key + Power button simultaneously until you land into custom recovery mode.
Method 2: Firstly enable the Developers option in Settings. Then go to Settings>Developer options> and enable the Advanced Reboot option. After enabling that option, simply press the power button to pop up the typical power menu. Then tap on the Reboot option and next select the Recovery mode option. This will directly boot your One Plus 3 into recovery mode without using those key combinations.
At first, you need to do is to take a Nandroid backup.
On the next screen, tick the Dalvik cache, data, and cache options and swipe to start the wiping process.
This step will clear all the data present on your internal memory so make sure you've backed up everything before implementing this step.
After the wiping process completes, again return to the main menu and select the Install option.
As you click on it, you'll see all the files and folders present on your phone's memory.
Just navigate to the Android 7.1.1 Nougat based Lineage OS custom ROM which you've copied earlier and select it.
On the next screen just swipe to start the actual Android 7.1.1 Nougat custom ROM flashing process.
Be patient and wait a few minutes until the flashing process completes successfully.
As soon as it completes, a successful message will appear on the screen.
Then go back and again wipe the data/cache partitions as you did earlier.
Similarly flash the Google Apps package (containing Play Store, Gmail, Gtalk etc.) as you've flashed the Lineage OS ROM.
Do not wipe data/cache after flashing the Google Apps.
The flashing process completes here. Now restart your One Plus 3 smartphone by selecting the Reboot -> System option present on the recovery mode itself.
This first boot might take more time to start than usual. But don't worry as after a couple of boots it'll be normal.
Wrapping Up
Finally! You've successfully installed the latest and completely stable Lineage OS unofficial custom ROM on One Plus 3. You may confirm the same from Menu -> Settings -> About Phone. Kindly drop your questions in the comment box below.
Credit: XDA