Indian Government has banned 59 Chinese mobile applications due to various complaints of stealing and transmission of user data in an unauthorized manner. These include some of the popular apps like TikTok, SHAREit, UCBrowser, CamScanner, Shein, etc. Soon after the ban, people are looking for the best SHAREit alternative Indian apps.
For Indian users, the Google Play Store shows an error message, especially for these apps. Although there are various solutions to fix the 'This item isn't available in your country' error, still it is better to boycott Chinese apps. SHAREit is a world-famous app, there is no doubt about that. However, it is bloated with irritating ads and unnecessary annoying features.
Also Read: 10 Free Apps for Depression and Anxiety
If you are looking for Xender and SHAREit alternative apps, then you are in the right place, In this guide, we've mentioned 15 free best Indian apps like SHAREit and Xender. Without wasting any more time, let's get started.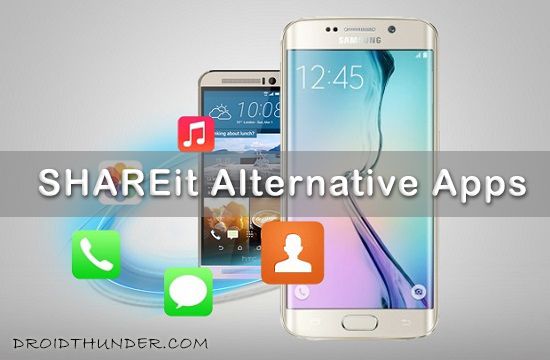 15 Best SHAREit Alternative Apps for Android
In this article, we've listed 15 Free Best Alternative Indian apps for SHAREit. Let's check them out.
Are you looking for the best app to share files between Android devices? Then inShare is the app for you. This application lets you transfer files from one phone to another wirelessly. The company claims it to be the only app to provide the fastest transfer rate with a high speed of 200 times more than Bluetooth.
To be specific, you can transfer a 1GB file in less than 30 seconds with a fast speed of 40 MB/s. Besides, you can use this SHAREit alternative app to send large files, apps, videos, photos, music, pdf, e-books, etc. It can share files over WiFi without the Internet. Moreover, it comes with a simple and easy-to-use user interface.
2. Send Anywhere (File Transfer)
Out of all, this app is my personal favorite. As its name suggests, Send Anywhere is to share files to any person without loss of data. It is the best and fastest way to send large files over the Internet. Most importantly, it requires a 6-digit one-time key to start the transfer. With a single link, you can send files to multiple users at once. Isn't it amazing! To increase the speed of file transfer, stability, and file size, you can go for the Premium version of the app.
Z Share is a newly launched Indian app to replace SHAREit and Xender, the Chinese apps. It is developed by Shravan Hegde, a 21-year-old BCA student in support of the #bycottchina movement in India. Z Share establishes a peer-to-peer connection using a WLAN network. This app can transfer photos, videos, music, files, PDFs, etc. for free without data loss or an Internet connection.
4. Files Go: Easy File Transfer app by Google
Files Go is an official app from Google. It is one of the popular apps that come as an alternative to Xender and SHAREit. It allows you to transfer phone data offline with maximum security. Furthermore, you can also use File by Google to clean up phone storage, or backup phone data on Google Drive, and any other cloud app.
SHAREall is another Desi Indian app, that was developed after the ban of china apps in India. This app requires no 3G, 4G network, no cables, or mobile data to perform the file transfer. Moreover, it can send and receive large files at lightning speed without using an Internet connection. All you need to do is scan the QR code, to begin the file transfer.
Easy Share app lets you experience fast file transfer speed, without Ads or an Internet connection. With this application, you can easily send and receive any file to your nearby friend. A single click can automatically transfer files from your old phone to the new phone. There is no doubt that Easy Share is the best Android app to send large files faster.
7. Zapya – File Transfer, Sharing Music Playlist
Is there any fastest way to send big files over the Internet? If you have the same question, then I have good news for you. The Zapya app allows you to send photos, files, music, videos, etc. between Android, iPhone, and Windows operating systems. It comes with a user-friendly design, a shake-to-share feature, and an ultra-fast offline sharing option.
Besides, you can also create personalized music playlists, chat with your friends, watch the latest trending videos, as well as remotely control the PC. Additionally, Zapya supports 20 different languages from all over the world. All these features make Zapya the best SHAREit alternative app available out there.
Jio Switch is another SHAREit alternative app that provides file transfer without any Ads or restrictions. You can create a profile in this app and share data wirelessly using the hotspot. To be specific, you can send files such as contacts, call logs, calendars, videos, photos, applications, apk files, messages, etc. Most importantly, this app also supports file transfer between Android and iOS.
9. Portal – WiFi File Transfers
Portal is the best file-sharing app like Shareit to send files of more than 1GB size. Scan for the nearby devices, and drag & drop the files to start the transfer. You can use this app to share files from phone to PC, and vice versa. Moreover, you can either send individual files, multiple files, or entire folders at once.
Feem is the best SHAREit alternative to transfer files without an internet connection. Moreover, this app uses the WiFi network to send files from the phone to the PC, or vice versa. If both the devices are not on the same WiFi network, the receiver can create a hotspot and the sender can manually connect it to start the transfer.
SuperBeam is the oldest SHAREit alternative app available in the Google Play Store. Moreover, it uses WiFi Direct to easily, and securely share large files. Besides, this app includes an NFC, and QR code scanner for the pairing of devices. Furthermore, SuperBeam automatically switches to hotspot mode for devices that don't support WiFi directly.
12. SFT – Swift File Transfer
SFT is the world's fastest award-winning file transfer app. Besides, this app does not require the Internet, USB cable, 3G, 4G network, mobile data, WiFi, Bluetooth, or NFC. Additionally, it comes with an in-built file explorer to browse and select particular files. Moreover, it also provides a high file transfer rate of up to 30M/s.
TrebleShot is the only SHAREit alternative app that can pause or resume an ongoing file transfer. Furthermore, it comes with an in-built QR code scanner that pairs two or more devices using a hotspot. Additionally, you can also use WiFi, or enter your IP address for connection. It allows you to share multiple content with multiple users at once.
Developed by Xiaomi, ShareMe is an Ad-free file transfer tool with 70+ languages support. You can use ShareMe to send files between Android, iOS, Windows, and Mac OS. With an easy and user-friendly UI, ShareMe offers the highest speed up to 50M/s. Share files with your friends and family without any loss of data.
15. SmartIO – Fast File Transfer App
SmartIO is an all-in-one powerful tool to send phone data without using the web. With its new mobile cloning feature, you can connect multiple phones at once. Moreover, it provides a high-speed transfer via a local hotspot. SmartIO is one of the most simple, efficient, and secure Android apps available out there.
If we've missed any other SHAREit alternative apps for Android and iOS, then do let us know in the comment box below. Thank you!