In this easy-step guide, we'll download and install CM 11 custom ROM on the Samsung Galaxy Ace GT-S5830 smartphone. The third-party developers of Android have taken some kind of oath to never quit their journey of success. They have taken the Android OS beyond our imagination.
To accomplish this they with their best effort made Android faster more reliable, and less prone to crashes. Google announced their latest Android 4.4 OS named KitKat with the release of their flagship device Nexus 5 on November 13.
But till now, this 4.4 version is officially only on 2 percent of devices. While Android 4.3 Jelly Bean is still dominating the market with almost 60 percent of the devices running on it. From the date KitKat was released till today, there is only a 0.5 percent increase in the devices officially running on it.
All these statistics have come from Google's Android developer portal. It has also been heard that this latest version may run on low-end devices having memory of at least 512 MB. This decision is specially made for owners of those mid-end devices.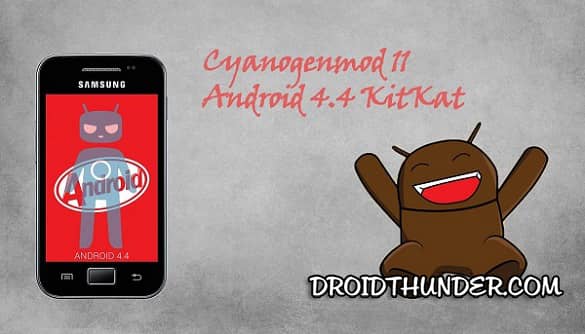 Samsung might update at least some of the devices to Android 4.4.2 and breathe new life into them, in a nice gesture of support to users. Galaxy Ace S5830 is one of those smartphones that is expected to get an Android 4.4 KitKat update of course unofficially.
This device was launched with Android 2.3.4 Gingerbread around two years ago. Further, it did get an official 2.3.6 update from Samsung but thereafter the Company got diverted from this device and hence stopped providing further firmware upgrades.
Then came the third-party Android developers who with their best efforts brought many new ROMs for Galaxy Ace. Some of them were CM9 based on Android 4.0 Ice-cream Sandwich, CM10, CM10.1, and CM10.2 based on Android 4.1.2, 4.2.2, and 4.3 Jelly Bean.
Although these CyanogenMod ROMs had some bugs due to hardware incompatibility, they did get fixed with further tweaks. After Google announced its new KitKat version, many rumors were heard that this update would not be launched for low-end devices.
This was so because of the drastic features that this new update has. But when it comes to the CyanogenMod team, the never-quit attitude makes them achieve whatever is impossible for us. Even this time they did something that was just shocking for Galaxy Ace users.
The CM team brought Android 4.4.4 KitKat for Galaxy Ace. The initial build that was rolled out had many bugs that ruined many users' moods. But thereafter with many system tweaks and more improvements, the CM team made this ROM more stable.
Changelog:
New additional Google Libs, permissions, and framework files added
Added Total Commander File Manager v 2.03 final
Battery saving tweaks
Added new boot animation
Integrated MA6 Kernel
Camera tweaks
Some system apps have been slimmed down
Integrated Lockscreen pin-unlock Fix
Replaced Launcher3 with Apex Launcher version 2.2.0
Added some tweaks
Activated Statusbar transparency
Removed apps like Music.apk and CyanogenMod file manager
Integrated Google Play Store to version 4.5.10
New customization
Integrated some more tweaks
All thanks to the androidarmv6 team of the XDA community for bringing an initial build for this device. XDA Recognized member, Mardon also has contributed to this build. This CM11 ROM is based on the original Android Open Source Project (AOSP).
How to install CM 11 ROM on Samsung Galaxy Ace S5830
If you are looking for a stable Android 4.4.2 KitKat CM 11 ROM for your Galaxy Ace, then follow the step-by-step procedure.
Disclaimer
This process to flash CM 11 ROM on Galaxy Ace is risky. Hence, follow this process carefully. If your Galaxy Ace gets damaged or bricked by following this guide then neither we nor the developers will be responsible for that.
Compatibility
Note that this update is only for Samsung Galaxy Ace with model number GT-S5830. Flashing this on any other device or variant will result in unwanted outcomes or bricked devices. You can verify your device model number from Homescreen > Menu > Settings > About Phone.
Screenshot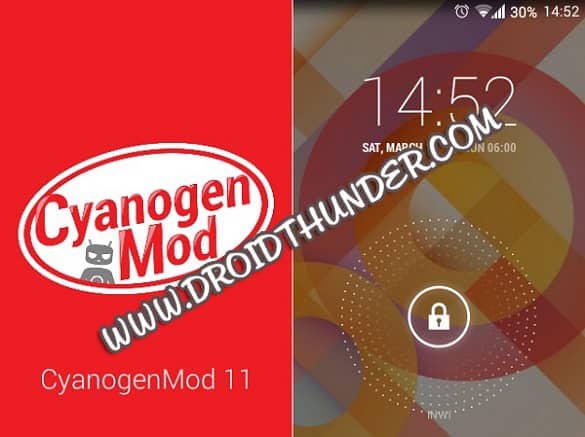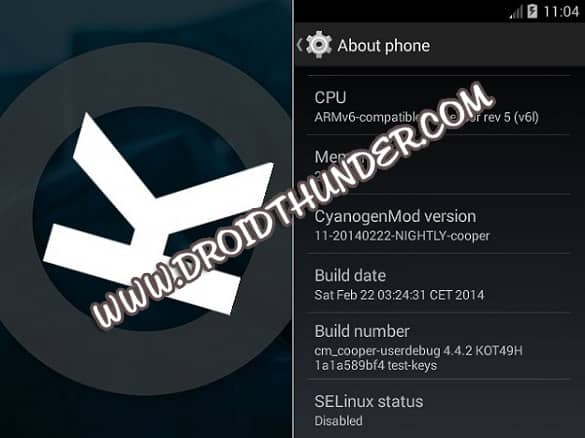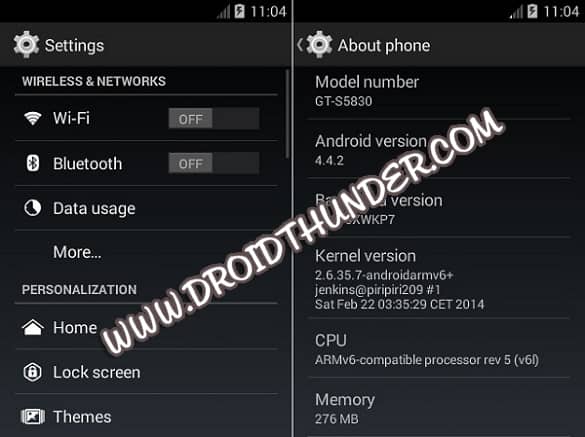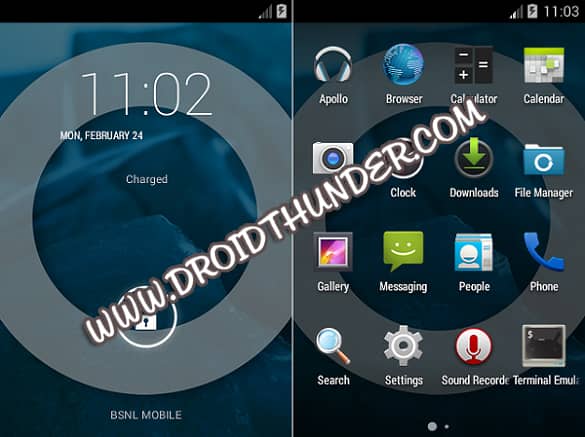 Pre-Requisites
A lack of battery life might interrupt the flashing process. Therefore, charge the battery of your mobile at least up to 60%.
Also, back up your contacts, apps, messages, etc. using any app from the Google Play Store.
Besides, install Samsung USB drivers on your Windows computer.
Backup EFS folder present in your phone's system directory.
Root and install CWM recovery on Galaxy Ace.

(IMPORTANT!)

For flashing CM 11, you need to install the latest CWM recovery 6.0.4.5. If you haven't installed it yet, then don't worry just follow the steps given below:
Download the latest CWM 6.0.4.7 recovery package from Here.
Transfer it to your external SD card using a USB cable.
Switch off your Galaxy Ace & boot into recovery mode.
To do so, keep holding the home button and power button simultaneously until the recovery mode appears.
Select Install from the SD card option & install this latest 6.0.4.7 recovery.
After successful flashing of the latest CWM 6.0.4.7 recovery, proceed further with the actual Android 4.4 KitKat ROM installation process.
Downloads
Google Apps (Android 4.4.2 KitKat)
Steps to install CM 11 on Samsung Galaxy Ace GT-S5830
Download all the above files on your Galaxy Ace.
Switch off your phone now.
Enter your device into the recovery mode.
For that, press and hold the 'Home Button (middle button) + Power Button' simultaneously until the recovery mode appears.
The touch won't work in CWM recovery. So all you need to do is use the Volume Up and Down keys for navigation and the Home button for selection.
Firstly do a complete Nandroid backup. Nandroid backup is the backup of your entire operating system.
Let's move to the actual installation process now.
Select the 'install zip from SD card ' option on the recovery mode.
Then on the next screen select the 'choose zip from SD card' option.
As soon as you click on it, you will see all your data present on your external SD card.
Just select the CM 11 ROM package that you downloaded earlier.
Confirm the installation by pressing the 'Yes' option on the next screen.
This will start the installation process immediately. It will hardly take a few minutes to complete.
Wait until the process is complete.
After the successful flashing process, select the 'wipe data/factory reset' option.
Similarly, select the 'wipe cache partition' option to clear all your data & caches from your phone's memory.
If you have problems with video recording then flash the video recording patch file.
Finally, restart your device by selecting the 'reboot system now' option.
Do note that the first boot will take more time to start than usual.
Related:
Conclusion
Finally! This is how you can flash the CM 11-based Android 4.4.2 KitKat ROM on your Samsung Galaxy Ace GT-S5830. Feel and enjoy all those KitKat-flavored features on your Galaxy Ace with this ROM. Along with that, you can even experience the Cyanogenmod 11 features. If you come across any difficulty, then drop your problem in the comments section below.