As soon as Google released the Android 12 Developer Preview for the users, everyone was overwhelmed to see the exciting features in this new OS update. Since this developer preview is open to all, users can install Android 12 on their compatible smartphones and tablets.
For a couple of days, we've been using this Google update to find everything that's new. Hence, today we'll share with you all the Android 12 features and the list of Supported devices. In this latest iteration of Android, Google continues to focus more on refinement as compared to redefining the OS.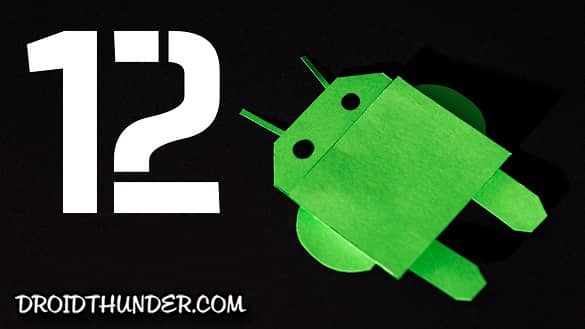 After getting a glimpse of the Android 12 update, we can say that there are plenty of reasons to get excited about it. Currently, the developer preview is intended only to test the new APIs. This can help the developers to accordingly make changes to their apps.
Every time, Google follows the same strategy. At first, the global tech company releases a developer preview to test any bugs or issues. After confirmation from the developers, Google then launches a public beta update.
Users can install this beta version to get the first feel and touch of the new OS. Finally, after many tweaks and changes, Google rolled out the official update with their new Google Pixel device. This year is no different with the developer preview already live.
After going through everything, we've picked the top best Android 12 features. Have a look at them.
Android 12 Features
With the new developer preview, Android has made a lot of minor changes to the existing UI. Here is the list of Android 12 features and updates.
1. Settings Menu
This time, most of the Android UI has a subtle light blue touch. You'll find these changes, especially in the settings menu. Besides, android 12 removes the long rectangular search bar that is present at the top.
Instead, you'll see a small bubble with your Google account profile photo. A simple click on the image can land you in the account settings. Additionally, a new toggle switch is added in the Network and WiFi settings, and Developer options.
As soon as you enable it, you'll see a small tick. Whereas, it will show a dash when turned off. Apart from these minor tweaks, the settings menu is quite similar to the earlier Android 11 update.
2. Improved Screenshots
The Google Pixel smartphone features paint tools to markup the screenshot image. Earlier, this feature was only applicable to Pixel devices. However, with the new Android 12 update, Google releases it worldwide for all the OEMs with plenty of additional features.
Android 12 allows you to type any text on your screenshots with different font sizes and colors. Moreover, you can also add emojis, and stickers, and resize them accordingly. Furthermore, you can even close the screenshot thumbnails by dismissing them off your phone screen.
3. WiFi Sharing
In Android 11, there is an option to share WiFi connections using a QR code. It is a pretty useful feature as anyone can instantly get your WiFi network details in a second. However, the Android 12 Update conveniently improves this feature by introducing a Nearby button underneath the QR code scanner. This can easily allow the users to transmit the WiFi credentials to multiple users without giving your device to everyone to scan.
4. Wallpaper based Themes
Android 12 features a maximized customization control when it comes to wallpaper themes. To be specific, the user interface automatically adapts the background theme color depending upon the selected wallpaper.
For example, if you set a wallpaper with green bokeh, then the UI elements will automatically adopt a shade of pale green color. It will be applied to the notification panel, menu settings, lock screen, etc.
5. One-handed mode
This is one of the familiar features that is mostly seen on Samsung Galaxy phones. It includes a large space at the top of the mobile screen. Whereas, there are plenty of interactive elements at the bottom of the screen. This feature can easily help you access all the functions with a single hand.
6. Media Player
Out of all the changes, the media player tweak is the major update in the latest Android version. Earlier, the music control widget appeared in the drop-down menu settings. In the new Android OS, Google has increased the size of the music control widget. That means it occupies almost the complete width of the screen.
Moreover, the next, previous, and play/pause buttons are shifted to the center of the screen. As soon as you play a song, a small icon appears in the corner of the widget. Just click on it and a popup window will appear. Here, you can easily increase or lower the music volume, pair it with a Bluetooth device, and play or pause music, etc.
7. Notifications
Apart from the music control and background theme, the new OS comes with slight notification changes as well. You'll see a redesigned transparent notification menu, with multiple transitions and animations.
This not only enhances the functionality, and usability but also makes your device more responsive. The layout of the text as well as visuals are drastically improved along with a new instant snooze control button.
Android 12 Release Date
18 February 2021: Developer Preview
May 2021: Public Beta Update
September 2021: Official Android 12 rollout worldwide
List of phones getting Android 12 Update
Here is the list of devices that'll receive the Android 12 Official Update:
Google Pixel
Pixel 3
Pixel 3a
Pixel 3 XL
Pixel 3a XL
Pixel 4
Pixel 4a
Pixel 4 XL
Pixel 4a 5G
Pixel 5
Huawei
Huawei P40 Lite
Huawei P Smart S
Huawei Nova 7i
Huawei P40
Huawei P40 Pro
Huawei P40 Pro+
Xiaomi
Xiaomi Redmi 9
Xiaomi Mi Note 10 Lite
Xiaomi Mite Note 10
Xiaomi Mi Note 10 Pro
Xiaomi Redmi Note 9
Xiaomi Poco X2
Xiaomi Mi 10 5G
Xiaomi Poco F2 Pro
Xiaomi Mi 10 Pro 5G
Samsung
Samsung Galaxy Fold
Samsung A90 5G
Samsung Galaxy A21s
Samsung Galaxy A21
Samsung Note 20 Ultra
Samsung Galaxy Note 10
Samsung Note 10+
Samsung Galaxy Note 20
Samsung Galaxy A51
Samsung Galaxy A31
Samsung Galaxy A11
Samsung Galaxy S20+
Samsung Galaxy S21
Samsung Galaxy S21+
Samsung Galaxy S10e
Samsung Galaxy S10 Lite
Samsung Galaxy S10
Samsung Galaxy S10+
Samsung Galaxy Z Flip
Samsung Galaxy A71
Samsung Galaxy S20 Ultra
Samsung Galaxy S20 FE
Samsung Note 10 Lite
Samsung Galaxy Z Fold2
Samsung Galaxy S21 Ultra
Samsung Galaxy S20
OnePlus
OnePlus 9 Series
OnePlus 8
OnePlus 8 Pro
OnePlus 7T
OnePlus 7 Pro
OnePlus 7T Pro
OnePlus 7
LG
LG Velvet
LG V60 ThinQ 5G
Nokia
Nokia 1.3
Nokia 5.3
Nokia 9.3 PureView
Nokia 8.3 5G
Motorola
Motorola One Hyper
Motorola Moto G8
Moto G8 Power
Motorola Edge
Motorola Edge+
Motorola One Fusion+
Oppo
Oppo A92
Oppo Reno3
Reno 3 Pro
Oppo Find X2
Oppo Reno4 5G
Reno4 Pro 5G
Find X2 Neo
Find x2 Pro
Realme
Realme 6 Pro
Realme C3
Realme Narzo 20
Realme Narzo 20A
Realme X50 Pro 5G
Realme X50 Player Edition
Realme X50
Realme X7 Pro
Realme X3 SuperZoom
Realme 7i
Realme 7 Pro
Realme X3
Realme 7
Realme X50
Realme 6
Realme Narzo 10
Realme 6i
Realme X7
Note: The Android 12-supported device list mentioned above is just speculation. It is not yet confirmed whether all the devices will get to experience the OS or not.