What is the best restaurant near me? Does it have outdoor seating? Do they have good reviews? To answer such questions the global tech giant has introduced the Google Maps Community Feed tab. It is released on both Android as well as iOS devices.
Google Maps started its journey as a medium to navigate and show satellite wise locations. Later on, the company added new features such as aerial images, street view, ongoing traffic monitoring, incident reporting, and route planning.
Due to the introduction of progressive and innovative features, the use of Google Maps has doubled in the last few years. On the other hand, Google Maps have evolved themselves, especially in the local listing and business section.
On the contrary, the on-going global pandemic has severely affected small ventures and companies. Because of which people has completely changed their work routine. Most of the people are practicing work from home using video conferencing apps.
Accordingly, small businesses are making changes in their respective working hours, daily habits, and policies. To assist everyone with staying aware of the most recent news about their nearby local businesses, Google Maps has launched a new community feed feature.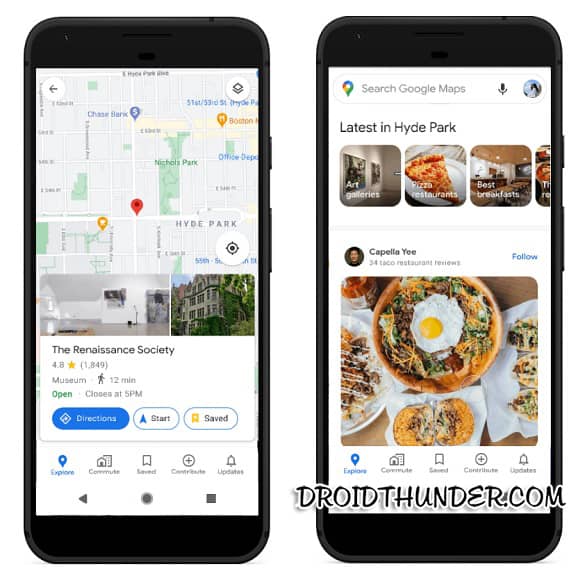 Google Maps brings Community Feed in the Explore Tab
The new Google Maps Community Feed is specially launched to show the latest updates and recommendations from the nearby local businesses. Additionally, the feed will also show the latest reviews, photos, and news from the local experts.
According to Google, around 20 million people post about their services in the Google My Business listings. That means there are a tremendous amount of new updates daily. To help users stay updated, Google has introduced the community feed.
This is a great initiative by Google, as people will get an idea about the new happenings in their area. On the other hand, users will also get an immediate notification when a new delicious dish is added to the favorite restaurant.
The Google Maps community feed is similar to the Facebook news feed. The only change is that the tech giant is planning to integrate Yelp and TripAdvisor like UI in its app. This is because these two platforms were the only way to track businesses.
Also Read: Facebook rolls out Vanish Mode on Messenger and Instagram
Before Facebook came into existence, people used TripAdvisor and Yelp to find out the latest updates and happenings in their local ventures. Travelers and visitors mostly preferred these websites while wandering different places.
To edge out these sites and rule in the market, the global tech giant is gradually trying to bring new features. Besides, the company is trying to make it simpler for the organizations to straightforwardly interface with their respective clients.
Just open your Google Maps app, and navigate to the Explore Tab. This community feed section will show a list of things that you find interesting. For example, if you like green tea, then the community feed will automatically notify you if there is any new herbal tea café nearby.
Similar to Yelp, the Google Maps community feed allow users to rate businesses. Furthermore, businesses can even publish their updates to stay up-to-date. Additionally, the business owners can directly contact the customers through the Google Maps app.
The main motive of this feed is to make people aware of the new updates, as well as make the right decisions before visiting any shop. If you are not familiar with a certain place, then these features will definitely benefit you.
In recent times, Google has also launched a new live AR view, crosswalk markers, and rideshare integration. These most recent changes to the app make it considerably more pleasant to use. This makes exploring the world somewhat less overwhelming.