Two months back, Facebook upgraded its logo with some new features and chat themes. The company also announced to launch the Vanish mode, a Snapchat-like feature for both Instagram as well as Facebook Messenger.
In yesterday's blog post, Facebook confirmed that the Vanish Mode is live on both platforms. It is nothing but an ephemeral messaging feature. That means it lasts for a short amount of time.
Back in 2012, Snapchat was the only social media platform to own such an ephemeral feature. But today, every other application including Telegram, Twitter, or WhatsApp comes with this feature.
Apart from the vanish mode, Facebook has also made new changes to the Instagram homepage. They have added a Shopping button in the navigation bar with likes and comments on the top-right section.
After the TikTok ban in India, Instagram introduced the Reels tab. But due to its increasing popularity, the company has rolled out the Reels worldwide. This is undoubtedly a strong reply to TikTok.
Facebook launches Vanish Mode on Messenger and Instagram
With the release of Vanish Mode, Facebook, and Instagram users can send messages that'll last for a short time span. You can send anything including simple text, images, videos, voice messages, and emoji, etc.
As soon as the receiver sees the message or closes the chatbox, the message automatically disappears. Yes, you heard it right! It works exactly like the Incognito mode in a browser. No chat history at all!
All you need to do is download the latest updated version of Messenger and Instagram. To enable this feature, just swipe up while chatting with anyone. To disable it, again swipe up and everything is gone!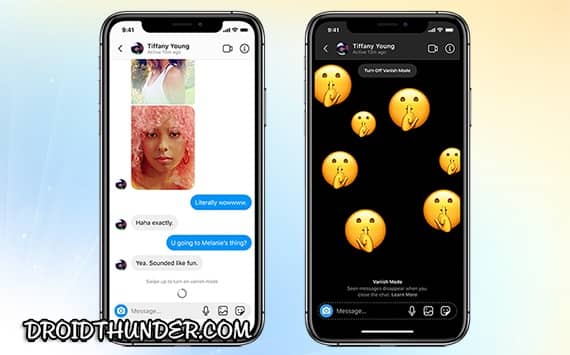 Moreover, this feature is currently available only for private one-on-one chats. Besides, you cannot use it on any group chats. As soon as another person views your sent message, it will be deleted.
On the other hand, WhatsApp has also recently released a disappearing message feature. However, it is different as the message remains available for seven days. This is entirely different compared to the Vanish mode.
Furthermore, Instagram and Facebook Messenger does not allow you to take a screenshot whilst in Vanish mode. But, you can totally take a screenshot in the Whatsapp disappearing message feature.
Facebook claims this feature to be completely safe. If you ever feel unsafe during a chat, then you can immediately block the opposite person. Moreover, you can use the report the conversation option.
As soon as you click on the report button, the vanishing chat will remain up to one hour. Additionally, if someone takes a screenshot of your message, you'll automatically receive a notification about the same.
This feature is presently available on Facebook Messenger in the US. It will soon be available on Instagram in all the countries. It seems that the social media giant is all set to follow the latest 2020 trend.