Do you know that 70% of photos taken on a smartphone use the front-facing selfie camera? Clicking selfies has become a famous trend all over social media. Whether it is Facebook, Twitter, or Instagram, everyone likes to take selfies. Moreover, people use different beauty filters to improve their appearance on social platforms. But, a recent study has shown that the maximum use of Beauty Filters is bad for Mental Health.
On Instagram, there are more than 400 million pictures with #selfie, and the number is increasing drastically. Yes, taking a selfie and capturing a moment is all fun. However, today's young generation has become so selfie-obsessed that they take multiple selfies to grab attention and get noticed. In earlier days, people used simple photo editing apps to crop, saturate, rotate, and set brightness.
However, nowadays people prefer beauty filters to smooth out skin, remove pimples, wrinkles, spots, raise cheekbones, and squish facial expressions. Additionally, they also use these filters to change hair color, eye color, small nose, bug eyes, and smooth complexion. It can completely change the way a person looks. A study has also shown that almost 65% of women use beauty filters to boost their confidence.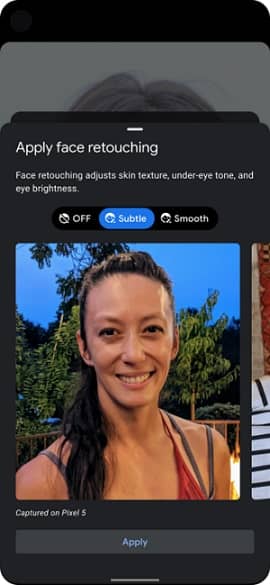 Why Google Camera Beauty Filters Are Bad for Mental Health?
Today, every other Android or Apple smartphone comes with a Beauty Filters feature. Yes, these Beauty Filters can definitely enhance the photography experience, but, they can also negatively affect our Mental Health. This is the main reason why Google has decided to turn them off by default in Google Pixel 4 and 4A phones. The global tech giant is also encouraging other smartphone brands to implement the same.
What are Beauty Filters? And How do they work? A Beauty Filter is a camera feature that enhances the look of a person while clicking pictures or recording a video. All you need to do is open any photography app such as Google Camera. Then, upload any photo, and select a filter to improve the facial beauty. But sadly, taking many photos with a beauty filter can have a negative impact on mental health & wellbeing.
Using beauty filters can change the way a person thinks. Moreover, it can define a beauty standard that a user can compare to. Besides, people can become accustomed to this filtered appearance. Additionally, they can also compare themselves to famous celebrities. This is why Google has encouraged other OEMs to disable the enhancement, touch-up, and beautification features in the Camera app.
Google has conducted various studies with a mental health expert and a child to experience the impact of beauty filters. The result shows that the child is more attracted to the face retouching feature which impacts his self-perception. Considering this issue, Google has decided to turn off face retouching by default on Pixel devices. Hopefully, other brands can also follow Google and disable the selfie face retouching beauty filters.
Due to the ongoing pandemic and social withdrawal, people are openly talking about the concept of Mental health and Depression. To live a healthy, positive, and balanced life, it is very important to look after your mental health problems. It can have a direct impact on your emotions, thoughts, and behavior. Instead of being a selfie freak, it is better to be creative and spend more time with family.
Source: Google