Recently, Google released a new AI-based tool called Verse by Verse. This artificial intelligence-based tool is developed to assist users in creating and writing their own Poems.
Are you planning to impress your crush with a poem? If yes, then Google's Verse by Verse AI tool with help you out. If you don't have a creative mind, then it is quite difficult to compose your own poem.
You'll find plenty of love poems on the Internet. However, creating an original poem for a special person in your life is a different feeling. It not only creates an impression but also leave a spark behind.
Thankfully, Google has launched a new Verse by Verse tool that will help all those lovers to create their own unique poems. This AI web app is designed to automatically suggest verse by verse depending upon your style of writing.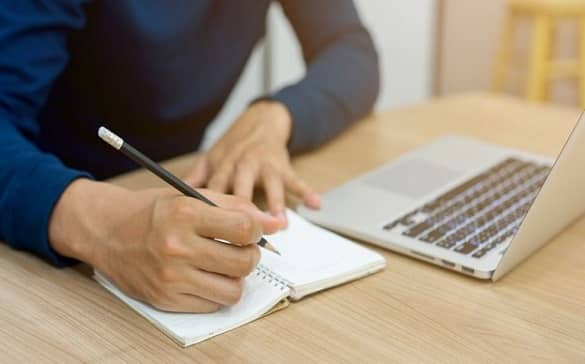 Google's Verse by Verse AI Tool help users to write their own Poems
In a recent post, Google said that this is an experimental tool that is inspired by the classic American poets. The global tech giant has also claimed to release an official Poems composing app in the coming years.
To work it out, Google has mixed two machine algorithms. At first, a generator is prepared on a well-acclaimed verse. Whereas, the second algorithm will encourage you to select a stanza that'll suit your poems.
Steps to Write Poems using Google Verse By Verse:
Firstly, open the Verse by Verse tool.
On the main screen, click on the Let's write a Poem option.
Then, select 3 poets from a list of 22 classic American poets that inspires you.
Some of which are William Cullen Bryant, Emily Dickinson, Paul Laurence Dunbar, Ralph Waldo Emerson, and Philip Freneau, etc.
After selecting the poets that act as muses, the next step will ask you to choose your poem's design structure.
You can either select Quatrain, Couplet, or Free verse.
In case if you don't know, Quatrain is a four lines stanza, and Couplet is a pair of rhyming lines.
On the other hand, Free verse is a poem that has no rhyme or musical pattern.
Besides, there is also an option to select the syllable count.
You can select 4 to 12 number of syllables for each line of verse.
Furthermore, you can even choose the rhyme letters such as AABB, ABAB, ABBA, and ABCB.
The last steps will ask you to write your poem's first line.
Now, the AI tool will automatically generate the entire verse line by line.
It will suggest the verses depending upon the poet, syllable, and rhyme combination.
All you need to do is choose any verse you prefer in the poem.
Google will also allow you to edit the suggested verse to make it more personal.
Finally, you can give a suitable title to the created poem.
In the end, you can either copy the text of the entire poem or download the poem as an image.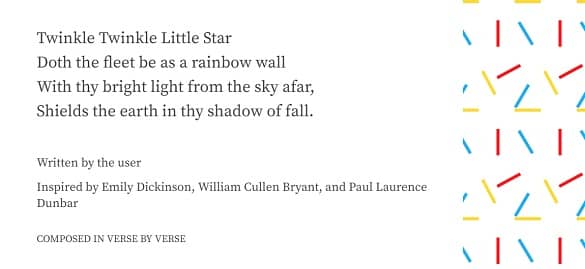 There is no doubt that Verse By Verse is the best tool to influence, motivate, as well as generate creative thoughts to write beautiful poems. Moreover, it also tells you about the different classic poets and their unique writing skills.