Last year, Google rolled out a speech transcription feature for Pixel phones. Due to its huge success, the tech giant started working on a new hands-free typing for Gboard. Google calls it the Enhanced Voice Typing.
It is more advanced than the Google speech-to-text feature used for automatic speech recognition. As per the 9to5Google report, the Gboard enhanced voice typing feature works with the Google Assistant commands.
Moreover, you can also select the add auto punctuations option with this update. Besides, you'll experience better control over the voice typing commands. Google Assistant will accurately predict and recognize the voice.
Voice typing also known as speech-to-text is a feature that enables you to convert voice commands into text messages. This feature comes in handy for those users who are less interested in manually typing a message on mobile.
Gboard rolls out Enhanced Voice Typing for Pixel phones
At first, Google Pixel 4, Pixel 4 XL, Pixel 4a 5G, and Pixel 5 will get to experience this update. If you own one of these phones, then you can turn on the enhanced voice typing in Google Gboard settings.
As soon as you launch Gboard the Google keyboard app, and tap on the microphone icon, a banner will pop up. It shows a message saying, "New! Save time typing. Try saying clear to delete."
Additionally, this Gboard update can automatically predict the punctuation marks and get more control over what you are typing. Besides, if you want to delete any spelling mistake, simply say, "Clear."
Most importantly, this update works only on the new Google Assistant with the Gboard beta latest version 10.0+ app. The company has confirmed to soon release a stable update for other Android OEM.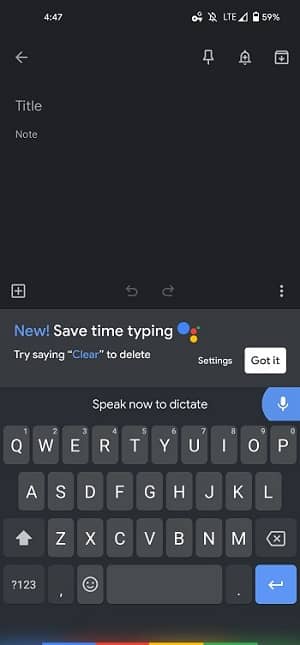 Steps to use enhanced voice typing in Gboard
Open any messaging app on your mobile phone.
Click on the contact name to send messages.
Launch the Gboard app.
Click on the microphone icon.
A message saying, "Speak now to dictate" will show up in the Gboard.
Moreover, the new Google Assistant's light bar will appear from the sides of the screen.
Without typing anything, just use your voice commands to type the message.
Besides, you can also spell out any punctuation mark like comma, question mark, or period.
Instead of using the send button, simply say, "Send" and your message will be automatically delivered to the recipient.
If you want to turn off the enhanced voice typing feature, just go to Gboard settings > Voice Typing.
Yes, there are various applications available on Google Play Store that offers the voice typing feature. However, the new Gboard update uses Google Assistant commands for more accuracy and recognition. In the future, the global tech giant is planning to compose the new Google Assistant in Gmail as well.