The government has announced to end the covid lockdown that began in March. After this news, many businesses and workplaces have resumed. This includes hotels, temples, restaurants, theatres, malls, schools, and colleges. Besides, Google has started giving health and safety measures on Hotel listings to help in the current situation.
Moreover, the global tech giant has also introduced some new features such as the COVID layer in Google Maps. This Coronavirus pandemic has restricted us to stay indoors for a long time now. It was very difficult to move out and get some essentials. However, health experts, police departments, and the government have really cooled down the situation.
The immediate lockdown that started in March 2020 did help in preventing transmission to some extent. However, the coronavirus world count kept on rising. Nearly every other country in the world is affected by this dangerous disease. According to a recent survey, the COVID pandemic has caused an unprecedented collapse in the Indian economy,
Hotel and bars, malls, theatre, IT companies, and schools have seen a big impact this year. Many businesses and companies have started reducing the manpower. People are losing jobs, and because of this, depression and mental health problems have increased. Thankfully, Google and Amazon have tried to help by recruiting people to work from home.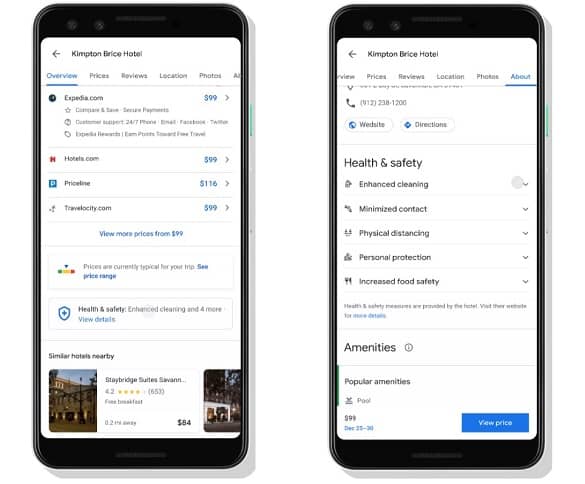 Google shows Covid Health and Safety precautions on Hotel listings
The most affected business in the pandemic was the Travel industry. Due to the increased COVID lockdown, the famous hotel and bars in Goa went bankrupt. But, since the government has ended the lockdown, the Hotel industry has again reopened their businesses. Furthermore, the global tech giant Google has mentioned safety precautions on the GMB listings.
Since people have already started traveling and vacations, Google Travel has initiated some new products on COVID safety. Additionally, the company is also informing the Coronavirus outbreak information using Google Maps. In their recent blog post, they have mentioned some tips for holiday travel to remain safe and healthy.
Are you planning a Goa trip in December 2020? Then the first thing you should do is check out the Google Hotel listings. Now, choose any one of your favorite Hotel from that list. Scroll down the page and click on the About Tab section. This will show you the new health and safety precaution feature. Simply tap on that option.
As soon as you click on that, you will see a list of COVID-19 measures that the selected hotel owners are taking. This list includes the enhanced cleaning service, food safety, physical distancing, etc. This will assist the users to choose a perfect hotel and plan accordingly. Vacation rental providers are taking all the safety measures for a better user experience.
Apart from that, the tech giant has also added an all-new Trips tab in the timeline section of Maps for Android. It shows you all the data of your previous vacation trips. To be specific, it gives you a list of places that you've recently visited. You can also check out the distance you've covered so far and share it with your friends on WhatsApp.
It is very essential to maintain social distancing and take all the safety measures. Hotel and restaurants, cafes, shops, etc. are the most crowded areas. Hence, it is necessary to always wear a mask and wash hands with alcohol sanitizer. Remember that the COVID virus spreads via small droplets. Therefore, take all the safety precautions and save lives.