In the last few weeks, there was a rivalry going on between Google and Paytm. This war fired up more when Google sent a notice to Zomato and Swiggy. As a result, several famous Indian startup founders mutually demanded an Indian Alternative to Google Play Store. In response, Google postponed the 30% commission enforcement on in-app purchases for app makers until April 2022. To make things worse for the global tech giant, Paytm has launched its own Mini App Store.
It all started when Google temporarily removed Paytm from the Play Store app because of violating gambling policies. Although the app was reinstated, Google soon released a new billing policy to pay a 30 percent tax fee on in-app purchases. Due to this, around 150 Indian app makers came together to demand an official Made In India App Store. According to the developers, this is the perfect reply to the global giant and reduces the dependency of Indian users on the Google Play Store.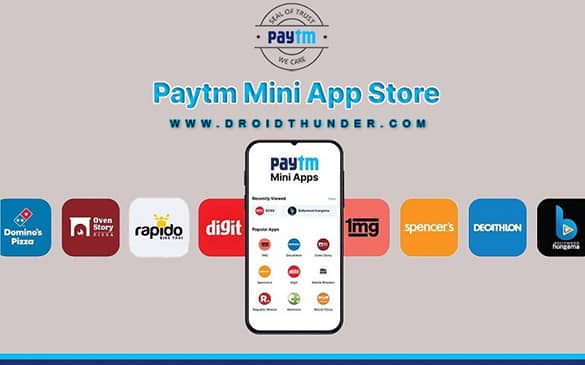 Paytm Launches Its Own Mini App Store
In the unofficial meeting held a few days back, Paytm's Vijay Shekhar Sharma, MakeMyTrip's Deep Kalra, Matrimony's M Janakiraman, etc. criticized Google's unprofessional behavior and its unfair billing policies. They stated that Google's monopolistic behavior will cause various economic issues for India. As a result, India's leading digital payment platform Paytm has stood up against Google and released its own Mini App store. The company says that this is the only way to break Google's monopoly over the distribution of Android apps.
The Paytm Mini App Store provides listings and distribution of applications from within its app. It does not include the actual native apps like Google Play Store. Instead, it comes with progressive Web apps (PWAs) powered by HTML and Javascript. This way it is easier to run the lightweight apps within a browser without any actual installation. Moreover, it can also help Indian users to save their memory and phone data. Additionally, the company also claims that developers can integrate their web app within two weeks.
As per Paytm, the Mini App store is specially built to help small Indian developers and businesses to set up low-cost and easily built apps for free. The main benefit of using the Paytm Mini App store is that the web apps in it will not require access to a user's location, contacts, data, etc. Since it integrates an open-source technology, this Mini App Store is accessible to over 150 million active Paytm app users. Furthermore, the web application functionality is improved using inbuilt JS APIs.
List of Apps in Paytm Mini App Store
Domino's
NetMeds
Decathlon
1mg
Spencer's
Gaana
Ola
McDonald's
Faasos
Rapido
FreshMenu
Practo
Booking.com
Cure.fit
NoBroker, etc.
There are currently over 300 apps in the Paytm store and more are expected to join in the coming days. On the contrary, Paytm claims to provide Indian app makers with free payment avenues such as Paytm Wallet, Paytm Payments Bank, UPI, and debit card transactions through Rupay Card. But, there is a 2% tax fee along with 18 percent GST on payment with credit cards, and net banking. The developers will also have a separate dashboard to check out the detailed payment analytics, for better user engagement. Even though it is Paytm's revenge against Google, still it is a great initiative to support India's Aatamnirbhar mission.
Source: Paytm