Last Monday, WhatsApp released an update of the joinable group call feature. From now on, you will notice a change when using group calls on this Facebook-owned messaging app. That means if you are unable to pick up the WhatsApp call and miss it, you can still join the ongoing call afterward using the joinable group call feature.
This new update also allows a user to leave the group call and rejoin it again. Moreover, users in an active WhatsApp group call can add or remove members during the ongoing call. Besides, the WhatsApp UI will also let users view other participants in the active call. Additionally, you can also check who all have been invited but haven't joined yet.
The WhatsApp joinable group call feature decreases the load of answering a call immediately. Instead, you can let the call be missed, and later join it through the new joinable call button. Most importantly. this feature can definitely help you when you are not ready to accept an incoming call. To rejoin it, you'll see a new join button in the WhatsApp call log section.
In a recent blog post, the Facebook-owned company announced the news of a joinable group call update. The main aim was to introduce a feature that will assist you in avoiding a missed special moment. During this pandemic time, everyone is maintaining a social distance. Hence, the only way to connect with someone special is through a WhatsApp group call.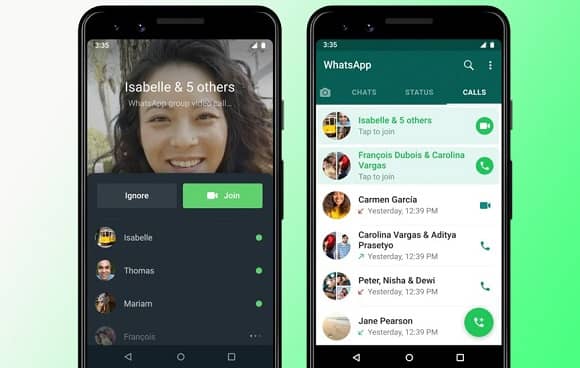 Also Read: How to Send WhatsApp Messages without Saving Number
Today's generation completely relies on the internet and applications. However, with the ongoing condition, we don't have many options either. Due to its multiple functionalities, WhatsApp is the most preferred messaging app as compared to other video conference apps. This application has definitely become a popular alternative to texting.
Apart from that, the app also supports the calling feature, which is the cherry on top. On WhatsApp, you can either do an audio-only or video group call with a maximum of eight people. In spite of the recent WhatsApp privacy issues, the app has topped as the most downloaded app last year. For small group calls, it is a better alternative than Zoom.
This new update will show a call info screen in the app. Here, you'll see the members that you called for the group call. Moreover, you can also find out how many have not yet joined the conversation. Besides, you can even find the active users on the call, even if you haven't saved their phone numbers. You can get their details on the call itself.
Furthermore, there is also an Ignore button that can help you avoid an incoming call and join it later. WhatsApp first tested this joinable call feature on iOS beta version 2.21.140.11. Earlier the app's UI was similar to Apple's FaceTime interface. But the company later dropped that idea. Shortly after the iOS release, WhatsApp has now started rolling out the call joinable feature on Android. Let's see how it goes!