Last week, my girlfriend blocked me on WhatsApp over an argument. It was a very immature move by her as the reason was quite silly. I didn't say I love you back to her, and she blocked my WhatsApp number. I mean, are you kidding me? I tried calling her to unblock me, but she blocked me there as well.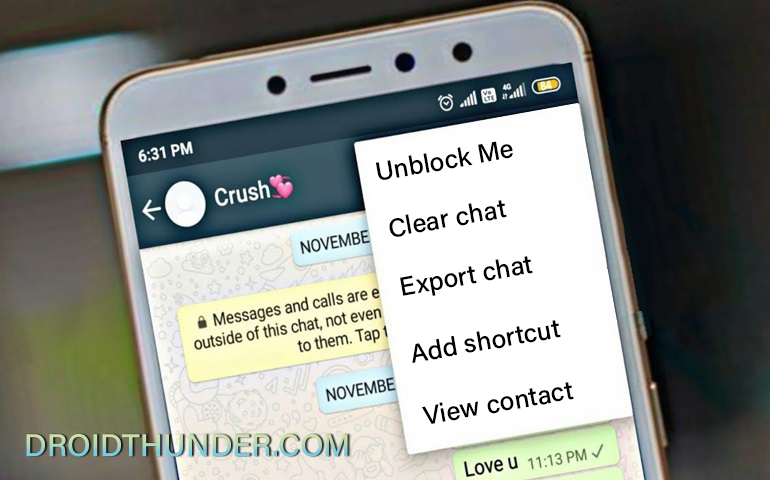 I immediately looked for a way to unblock the WhatsApp number and have a proper discussion to resolve the misunderstanding. Since she was blocking me on every social media account, I decided to move on and ignore her completely. However, how can I stay away from the only girl that means so much to me?
I came across various WhatsApp tips and tricks to unblock yourself on WhatsApp when someone blocked you. Then I realized many people like me might be facing such issues. So, if your loved ones have blocked your number on WhatsApp, you can use this WhatsApp hack to unblock and easily retrieve messages.
In this easy step-by-step tutorial, we'll guide you to unblock WhatsApp on iPhone and Android devices.
How to know if someone blocked you on WhatsApp?
If you are in a situation where you feel that your friend has blocked you on WhatsApp, but you are not sure, then follow these steps.
If your friend blocks you on WhatsApp, you'll first notice that the person's profile picture is not visible to you.
Moreover, you'll also be unable to see the last seen and the online offline status of that contact.
Any messages sent to that person will always show only one single tick mark.
Besides, you'll be unable to create a WhatsApp group with the person who blocked you. Instead, you'll receive a popup saying, couldn't add this person.
Finally, if you attempt to WhatsApp call that person, the call won't go through. The app will show calling that will never change to ringing. This is the sure shot sign, you my friend, are blocked.
If the above-given indicators are false, then there is a chance that the person has not blocked you on WhatsApp. However, sadly, you have been blocked if they are true. In that case, don't worry; we'll guide you on how to unblock yourself on WhatsApp when blocked.
5+ Best Ways to Unblock Yourself on WhatsApp
Are you sad because your loved ones blocked you on WhatsApp? Do you want to send a message on WhatsApp to someone who blocked you? If yes, then don't worry; you are not alone in this.
Everyone in their life has been in this situation at least once. However, if you want to unblock your WhatsApp number, here are the best methods to get this done. Check them out!
Method 1: Unblock WhatsApp number without making Group
If you want to unblock yourself on WhatsApp when someone blocks you without making a group, this is the trick for you. This works on both Android and iOS devices. Since every trick comes with its gains and losses, you'll lose your complete WhatsApp chat history using this method. Moreover, this will also remove you from all the WhatsApp groups. If you are ready to face these consequences just to chat with someone who blocked you, then go ahead.
Open WhatsApp on your phone.
Go to Settings.
Click on Chats.
Select Backup to save your messages on Google Drive.
Go back to Settings and click on Account.
Click on the Delete My Account option.
Enter your mobile number and tap Delete My Account.
Select a reason from the list as to why you are deleting your account and click on the delete button.
After deleting your account, uninstall WhatsApp from your phone.
Restart your device.
Install WhatsApp again and log in with your mobile number.
After login, you can text the person who has blocked you.
Method 2: Unblock WhatsApp without deleting the account
This is the best trick if you want to unblock someone on WhatsApp without them knowing. Despite Method 1 being easy and solving the unblocking problem, most users might not want to risk their entire WhatsApp account to grab attention from someone ignoring you. Besides, jeopardizing messages and groups is too much just for the sake of that one person. And don't forget that after deleting your WhatsApp account along with a group, you'll need to request every WhatsApp group admin to add you back to the group manually. Follow these steps to unblock yourself without deleting your account.
Create a new WhatsApp group from another mobile number.
Add the contact that blocked you along with your phone number in the group.
Exit the group from the number you used to create the group.
Now you can send messages from the blocked number.
Are you confused? Let me explain it to you with an example.
Let us predict you have two phone numbers: Number A and Number B.
Number A is blocked by the person.
Create a WhatsApp group with Number B.
Add number A and the person who has blocked you.
Let Number B leave the group.
Now the only members in the WhatsApp group are Number A and the person that blocked you.
Go ahead and surprise the person with a message from your blocked number.
Method 3: Unlock yourself on WhatsApp iPhone
This method works only on iPhones. All you need is an app called Dual Space that can clone up to 24 apps at a time. Follow these steps to unblock WhatsApp numbers on your iPhone.
Download and Install Dual Space on your iPhone.
Register on Dual Space and clone WhatsApp.
Log in with a new number on that WhatsApp account.
Send a text to the contact that blocked you from this new number.
Method 4: Parallel Space – Multiple accounts & two face
As Dual Space is for iOS devices, Parallel Space is for Android. You can use this app to clone and log in to two multiple accounts on the same Android device. Let's follow the steps below to unblock WhatsApp numbers using the Android app.
Download and Install Parallel Space on your Android phone.
Register on Parallel Space and clone WhatsApp.
Log in with a new number on that WhatsApp account.
Send a message from this new number to the person who blocked you.
Method 5: Unblocker for WhatsApp Apk
There are plenty of apps available on the Google Play Store to unblock on WhatsApp, but only a few work well. An Android app called Unblocker for WhatsApp can unblock yourself within 24 hours. All you need to do is enter your mobile number. The app then processes and sends an unblock notification in 24 hours. Follow these steps to unblock using the WP unblocker app.
Download and Install the WhatsApp Unblocker app on your phone.
Launch the application
Press Start Unblocking to continue.
Read the disclaimer and click Next.
Enter your mobile number and click Submit.
Within a few hours, you'll receive an app notification that your mobile number has been unblocked.
Method 6: The Rightful WhatsApp Unblock Trick
Blocking without an actual conversation might lead to misunderstanding. At such times, it is better to call the person who blocked you and convince him/her to unblock you. If you are blocked on call as well, in that case, request a mutual friend to mediate between you and that person.
In my case, my girlfriend was not sure about our relationship. I said we could work this out because that's what couples do. But all she wanted was some space. If you are stuck in the same situation as me, the best option is to give some space to the person who blocked you. Let them think and come to a final decision. Do not contact or disturb them. If they really want to talk, they'll unblock your WhatsApp number for sure.
However, if you are blocked because of your own mistake, then it's better to say sorry and accept your mistake genuinely. Whatever it is, make a move, or you'll be blocked forever.
Conclusion
Finally, this is how you can unblock on WhatsApp if someone blocks your number. However, even after unblocking yourself, if your girlfriend keeps on blocking you, then my friend, the only final advice I can give you is, "If you cannot change the girl, change the girl."