In a recent WhatsApp update, the Meta messaging app increased the Group Voice Call limit to 32 users on Android and iOS devices. This update comes with a brand-new redesigned interface with features such as speaker highlights, waveforms, and social audio layout.
Moreover, this new WhatsApp version also features an updated voice message bubbles design and an information section for contacts and groups. The update also brings a new tweak to quickly access your favorite images, videos, and GIFs, from the gallery.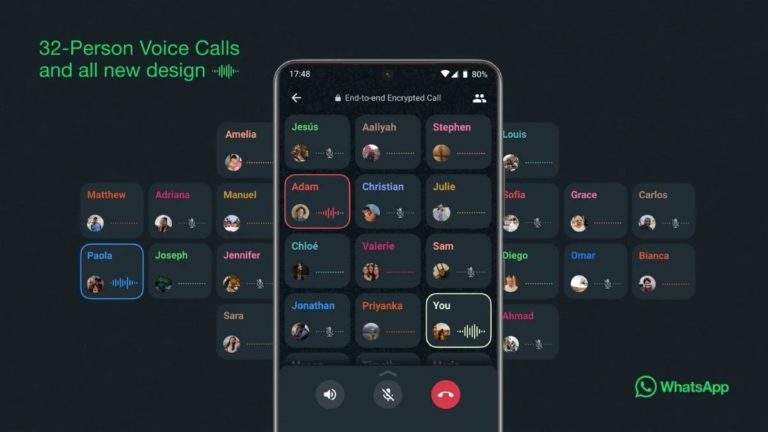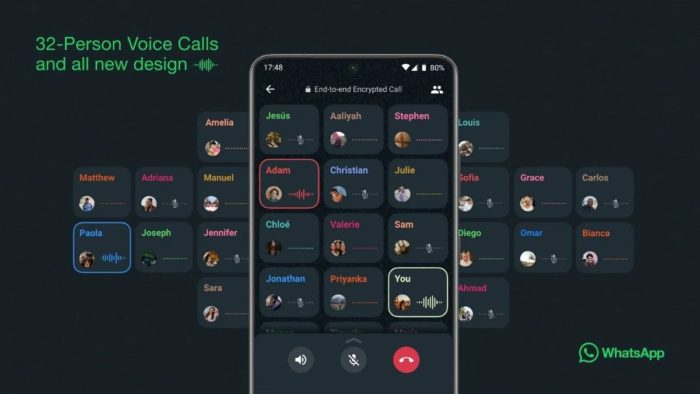 Make WhatsApp Group Call with up to 32 Users
Android users with WhatsApp version v2.22.9.73 and Apple users with version v22.8.80 can join 32 users in WhatsApp Group Voice Call. Therefore, if your WhatsApp is not updated, go to the Google Play and Apple App Store and update it to access these features as soon as possible.
Do you want to make an urgent conferencing call? Do you want to call a group of people without making them install a third-party app such as Zoom or Skype? Then, you can use the new WhatsApp feature to make group calls with up to 32 users at a time. Isn't it amazing!
WhatsApp is the only app that every user has. That means there is no need to download and install any third-party application just to make a group call. Moreover, this new update is useful for users who want to plan a birthday party or conduct an urgent office meeting. Simply add 32 users to your contact and make a group voice call.
Besides, the Meta-owned app has also updated the design user interface, especially for the WhatsApp group voice call. In the new version, you'll find rounded square-shaped blocks for all the 32 users with their names, profile photos, and animated waveform. When any particular user speaks, the animated waveform highlights.
This is exactly similar to the Microsoft Teams feature. Whereas the blocks of the silent users show a flat waveform. Moreover, users who mute their mics appear with a muted-mic icon. With the new feature, WhatsApp is announcing its upcoming WhatsApp group communities feature.
WhatsApp users can manage and organize their group chats with this new group community. Besides, the group participants can also create voting polls and get responses on a particular topic. This can enhance the group chat experience for users to a vast level.
Earlier WhatsApp versions allowed only up to 8 people to join a group voice call. Later, the company announced a new feature join ongoing WhatsApp group calls. Since WhatsApp groups are the most used feature on the app, Meta is more focused on updating and adding features. What are your thoughts about the voice call feature? Kindly let us know via the comments section below.