At last, after a much long wait, WhatsApp has finally started rolling out the multi-device support for its beta users. It all started back in 2018 when there were rumors that you can use your WhatsApp account on different devices at the same time.
However, it was not confirmed until this year. There are plenty of benefits of this WhatsApp multi-device support. Most importantly, it will remove the necessity to always keep your phone connected to the internet for using WhatsApp on a PC or any other device.
Besides, the WhatsApp multi-device support can benefit the users to access it not just on their smartphone. Moreover, you can use your WhatsApp account on four other devices including WhatsApp Web, Desktop, and Facebook Portal.
In a recent interview, WhatsApp CEO Will Cathcart and Facebook CEO Mark Zuckerberg explained the challenges they are facing to develop multi-device support. They also announced that starting today, few beta testers will get access to test the multi-device support.
Talking about its technical aspects, this latest WhatsApp update uses a client-fanout approach. That means whenever a client sends a message, the app encrypts it first. Furthermore, the encrypted message transmits to multiple devices at the same time.
Most importantly, the encrypted messages are not stored on the server after delivery, thus following the privacy policy. Apart from the messages, the tech giant company has also held its start to finish encryption for video as well as voice calls accessible on several devices.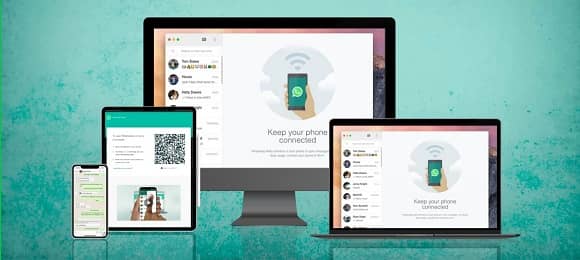 How does WhatsApp Multi-Device Support work?
This new update will basically allow you to link your WhatsApp account to four additional non-phone devices. This way you can easily access the chats, videos, voice calls on these devices without the need for a smartphone or internet. Yes, you heard it right. Isn't it amazing!
Moreover, you can also use WhatsApp Web/ Desktop when your phone is switched off. Presently, the app uses your Android or iPhone as a source device to access the messaging app on the web. That's why the WhatsApp architecture is being completely rebuilt.
The new architecture is designed to give an absolute synchronized experience between multiple devices with no compromise when it comes to security. The beta testers can link their respective accounts to new devices using the QR scan code on their smartphone.
Yes, it is completely similar to how you connect your WhatsApp account to WhatsApp Web. Additionally, the app can ask the testers for biometric authentication to link the device. You'll also get an option to log out along with the list of linked devices.
The company has really made it simple for users to easily access the famous messaging app from different platforms at the same time. To be specific, the WhatsApp multi-device supports Web, Windows, Facebook Portal, and even macOS.
Note that the multi-device feature is still under development. After testing, WhatsApp will include more user-friendly features, optimize the performance, and then release it publicly. With the recent joinable group call feature and this multi-device support, it seems WhatsApp is really on a roll these days.