Qualcomm Technologies Thales and Vodafone recently unveiled the world's first phone with a working iSIM (integrated SIM) technology. This new tech will make the SIM card function directly from the device's central processor, thus eliminating the dedicated SIM slot.
The first SIM card was introduced way back in 1991 with a data capacity ranging from 32KB to 128KB. Mini-SIM cards replaced them in 1996. With the introduction of smartphones in 2010, newly redesigned micro-SIM cards substituted traditional mini-SIM cards.
With the increase in the demand for smaller mobiles, manufacturers replaced micro-SIM with nano-SIM cards. Initially, it was only for a few flagship smartphones. However, with time, every handset was developed with Nano-SIM support. But, everything changed with the launch of eSIM functionality.
eSIM stands for embedded SIM, a digital SIM embedded into a phone's motherboard. It allows you to activate a cellular plan from your carrier without the need for a physical SIM card. It was mainly introduced to enhance design flexibility and improve network security.
Since 2017, many manufacturers such as Apple, Google, Samsung, and Microsoft have launched eSIM supported devices. iPhone 13, Samsung S22 Ultra, Google Pixel 6 Pro, etc., all support eSIM functionality. Companies are planning to have eSIM only devices as a standard by 2025.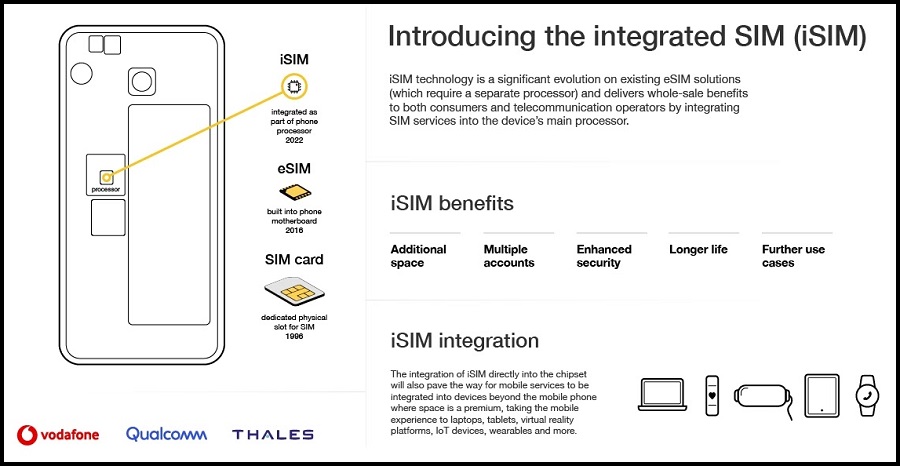 Qualcomm announces iSIM tech to revolutionize phones
ESIM hasn't become mainstream, yet the world's biggest chipmaker, Qualcomm, partnered with Vodafone and Thales for introducing a breakthrough technology – the iSIM. The iSIM technology stands for integrated SIM. Qualcomm says that the iSIM benefits could be on multiple levels.
Due to the collaboration of the three companies, the demonstration of integrating the SIM functionalities directly into a phone's central processor along with the modem, CPU, and GPU became successful. It is said that the iSIM technology will work on phones and laptops, smartwatches, and VR platforms.
The main advantage of using an iSIM technology is an increase in the design and performance of the phone due to more space within the device. Furthermore, Qualcomm also listed the iSIM benefits, especially for IoT devices. You can easily use iSIM anywhere and securely be on an IoT network.
Moreover, this technology can even end the manufacturing of physical SIM cards, thus reducing plastic consumption. To demonstrate the concept of iSIM, Qualcomm used the Samsung Galaxy Z Flip 3 powered by Snapdragon 888 5G SoC with the Thales iSIM Operating system.
Samsung's R&D team conducted a demo in their labs in Europe, and the company used Vodafone's network, illustrating its efficiency and readiness in working with existing infrastructure. Although iSIM is an excellent concept, it will still take years for the telecom operators to embrace it to become mainstream.
Source: Qualcomm