Last month, WhatsApp launched the global media player for iOS beta users. This feature helps you listen to an audio recording even when a person leaves the chat. Now, the meta-owned app is testing the same global voice message player for Desktop web clients.
WhatsApp tested a feature to pause voice recording back in October 2021. The ability to stop and start voice recordings anytime was convenient. Therefore, it was very well received by the users. Since then, the company has constantly been working on Desktop app improvements.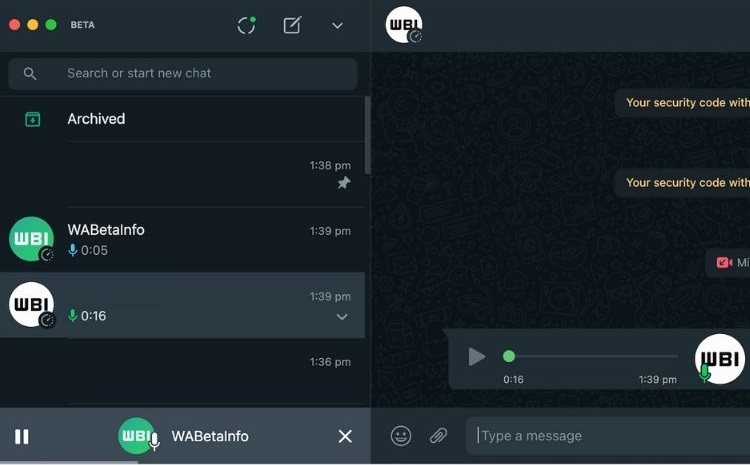 WhatsApp desktop users get an updated global media player feature
According to a recent report by WABetaInfo, WhatsApp is testing a new global media player for the Desktop beta version 2.2204.5. This will let the app users see a new voice player at the bottom of the WhatsApp chat list. You can use this option to play, pause or cancel the voice message.
Since the player is released for iOS, Desktop, and web client users, it is expected that the global media player will be released for everyone, including mobile users. This is useful especially for the users who love multi-tasking while having a conversation.
The Global media player will show a bar at the bottom of the chat with play, pause, and progress indicators. Moreover, you'll also see an audio player bar on the screen. If you play any voice message and switch to another chat, the global media player will continue playing the voice note.
The indication bar will show you the time the voice notes end. This way, you can easily use the playback button and control the voice message note. Just tap on the moving grey bar to control the global media player. As per WABetaInfo, users with WhatsApp Desktop beta version 2.2204.1 can experience this feature.
On the other hand, WhatsApp is also working on a new update of disappearing messages. As per the user's review, this disappearing chat feature is ineffective. The feature becomes useless since any user can take a screenshot of the chat or image before it disappears.
Moreover, the image also gets saved in the photo gallery on some Android devices. Therefore, the disappearing messages do not make any sense. That is why the meta-owned platform is improving the media visibility feature. This will prevent the image from being saved in the mobile gallery.