The meta-owned messaging app is reportedly working on a new WhatsApp Polls feature for group chats. This will help WhatsApp users to create voting polls and get responses on a specific topic. This group polling feature was last seen on WhatsApp beta for iOS version v2.22.6.70.
Due to a massive backlash around the controversial privacy update, many users switched to rival messaging apps. Since then, the company has constantly been advertising its end-to-end encryption algorithm. Moreover, WhatsApp is also adding new features to stay ahead of its competitors.
Some of the new WhatsApp features include emoji reactions, two-step verification, voice call design, multi-device support, and pausable voice recordings. Besides, the company is all set to release a feature to hide last seen status, profile photo, and about information from specific contacts.
Furthermore, you might also see a feature to send a file of size 2GB through WhatsApp. And now, with the group polls feature, the company is giving a tough competition to Twitter and Telegram. Both of these platforms already sport the create a voting poll feature.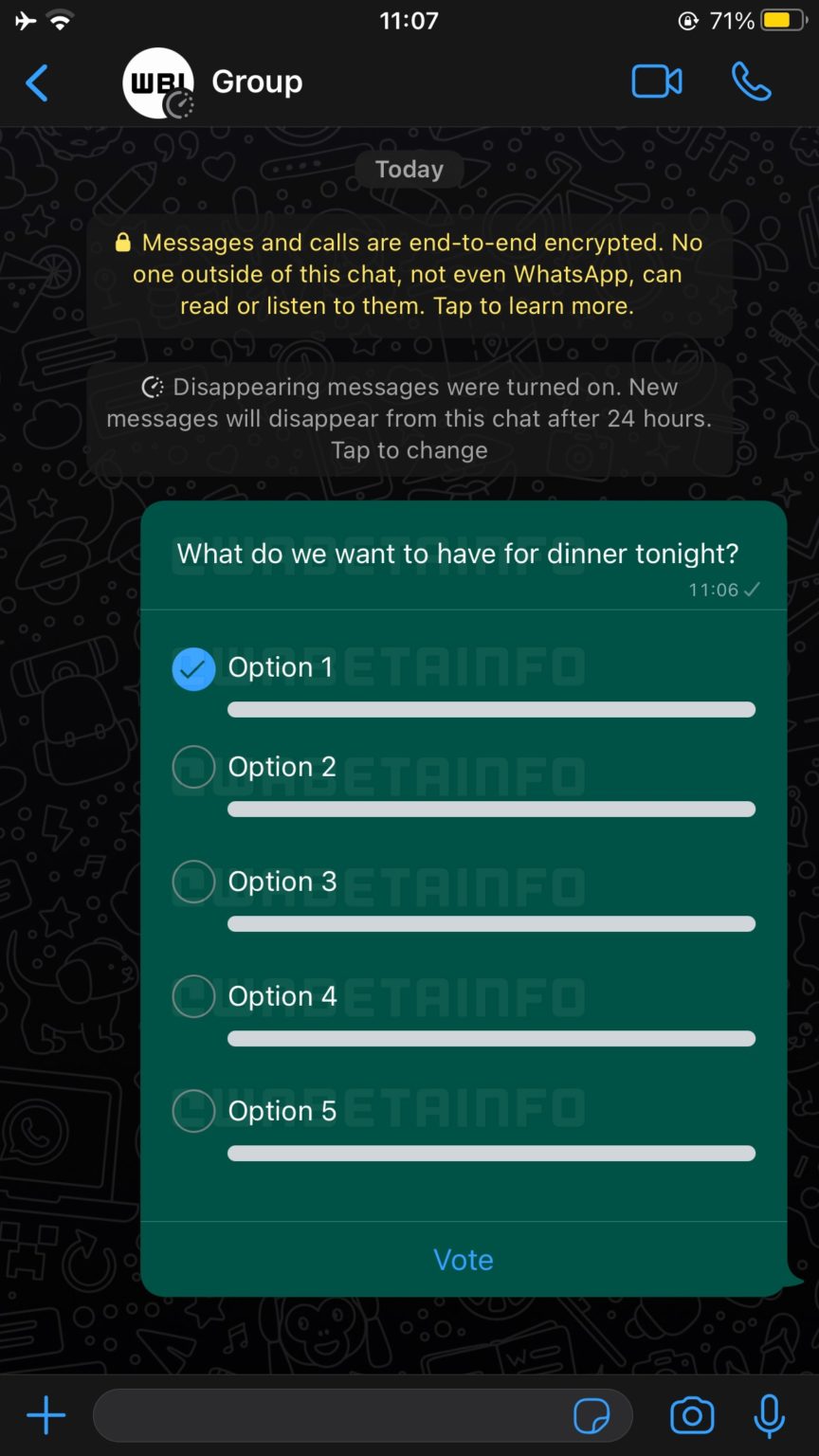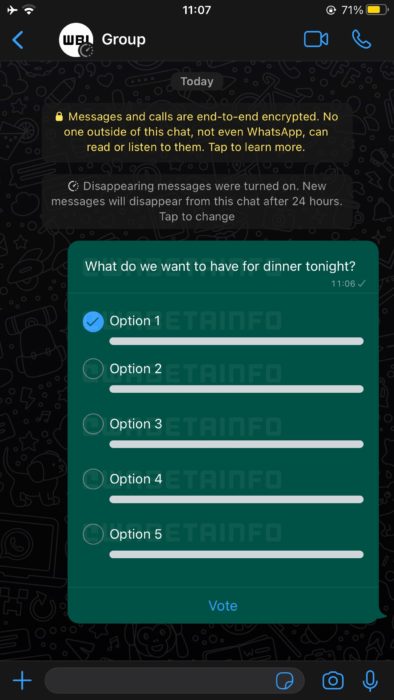 This is how WhatsApp Polls Feature might look like
According to WABetaInfo, you can experience the group polling feature on the latest WhatsApp iOS beta version 22.9.0.70. This is very useful for users to ask questions and vote around a particular topic. Besides, you can instantly see the voting results as well.
Most importantly, this WhatsApp polls feature can help you make a decision in group chats. Whether you want to decide on a trip location, birthday gift, or theme, create a poll and make quick decisions. Similar to WhatsApp chats and messages, these polls are end-to-end encrypted.
That means the polls are exclusive to that WhatsApp group and cannot be accessed by anyone outside the WhatsApp group. To vote, users can choose the checkbox beside the option they want to vote for. Finally, they can click on the Vote button at the bottom to confirm their choice.
After vote confirmation, their chosen answer will be sent to the group participants. Unfortunately, this WhatsApp polls feature isn't available for beta users. The company is still refining the feature, and it'll take a few more months for an official release.
We can expect some more teasers and screenshots like these ahead of its release. What do you think about this new WhatsApp group polls feature? Let us know in the comments below.