For months, rumors have circulated about the companies like Xiaomi and Oppo attempting to design the First Phone with Under Display Camera. Finally, it seems that someone has actually done it. However, it is not Vivo, Oppo, Xiaomi, Samsung, or even Apple. ZTE Corporation, the famous Chinese smartphone manufacturer company has recently announced ZTE Axon 20 5G, the first-ever smartphone to feature an under-screen camera.
Vivo, another Chinese smartphone manufacturer company was the first to release the in-display fingerprint sensor phones. Moreover, they also launched Vivo Nex, the world's first smartphone with a motorized pop-up selfie camera. This was just a start to the trend of smartphones with bezel-less or notch-less displays. However, the front-facing selfie camera was the only thing that was interrupting the full-screen display.
This is when the under-screen camera concept came into existence. Due to their innovative and futuristic approach towards smartphones, it was expected that Vivo will release the first phone with Under Display Camera. However, it was ZTE, another Chinese brand company that took an initiative to develop the first smartphone with Under Display Camera. That means there is no cutout or waterdrop notch display on the front side.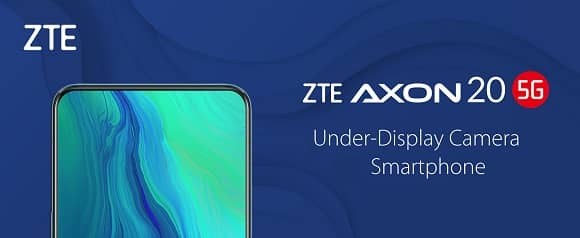 This clearly shows that the Chinese phone companies are ruling the Android market. Last week, ZTE President Ni Fei announced ZTE Axon 20 5G, the world's first under-display camera phone in a post on Weibo. Furthermore, he revealed that the release date for this 5G smartphone is 1st September 2020. Since this news was released in English, it is quite sure that this phone will be available outside of China as well.
ZTE Axon 20 5G is the world's first mass-produced smartphone to feature the in-display camera. You would be surprised to know that ZTE is not the first company to test the Under Display Camera phones. In fact, Xiaomi and Oppo have already tested this Under Display Camera feature last year. Out of the two, Oppo was the first company to publicly speak about the in-display camera concept.
The company even showed a prototype Android phone with a hidden camera at the MWC Shanghai in 2019. However, Oppo mentioned that there is still a lot of work to do, and the phone is not ready for the commercial launch. Similarly, Xiaomi came up with the in-screen camera technology. They mentioned that a low reflective glass with transmittance can allow the front display to become transparent for clicking photos.
Also Read: Why Google Removed Fortnite from Play Store?
For many years, several smartphone companies are trying to minimize the front display notch. Some of them even tried to make a motorized popup camera for the front selfie shooter. It was the best way to get an uninterrupted viewing experience. However, few smartphones faced major issues with their alignment. Additionally, users also complained that the motor stopped functioning after the update.
Expected Specs of the First Phone with Under Display Camera
The post on Chinese social media platform Weibo did not reveal the exact specifications of the upcoming handset. However, a recent listing by Chinese regulator TENAA has revealed some of the expected specs. ZTE Axon 20 5G comes by the model number ZTE A2121. Besides, this handset is the successor to the last year's ZTE Axon 10 Pro 5G.
Moreover, it features a 6.92-inch full HD+ OLED display and a Qualcomm Snapdragon 765G processor. Besides, it comes in three variants viz. 6 GB, 8 GB, and 12 GB RAM. Additionally, these variants will arrive with 64 GB, 128 GB, and 256 GB of internal storage. Talking about the cameras, it features 32 megapixels of the hidden in-display front camera for selfie shots.
Whereas, it also offers 64 megapixels of the main camera on the rear end. It is aligned with an 8 megapixels of ultra-wide camera lens. Also, it sports a 2 megapixels of the depth sensor and a 2 megapixels of macro lens. For charging, it offers a non-removable 4,120 mAh battery along with a fast charging support. Overall, it is a mid-end Android device with decent specs. If you are excited to witness this first in-display camera phone, then kindly comment, and share this post.