It is always irritating to continuously receive spam calls and messages from mobile companies. Yes, you can easily block them, but, these are robocalls that use new numbers every time they call. To get rid of this issue, the Google Phone app has finally added the Caller ID and Spam Protection feature.
This feature was in the beta stage till September 2020. However, Google has finally made it available for all Android and iOS users. Google Phone Caller ID aka Caller identification feature helps to find out who is calling you by the phone number. This is a must feature for people with physical disabilities.
Moreover, this Caller ID feature also announces the number and name of the incoming call. Besides, the spam protection feature can help you filter out spammy calls, messages, as well as notifications. But you can still checkout who called you in the call history along with the incoming voicemails.
Google Phone App adds built-in Caller ID feature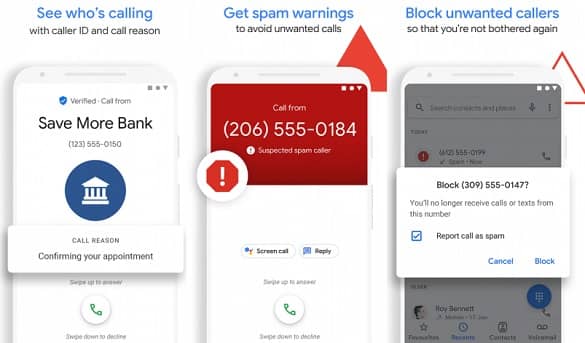 It is widely known that Google rolls out special and useful features exclusively for Pixel devices. Although this is obviously their marketing strategy, the tech giant company is recently receiving a lot of criticism for the same. Due to this, the company is slowly releasing important features worldwide.
Back in September, Google initially released most of the Pixel features in its Google Phone app. However, users were disappointed due to the missing basic Caller ID feature. Considering this, the tech giant has finally decided to launch caller identification support in its phone call application.
Many other Android OEMs have already included this feature in their calling app. Hence, it is quite disappointing that Google has made people wait for a long time. This feature is highly useful for those with the default Google Phone dialer app. Besides, it can even help you avoid unwanted calls.
Google has announced the Caller ID support exclusively for Android version 6.0 Marshmallow and above. To use the feature, go to Google Phone > Settings > Caller ID announcement. It is turned on by default, but you can turn it off anytime. This option was earlier present in the advanced settings.
Apart from that, there is a new option to access saved voicemails. Moreover, you can also use the Call Screen feature to automatically delete audio recordings as well as call screen transcripts that are older than 30 days. OnePlus Nord is the first phone to include this stable Google Phone app.
Besides, there is also an option to enable Announce Caller ID where you can choose between Always, Only when using a headset, or Never. As soon as you enable it, you'll hear the name and number of the person calling you. Therefore, you can easily avoid unknown and wrong number calls.
Furthermore, you can even decide which calls to receive and which not. Although it is not a big update, still the feature is quite handy. If you are still not able to find the Caller ID feature in your Google Phone app, it is better to update it from Google Play Store.