Have you ever called a Customer Support Agent, a Doctor's clinic, or any Administrative office? If yes, then you might know about the 'Music On Hold' concept. MOH is a business practice to play recorded music while the call is on hold. Besides, it is mostly used to clear out the silence for the customers. When you call customer service, you can hear this music for a specific time before the agent answers your call. Sometimes, this long wait time along with awful music can be really frustrating. At such times, Google Assistant's new 'Hold For Me' feature can be a blessing for you.
Recently, Google unveiled the all-new Google Pixel 5 and Google Pixel 4a 5G smartphones. Along with that, the tech giant has also announced a new Hold for Me feature that makes the Assistant wait on hold for you. It seems that Google is continuously releasing new Android features and enhancements one after another. In the past few years, the company has launched a call screen to inspect the incoming calls. Additionally, the tech giant has even released Duplex for restaurant reservations, and the Verification Call feature that displays who is calling you and why?
Similarly, this time the company has introduced the Google Hold for Me feature that can be a boon for an impatient person. Waiting on hold for a long duration, and listening to the repetitive awful music can not only irritate you but also cause frustration. Thankfully, Google Assistant's Hold for Me feature can make such situations tolerable. Moreover, this feature is launched as an early preview on Google Pixel 5 and Google Pixel 4a 5G phones. Furthermore, it is currently available for US customers. Most importantly, it does not use your WiFi and phone data.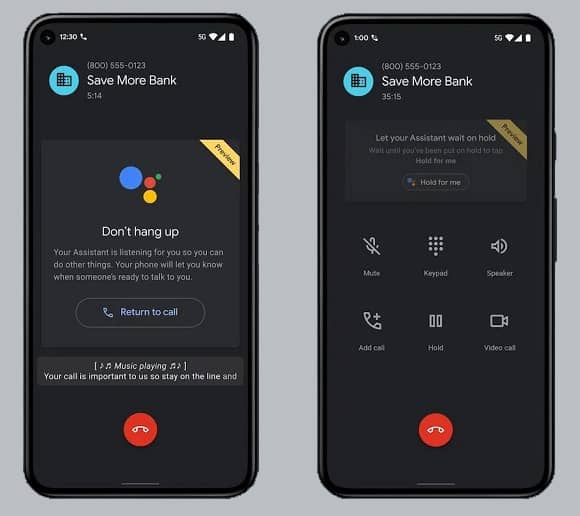 What is Google Hold for Me feature?
Hold for Me is a Google Assistant's new feature that uses Duplex AI technology. The Assistant uses this feature to wait on the line for you thus saving your precious time from listening to the hold music. Moreover, it can easily recognize the difference between the recorded music and the agent on the call. In a recent Google blog post, the company stated that to design this feature, they have collaborated with companies such as Dell and United.  Furthermore, they have also taken a strong feedback from the customer service agents, to make the feature as effortless as possible.
How to Enable Google Hold for Me?
Launch the phone application.
Click on More and then Settings.
Then click on Hold for Me.
Finally, toggle the Hold for Me button to turn on.
How does the Hold for Me feature works?
Call customer support toll-free number.
As soon as the agent puts your call on hold, Google Assistant will take over.
When the agent comes on the line again, you'll receive a notification along with a vibration and sound.
The Hold for Me feature will ask the agent to hold before you take on the call.
On the other hand, you can also monitor the call using the real-time captions on the screen.
Also Read: Spiral Eyes Emoji revealed to Express the Anguish of 2020
Note that Hold for Me is an optional feature that you can easily turn on/off from the Google settings. Whenever the Assistant takes over your call, the Duplex AI automatically mutes the call. That means you can do whatever else you want to do instead of holding your Android phone. Besides, you can also monitor the ongoing call by using the real-time captions on your device. Moreover, it also records the audio and displays a transcript of what's happening. This transcript files automatically deletes within 48 hours after the call. After reading so much about this Hold for Me feature, we just can't wait for it to become available worldwide.
Source: Google