Lockdown is been followed in many countries around the world to fight the COVID-19 Coronavirus pandemic. The Government has urged people to stay at home and follow social distancing. Moreover, they have also requested to adopt work from home using Mobile and Video Conferencing Apps. Whether it's a business meeting, a casual discussion with family and friends, millions of people are using video calling apps to communicate with each other. Besides, various schools and colleges have started educating their students using video conferencing classes.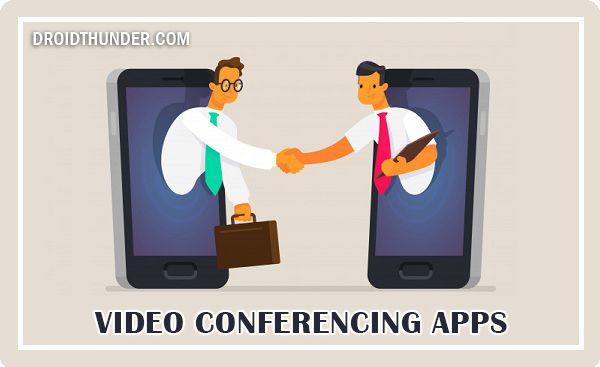 Moreover, work from home jobs as well as remote jobs has seen exponential growth over the last few weeks. Besides, job postings for online tutoring and e-learning have also seen an increase. Due to this, the demand for video conferencing apps for both personal use, and business has increased tremendously. As per the new report from App Annie, the business conferencing apps have experienced a phenomenal growth of 62 million downloads in the last few months.
Working from home is an intimidating and challenging concept. Yes, you are going to miss people and their interactions. Moreover, making phone calls or conference calls can solve this, but, there's something to be said about seeing people face to face. This is where video conferencing apps can help you. Although it might be through a screen, you can still talk person-to-person. Moreover, seeing people face-to-face makes a difference. Besides, it gives you another good reason to get dressed.
Furthermore, there are plenty of free video meeting apps you can use to connect. However, due to various available options, it is quite difficult to select the best video conferencing app for your Android or iOS smartphone. Moreover, we are going to share a list of the top best video conferencing app for Android and iPhone, which will help you to host online meetings remotely. Video conferencing apps can help your company to be more productive, efficient as well as effective.
List of Best Video Conferencing Apps for Android and iPhone
We'll check out the best video conference app along with its features. So, what are we waiting for? Let's get started!
Cisco Webex Meetings
Cisco Webex is mainly known as a business video conferencing app. It is available for iOS, Android, Windows, and Mac OS. Due to the current scenario, the company has enhanced the features of the basic free version with a new Webex virtual whiteboard.
Features:
Up to 100 participants for a free version
Unlimited time for each video conference
Call-in for audio
Playback and recording
Skype
Skype app is one of the oldest video calling platforms out there. Since 2003, Skype is known as the best video calling tool for making free or cheap phone calls. Moreover, it is available for iOS, Android, Mac, Windows, and Xbox, etc. Besides, you can not only call from one Skype account to another for free but also make domestic and international calls at low price rates. Additionally, it also offers a tool called Skype in the Classroom specifically designed for online education.
Features:
Maximum 50 user limit
4 hours limit per video call
Supports landline numbers
Blur Background option
Zoom Cloud Meetings
Zoom is the most popular video group call app available for Android, iOS, Windows, and Mac OS. According to the Ministry of Home Affairs, the most downloaded Zoom app is not safe to use. Moreover, the app has received several cyber-threats and criticism due to the security and privacy concerns associated with it. Besides, countries like Singapore and Germany have banned the Zoom application and restricted its use. Finally, this is the main reason why people are looking for the top Zoom app alternative for video conferencing.
Related Post: How to Use Zoom App on Mobile Phone.
Features:
Host up to 100 participants
40 minutes time limit for a Basic plan
Private and group chat
Unlimited Meetings
Microsoft Teams
Microsoft Teams is a better alternative to Zoom as it provides HD quality of video conferencing with up to 250 users or live video of up to 10,000 people. Additionally, if your company uses Office 365, then you already have access to Microsoft Teams.
Features:
Up to 250 participants
No time limit
Google Duo
Apple's FaceTime is the most used and popular video conference app. Unfortunately, there is no facetime video calling app for android. However, the best FaceTime alternative for Android is Google Duo. Moreover, it works similar to WhatsApp and Facebook messenger, and Microsoft's Skype. Besides, you can make Google Duo video call with or without any contact number.
Features:
Limit of 12 people per call
No Google account needed
Improved quality and reliability
Save personal messages
Google Hangouts
It is a simple and classic way to connect to someone with or without a Google account. Besides, Google Hangout is available for Android, iOS, and Web.
Features:
Up to 25 video participants
Maximum 150 participants limit for Voice conversations
No time limit
GoToMeeting
Due to its unique features and functionalities, GoToMeeting is an ultimate choice for companies operating in multiple locations, and with staff across the world. Additionally, this app is compatible with Android, iOS, Windows, and Mac OS.
Features:
Supports 26 participants for Free version
No time limit
User-friendly interface
HD video quality
Virtual Whiteboard
Google Meet
Anyone with a Google Account can create an online meeting using Google Meet. It was previously known as Google Hangouts Meet. Besides, Google Meet is premium video conferencing software, provided as part of G Suite. It is available for free on Android, Windows, and iOS. Additionally, it is similar to Google Hangouts but supports far more participants.
Features:
Limit of 250 people per call
No time limit until September 30th; afterward, 60minute limit
Secured with a unique encryption key
Houseparty
It is known as a social media app rather than a video conferencing app. Houseparty is available on Android, iOS, Mac, and Chrome. This app allows users to play games with other room members.
Features:
Maximum 8 participants per call
Added fun element
Security and privacy may be at risk
BlueJeans
BlueJeans is a full feature packed highly rated video conferencing app. Furthermore, you can join a meeting for free, however, you need to pay to organize meetings.
Features:
Up to 50 participants limit for the basic version
A time limit of 2 hours per call
Dolby Digital voice
Noise cancellation
Free Conference
Although its name is FreeConference, it does not provide a free service. Moreover, this app is ideal for a small group of participants. Besides, it lets you host an unlimited number of meetings with up to 1,000 participants per meeting.
Features:
Up to 5 online meeting participants
Up to 1,000 participants for a paid plan
No time limit
Jitsi Meet
This app is a free and open-source project that lets you create your room and share the link. Besides, Jitsi Meet is the best free video conferencing app available for Android and iPhone users.
Features:
Up to 75 participants
No time limit
No account needed
Integrates with Slack, Google Calendar, and Office 365
Join.me
Similar to GoToMeeting, Join.me is a user-friendly online video conference app that offers a host of collaboration tools. Moreover, if you want to host a quick video call where the client won't need to download any software, then join.me is the top video conferencing app for you.
Features:
Allows up to 10 participants
No time limit
The paid version allows up to 250 participants
Zoom in and out of the shared screen
RingCentral Meetings
RingCentral Meetings is a powerful HD cloud video meeting app. Additionally, it offers a wide range of add-ons, like Ring Central Webinar and Ring Central Rooms. Finally, you'll not only have a video conference app at your fingertips, but you'll be able to choose whether you need webinar functionality, an improved audio experience, or cloud teleconferences without any additional equipment.
Features:
Allows up to 100 participants
A time limit of 40 minutes
Safe driving mode
Lifesize Video Conferencing
The Lifesize app offers audio, web, and video conferencing capabilities to conduct virtual meetings and make online calls. Furthermore, it turns any smartphone with a camera, microphone, and screen into a viable video conferencing endpoint. Besides, instantly join a meeting with high-quality video and audio, share your screen, chat in real-time, and sync with your calendar.
Features:
50 participant limit
Supports 1080p and HD audio quality
Room system support
Finally, do you know any other video conferencing apps for Android and iOS? If yes, then do let us know in the comment section below. Thank you!