MediaTek is continuously releasing new 5G chipsets for Android phones under its Dimensity lineup. Recently, the company launched MediaTek Dimensity 700 with 90Hz display support and 5G connectivity.
This newly launched chipset will power the Realme 8 5G smartphone. According to the company, MediaTek Dimensity 700 is designed to deliver advanced AI capabilities, fast connectivity, and enhanced display features.
Besides, it provides improved multimedia capabilities to give a premium user experience. When you compare MediaTek Dimensity 700 vs 720, you'll notice that the 700 SoC delivers 30 percent greater throughput layer coverage.
On the other hand, Dimensity 700 also offers octa-core processing at a maximum clock speed of 2.2GHz. Due to the carrier aggregation support, MediaTek 700 5G Processor provides up to 2.77 Gbps downlink speed.
This is the main reason behind its faster connections as well as seamless handover between 5G cells. Moreover, this 5G processor is designed especially for avid gamers to experience powerful graphics at their fingertips.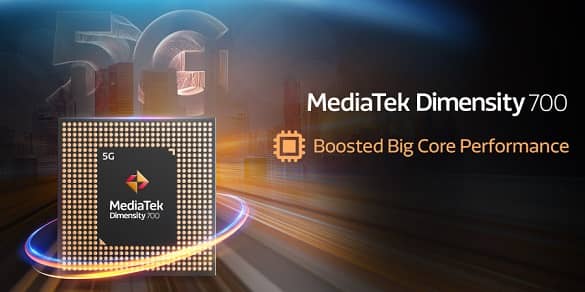 Realme 8 5G is India's first phone with MediaTek Dimensity 700 5G chipset
The MediaTek Dimensity 700 5G chipset will first feature on Realme 8 5G smartphone. That means it will be India's first device to feature 7-nanometer fabrication technology and advanced 5G capacity.
Because of this processor, Realme 8 5G will get the support of a 90Hz refresh rate. Apart from that, this handset will also support advanced camera technology with AI-enabled features and Night Shot.
As per Madhav Sheth, CEO of Realme, the company is continuously improving itself to give users their desired tech lifestyle. It is believed that Realme 8 5G is a rebranded V13 5G, the China version smartphone.
Talking about the Realme 8 5G specs, it features 6.5 inches of IPS LCD 90Hz display with a resolution of 1080 x 2400 pixels. The phone comes with Android 11 based Realme UI 2.0 OS out of the box.
Related: MediaTek MT6893 defeats Snapdragon 865 in AnTuTu test
Furthermore, it sports a triple camera setup on the back including a 48MP primary wide camera, 2MP macro lens, and 2MP depth sensor. Whereas, it offers an 8MP of front camera for clicking selfies.
Realme 8 comes in two variants: 128GB 8GB RAM and 256GB 8GB RAM. Besides, it supports Dual SIM, Voice over new radio (VoNR), and two ARM Cortex-A76 with a maximum clock speed of 2.2GHz.
Due to the two Cortex-A76 cores, it offers a slightly faster performance as compared with Dimensity 720. Although it sports ARM Mali-G57 MC2 GPU, still it drives 1080p+ displays with a 90Hz refresh rate.
The MediaTek Dimensity 700 supports multiple voice assistants. Some of which include Google, Amazon, Tencent, Baidu, and Alibaba. The chipset can easily handle cameras up to 64MP with multi-frame noise reduction.
It is commonly observed that most 5G-capable phones are priced on the higher side. Thankfully, with the new MediaTek Dimensity 700 5G chipset, the company promises to bring advanced 5G capabilities for mid-range affordable Android devices.