It seems that Mediatek is again ready to smash Snapdragon with its new chipsets. Last year, the company managed to defeat its competitor with the MediaTek MT6893. And now they are making a comeback with two new releases. Recently, MediaTek announced Dimensity 920 and Dimensity 810 chipsets, the new members of the Dimensity 5G family. These two chipsets are successors to the earlier Dimensity 800 and Dimensity 900 SoCs.
According to the Taiwanese chipmaker MediaTek, both of these chipsets are based on a 6nm high-performance manufacturing process. The OEM smartphones with MediaTek Dimensity 920 and 810 will obviously get boosted performance. Moreover, these new chipsets also offer dual-SIM 5G support, smarter displays, and advanced imaging capabilities. Most importantly, they will improve user experiences and deliver advanced 5G capabilities.
Similar to Dimensity 700, MediaTek has launched these chipsets, especially for mid-range smartphones and tablets. To be specific, they support full-HD+ displays with a 120Hz refresh rate along with octa-core CPUs. Both of these are 64-bit chipsets with high refresh rate displays, multi-camera as well as multi-processing support. As of now, it is not clear which Android devices will receive these SoCs.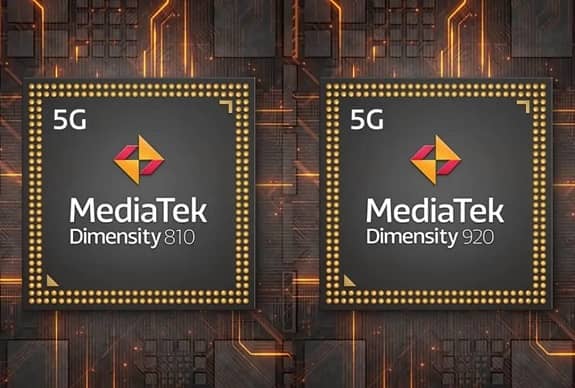 MediaTek Dimensity 920 Features
Talking about Dimensity 920, the SoC comes with plenty of improvements over its 900-series predecessor. It is built using a 6nm process that sports a set of Arm Cortex-A55 and Arm Cortex-A78 clocked at 2.0GHz and 2.5GHz respectively.
Furthermore, it is an integrated Mali-G68 MC4 GPU. Moreover, it improves the gaming performance by 9% using the MediaTek HyperEngine 3.0 and LPDDR5 RAM support. Additionally, Dimensity 920 also supports UFS 2.1 and UFS 3.1 storage.
To dynamically adjust the mobile refresh rate, the company has added support to smart adaptive displays. Apart from that, the chipset also sports an integrated flagship-level, HDR-native image signal processor for a 4K video experience.
Besides, the SoC can easily process a single 108-megapixel camera or two 20-megapixel sensors along with 4K and 8K video recordings. Talking about the connectivity, it supports Wi-Fi 6, Bluetooth v5.2, 5G, and GPS, etc.
MediaTek Dimensity 810 Features
Similar to 920, the MediaTek Dimensity 810 is a redefining 6nm chip that brings a 5G experience on premium handsets. It is more focused to give incredible displays, supreme cameras, as well as amazing battery life.
Besides, it supports a display of up to 2560×1080 pixels resolution and a refresh rate up to 120Hz. Moreover, it supports LPDDR4x RAM with the storage limitation of UFS 2.2. It also sports Arm Cortex-A76 clocked at 2.4GHz.
Talking about the cameras, this SoC supports MFNR & MCTF, the all-new advanced noise reduction techniques. This is very helpful especially for low-light photography, with support of up to a 64-megapixel camera.
Apart from 5G connectivity, this chipset also provides a faster 120Hz supreme display for an enhanced user experience. With this SoC, smartphone manufacturers can give ultra-fast and smooth scrolling without any lag.
Additionally, the Dimensity 810 also uses the MediaTek HyperEngine 2.0 Intelligent Resource Management & Networking Engines. This helps to improve the gaming experience to a vast extent.
According to MediaTek, Dimensity 920 and 810 also support HypeEngine Game Boost technology. This will definitely enhance the gaming performance to a vast extent. The expected release date is October 2021. Let's wait and watch how powerful these chipsets are.