Do you want to flash stock ROM on LG mobile phones? Do to want to flash KDZ and TOT firmware? If yes, then LG Flash Tool and LGUP Tool (LG Update Tool) can come in handy. You can use these firmware flashing tools to unroot, unbrick, upgrade, and downgrade LG phones. In this guide, we'll share the LG Flash Tool Latest Version Download links and the Installation guide.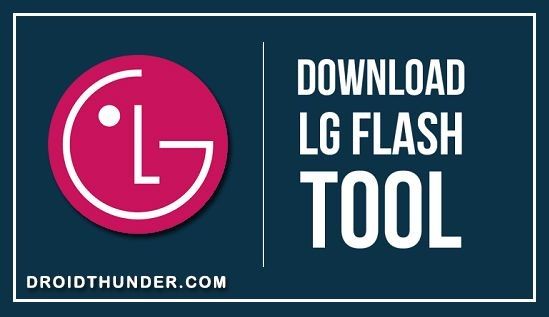 There are various ways to flash stock firmware on Android smartphones and tablets. In the case of Samsung Galaxy devices, you can use the Odin Tool to install the Official Software Update. On the other hand, you can use ADB and Fastboot commands to flash factory images on Google Pixel and Nexus devices. Similarly, you can use the LG Flash Tool to install the LG OTA update manually.
Most importantly, you can use these tools to flash KDZ, TOT, and BIN LG stock firmware files. Additionally, you can also force-upgrade or downgrade any LG device to a specific software version. Before using LGUP Tool, the most important thing is to backup your phone data and settings. Since flashing a stock ROM is risky, you should be well-prepared.
Besides, it is important to frequently update your LG software to experience the new Android features and tweaks. However, to manually flash firmware, you must unlock the bootloader and gain root access. Moreover, it will also void your phone warranty and increase security issues. At such times, you can rely on the official LG Flash Tool and LGUP Tool to update the software.
What is the LG Flash Tool?
It is an official LG ROM flashing tool designed to flash KDZ or TOT firmware. You can use it on multiple LG handsets at the same time. Moreover, it can flash KDZ files larger than 1GB size. The LG service center mainly uses this firmware flash tool. Is your LG phone stuck on the boot loop? Are you facing a black screen or soft brick issues? If yes, you can restore default factory settings using this Android all-in-one tool.
LG Flash Tool Features
Check out the highlighted features of the LG Flash Tool.
1. Supports Multiple Devices
This tool is compatible with multiple LG smartphones and tablets. Just connect your phone to a PC, and the tool will automatically recognize the Android device. Furthermore, it is compatible with Windows 10, Windows 7, Windows 8/8.1, Windows XP, and Vista.
2. Single Executable File
A single executable file is packed with all the features and functionalities. Launch the tool.exe file, flash stock ROM on your LG device, and close the tool. As simple as that.
3. Progress Log
It has a log file that saves all the ongoing progress and logs details. Additionally, these details can help you identify whether the installation process is running successfully or not. Besides you can also locate a problem as soon as the flash tool shows an error message.
4. Simplified GUI
It can easily download any Windows platform without any support tool like the LG PC Suite. You can use this feature with or without an LG support tool. There is no need to install the PC Suite separately on your PC.
5. No need to use Host Files
With this updated version, you do not need to bypass while flashing ROM. This tool does not need an outside HTTP server or related host files to bypass any single step.
What is LGUP Tool?
LGUP, aka LG Update Tool, is a software used to flash stock firmware on LG Android smartphones and tablets. It is an updated version of LG Flash and is used by authorized service centers to repair LG phones. Similar to its predecessor, it is compatible with both 32-bit as well as 64-bit Windows operating systems. Unfortunately, it does not support Linux and macOS.
Note: If LGUP does not detect your LG device, we request you use the LG Uppercut Tool.
LGUP Tool Features
Here are a few highlighted features of the LGUP Tool.
1. Lightweight
The LGUP Tool is a lightweight software with a single executable file. Run the LGUP.exe file and start the Stock ROM installation process.
2. Simple UI
This tool comes with an easy-to-use and simple user interface. You can quickly execute any operation with a single click. Due to the clickable buttons, there is no need to enter any command manually.
3. Free Tool
The LGUP Tool comes free of charge. You do not have to pay a single penny to use this stock ROM flash tool.
4. Supported Devices
The LGUP Tool supports all LG Android phones and works on Windows 10, Windows 7, Windows 8/8.1, XP, and Vista.
Requirements
A Windows computer
A standard USB cable
Download LG Flash Tool
Setup_LGFlashTool_1.8.1.1023.zip
Setup_LGFlashTool_2.0.2.5.zip – Latest
Download LG Flash Tool Patched Versions
XDA senior member ieatacid has patched the LG Flash Tool v2.0.1.6 file to bypass the login screen. To simplify, XDA Developer autoprime repackaged the patched version with an official LG installer.
Setup_LGFlashTool_2.0.1.6-ieatacid.zip
Download LGUP Tool
LGUP_8994_DLL_Ver_0_0_1_18.zip
LGUP_8994_DLL_Ver_0_0_3_23.zip
LGUP_Store_Frame_Ver_1_14_3.zip
How to Install LG Flash Tool on Windows OS
Extract the downloaded LG Flash Tool zip file on your PC.
Double-click the lgflashtool.exe file.
The Installation Wizard will appear on the screen.
Press Next and follow the on-screen instructions.
At last, press the Finish button.
How to Install LGUP Tool on Windows OS
First, extract the downloaded LGUP Flash Tool zip file on your computer.
Double-click the LGUP_8994_DLL_Ver_0_0_1_18.msi file.
There is no UI for this installation. You will see a pop-up window for a moment, and then it will be gone. Wait for a couple of minutes before moving ahead.
Next, launch the LGUP_Store_Frame_Ver_1_14_3.msi file.
This will start the actual Installation Wizard.
Press Next, accept the terms and conditions, and complete the installation process.
Finally, click on the Finish button.
How to Use LG Flash Tool to install KDZ, CAB, and TOT Firmware
Download and install LG USB Drivers on your computer.
Extract the downloaded LG Flash Tool on your PC.
Boot your LG mobile phone into downloading mode.
Using a USB cable, connect your phone to your PC.
Launch the LGFlashTool.exe file.
Under the Select Type section, choose CDMA.
Click on the Select File button and locate the downloaded LG firmware file.
Furthermore, click on the Normal Flash button.
On the next screen, read the phone information and press Start.
Finally, select the country and language as per your choice and press OK.
This will start the LG stock firmware flashing process using the LG Flash Tool.
Upon completion, your LG phone will automatically restart.
At last, safely disconnect your device from the PC.
How to Use LGUP Tool to install KDZ and TOT Firmware
Switch off your LG phone and boot it into Download Mode.
Connect your phone to your PC using a standard USB cable.
Launch the LGUP flash tool.exe file.
Confirm if the BIN file has a tick on the flash tool or not.
Also, verify whether the MM KDZ shows the section of the downloaded firmware file path or not.
Load the firmware file (.KDZ) into the tool.
Click on the Upgrade button.
Finally, press Start to initiate the LG firmware flashing process.
As soon as the process finishes, your LG device will reboot automatically.
You may safely disconnect your phone now.
Finally! This is how you can download and use the LG Flash Tool to install KDZ and TOT firmware. If you have issues related to this guide, then please comment below.