Are you looking for the best all-in-one tool for Android? A tool that can manage and control your Android from a PC. And also transfer files from PC to Android. Yes, we are talking about Samsung Kies, official software from the Korean OEM Samsung itself. The name Kies stands for 'Key Intuitive Easy System.'
This Samsung official tool has much more to offer than just a data transfer feature. However, it is not commonly used today because of the other free options available. For that reason alone, today we will focus on Samsung Kies, its features, pros and cons, system requirement, and alternative tools.

What is Samsung Kies?
Kies is a proprietary Samsung free software application to communicate between a Samsung mobile phone and a computer, usually through a wired USB connection. However, the Samsung Kies latest update supports wireless LAN Kies connectivity for various new devices. Moreover, it is compatible with both 32-bit and 64-bit Windows and Macintosh operating systems.
This Samsung software enables you to back up and restore android phones to a PC for free. Besides, it also lets you synchronize your phone's data with the PC and search for new applications. Moreover, Samsung Kies keeps your mobile phone up to date. Just connect your phone to your PC using a USB cable, and you'll be automatically notified of the latest firmware update. It's that simple!
If you are looking for free firmware upgrade software, then Samsung Kies is the one for you. Furthermore, you can use Kies to transfer data from the old phone to a new Android phone with just a single click. You can also view and browse apps on full screen on your Windows PC without any network restrictions. Overall, this tool gives you complete control to manage your data and sync the Samsung phone to a PC.
Depending upon the Android version, this tool is available in several versions. Samsung Kies 3 version 3.2.15041_2 supports all Samsung Galaxy devices running Android 4.3 or later. Besides, version 2.6.3.14074_11 supports devices with Android 2.1 to 4.2. There is also a Kies Mini version, which supports only specific phones such as Samsung Captivate, Infuse, or Vibrant.
System Requirement
Operating System: Windows XP, Windows Vista, Windows 7, Windows 8, Windows 8.1, Windows 10, Windows 11, MAC
CPU: Intel Core 2 Duo 2.0GHz or above (Windows) | 1.8GHz Intel or faster processor (MAC)
RAM: 1.00GB (Windows) | 512MB or more (MAC)
HDD Space: 500MB (Windows) | 100MB (MAC)
Required Software: .Net Framework 3.5 SP1 or above, Windows Media Player 10 or above, DirectX 9.0C or above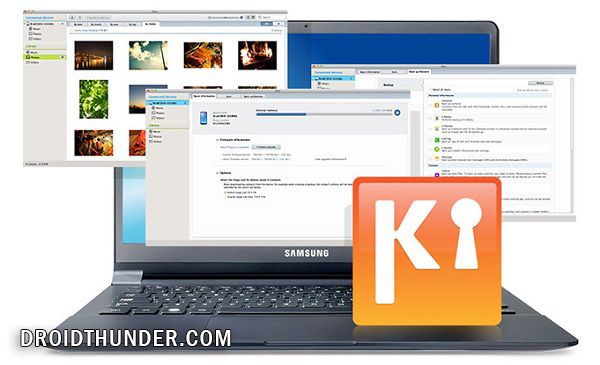 Samsung Kies Features
The detailed Samsung Kies features are listed below. Check them out!
1. Import and Export
This tool allows you to conveniently import photos and videos from your phone to your PC and vice versa.
Additionally, it also lets you transfer contacts, messages, podcasts, and music files.
2. Backup and Restore
For safety, this official software lets you back up your important phone data on your PC.
If your mobile phone gets stolen or bricked, then you can easily restore the saved data on a new device.
3. Update Mobile Software
As soon as you connect the phone to the PC, Kies detects your device model and automatically notifies a new firmware version.
Besides, this feature helps to always keep your phone updated with the latest Stock ROM.
4. Wireless Connection
The latest Samsung Kies 3 supports wireless LAN connectivity for many new Galaxy smartphones and tablets.
Simply connect your phone to the tool using Wi-Fi and synchronize the data.
5. Sync Samsung Contacts
Kies allows you to synchronize phone contacts with Google accounts, Yahoo, and Outlook.
Additionally, you can easily add or edit phone contacts on your PC.
On the other hand, you can also sync music, photos, videos, podcasts, books, and memos.
Advantages of Samsung Kies
Let's check out some exciting Samsung Kies advantages.
1. Clean User Interface
The tool sports an easy-to-use and simple user interface that helps you navigate without issues.
Besides, the multi-tab layout and well-organized set of functions make a task more convenient.
2. Wide range of Features
You can implement plenty of operations with a wide range of features.
On the other hand, there is absolutely no need for any third-party app like File Manager or Backup and Restore.
3. Easy and Quick Installation
The software setup requires a few drivers that are automatically downloaded and installed.
Additionally, you do not require to search for these drivers separately on Google.
4. Supports Multimedia Format
This application supports a wide range of multimedia files that can be moved from your Android device to your PC and vice versa.
Also, it lets you transfer audio (MP3, AAC, WAV, and OGG), video (DIVX, WMV, AVI, MOV, MKV, 3GP, and MP4), and image (GIF, JPG, BMP) files.
5. Built-In Video Conversion
Kies comes with a built-in converter to encode videos manually or automatically.
Furthermore, you can convert the videos in a specific resolution, bitrate, and frame rate.
Disadvantages of Samsung Kies
Now, we'll check out the drawbacks of Samsung Kies.
1. Connectivity
Users have noticed that the software tends to disconnect and becomes unresponsive, especially on Mac OS.
Besides, to solve this Kies connectivity problem, you need to disconnect and reconnect the USB cable from your PC.
2. Slow Speed
Sometimes, the tool takes too long to sync or move data from the phone to the computer and vice versa.
Moreover, it happens mostly for HD pictures and video files.
To fix this issue, you need to download Samsung Kies 3 latest version.
3. Bugs
This app duplicates the outlook contacts on their PC for a few users.
Moreover, it also makes the computer crash several times.
4. No proper instructions
Users are asked to reconnect the device during an error message by unplugging the USB cable.
Sometimes, you can solve this problem by disabling USB debugging or by closing apps.
Samsung should include a valid instruction guide to fix this error message.
Downloads
Samsung Kies (All Versions)
Samsung Kies Alternatives
AkrutoSync
HiSuite
Samsung Smart Switch
Wondershare MobileGo
Samsung SideSync
Droid Explorer
MOBILedit
How to Use Samsung Kies?
You can use this official Samsung tool to perform several functions such as import, export, backup, restore, update firmware, sync accounts, etc.
Just download and install it on your computer, then connect your Android device using a standard USB data cable.
Moreover, it will automatically install mobile-specific USB drivers and DirectX drivers on your PC.
Also, it will automatically recognize your mobile phone model number.
And, if a new Android firmware version is available, the tool will immediately notify you.
Finally, a simple user interface and easy instructions will further guide you on how to use Kies.
Kindly comment below if you have any queries or suggestions related to this guide.