Are you looking for the best place to download Samsung firmware for Free? If yes, then here is a simple tool called SamFirm, aka Samfirmware tool. It was built by Mahmoud Salah, a senior developer.
Using this tool, you can easily search and download the official Samsung Stock ROM for your Galaxy smartphone or tablet. Do you want to downgrade the Samsung software update or revert to the original Stock ROM?

Before that, you need to download the official update file for your phone. It is easy to flash firmware without Odin or using an Android app. However, searching for and downloading an update for your smartphone is not that easy.
There are various ways and methods to download Samsung firmware for Free. However, there are only a few trustworthy websites. Moreover, these sites have a download speed limit, and they charge to get fast downloads.
What is SamFirm Tool?
SamFirm is nothing but a Samsung firmware download tool, especially for Windows PCs. This is the best way to get free official software for any Android device. Using this tool, you can easily download the firmware directly from official Samsung Servers.
Now, you no longer need to search for Android stock ROM download links on Google. This simple software provides free downloads of every official update, and Android ROM ever released. It includes network and region-specific firmware as well.
All you have to do is enter your phone details, and within a few seconds, it will search for the latest update available for your Android smartphone or tablet. Whether your phone is bricked or facing issues like boot loop, or you want to unroot your phone.
Or do a software upgrade when you've not received any OTA update. In all such scenarios, you can download and flash stock ROM on your Galaxy device. Some famous Samsung firmware download websites are Sammobile, Updato, Samdb, Samfrew, and Samsung updates.
However, these websites either have speed restrictions, broken download links, or require registration to a premium package account. So it is very irritating when the download speed is slow.
Besides, it uses Samsung firmware Google Drive links for fast download. Thus, there are no bandwidth or speed limitations. Isn't it amazing! But don't worry, using this tool, you can download the official Samsung Stock ROM faster in 2 minutes.
How to Fix SamFirm Not Working
Sometimes, this tool might give connection issues due to the increased traffic in the network server. Besides, it may even show an error of a slow connection or not working.
At such times, simply close everything and restart your Windows computer. On the other hand, check if you are using the latest version of SamFirm or not. Moreover, you can even experience SamFirm could not send binaryinform. status code 200/666 Authorization failed error.
To fix this problem, you must download and install the latest Microsoft Visual C++ 2010 Redistributable Package on your Windows PC. On the contrary, this software comes with Auto and Manual modes.
In auto mode, all you need to do is type the model number and region code of your device. Then it automatically searches for the latest stock update. But sometimes, this mode can give you an error such as Error: Could not send BinaryInform. Status code 200/401 authorization failed. At such times, you can select Manual mode and type details like PDA, CSC, and Phone. This way you can get accurate updates for your Galaxy phone.
SamFirm Advanced v4.1.0
Recently, a new advanced version of SamFirm was developed by Mahmoud Salah. It is packed with some enhanced and upgraded features. However, it is only available in the Arabic language.
The developer claims that the advanced version provides a maximum download speed. Most importantly, it is compatible with Windows 11, Windows 10, Windows 7, 8, 8.1, and XP (32-bit and 64-bit).
This software will work on all Samsung Galaxy Android models. Whether it may be Galaxy A71, Galaxy S20, Galaxy M30 or Galaxy A90, etc. You can download Android OS for every smartphone and tablet.
Similar to Google, it is very easy to unlock the bootloader of Samsung devices. But it is quite hard to search for Odin flashable firmware that you can install to either upgrade, downgrade, or restore default phone settings.
The great news is that developers are working on the SamFirm apk for Android phones. But it will take time. Moreover, there is also a rumor about SamFirm for Mac OS. However, there is no confirmation about the same.
Till then, you can use this software for your Windows PC. If you face any bugs, such as the SamFirm not working error, then do contact us.
Disclaimer
Proceed at your own risk. Neither we at Droid Thunder nor the developers of this tool will be held responsible for any damaged/bricked phones.
Requirements
Samsung Android Phone
Computer with Internet Connection
WinRAR or 7zip archive software
Microsoft .NET Framework 3.5 installed on PC
Microsoft Visual C++ 2010 Redistributable Package installed on PC (x86)
Prerequisite
Charge your mobile to a minimum of 50%.
Install the latest Samsung USB drivers on your computer.
Back up your phone data and settings for safety.
Downloads
SamFirm Tool (Latest Version)
Steps to download Samsung firmware using SamFirm
Download and install the Phone Info app on your device.
Launch the app and note down your phone model and CSC Country code.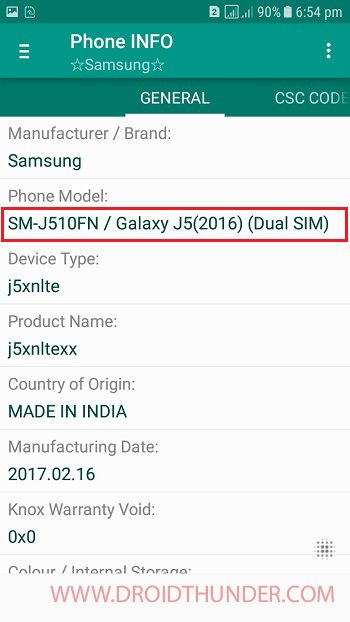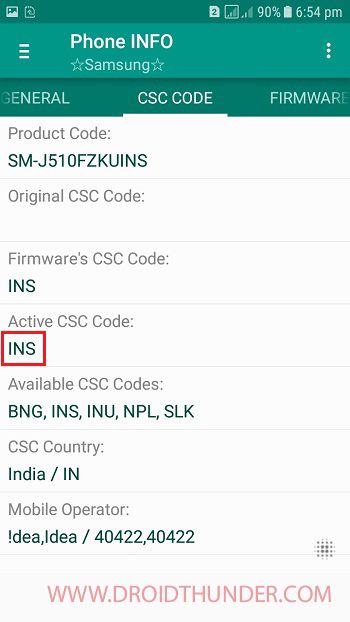 Extract the downloaded SamFirm v0.5.0.zip file on your PC.
Double-click the SamFirm.exe file from the extracted folder.
As soon as you launch it, the following screen will appear: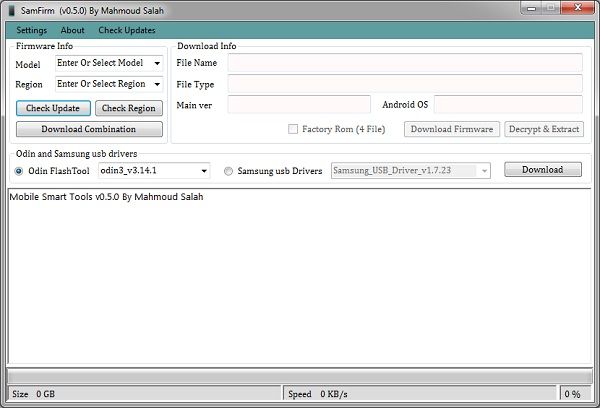 Select your phone model number from the drop-down Model menu. Here, I'll select SM-A205F (Galaxy A20).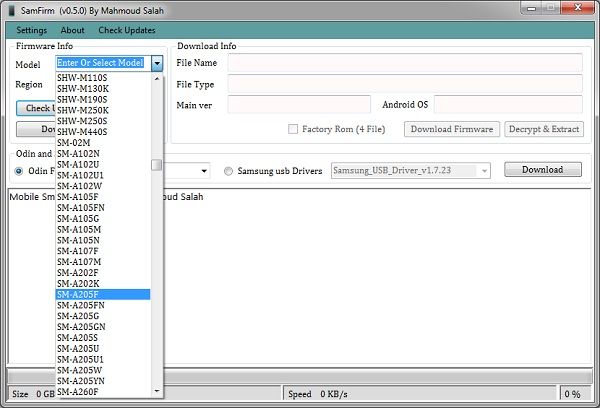 Similarly, choose your Region.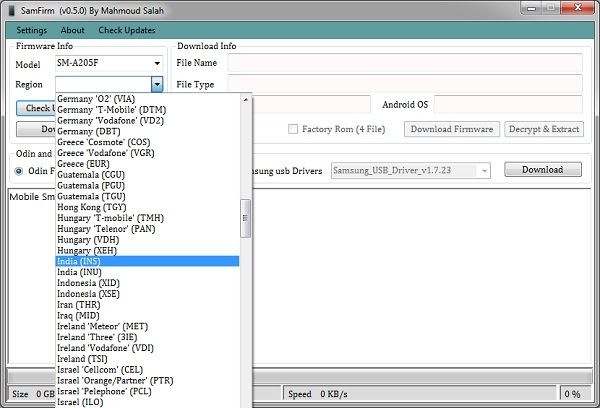 Now, simply click on the Check Update button. As soon as you press the button, SamFirm will look for the recent update.
This will show you the latest Android version and the selected phone's file size.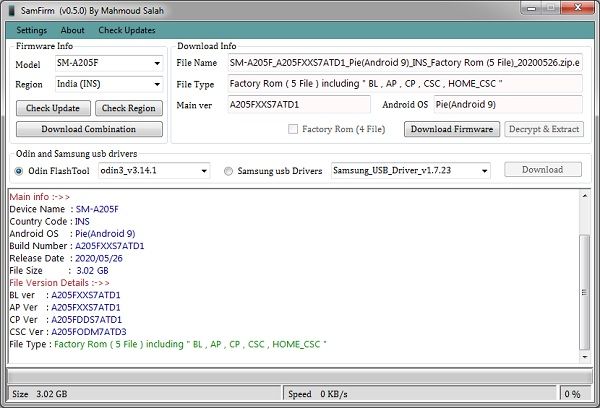 Just confirm that the software information is compatible with your device.
On the contrary, if you know the PDA, CSC, and Phone firmware, you can manually enter them.
Finally, click on the Download Firmware button.
Browse and select the destination folder.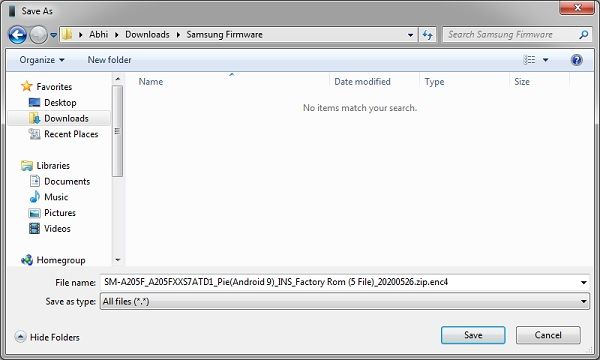 As soon as you click on Save, the download process will start. Be patient and wait until it is completed.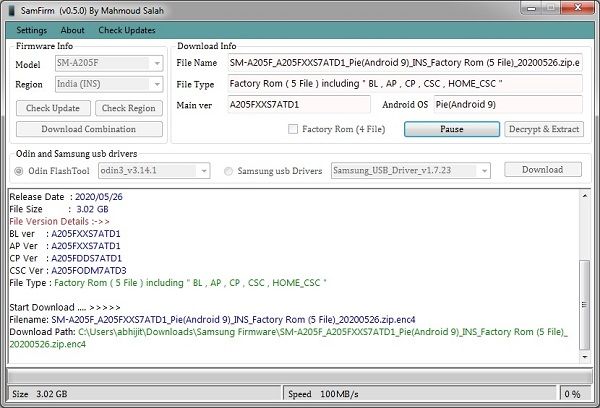 The downloading process will be completed with a finished message.
In the destination folder, you'll find the downloaded file in zip format.
Just extract the zip to get tar.md5 file. This tar file can be further installed on your mobile using the Odin Flash tool.
Wrapping Up
Finally! This is how you can download the official Samsung Stock ROM using the SamFirm Tool. Feel free to ask your questions in the comment box below.