Do you want to update your Motorola phone? Do you want to flash stock ROM on Moto phones? If yes, then you need to download and install Motorola Device Manager on your PC.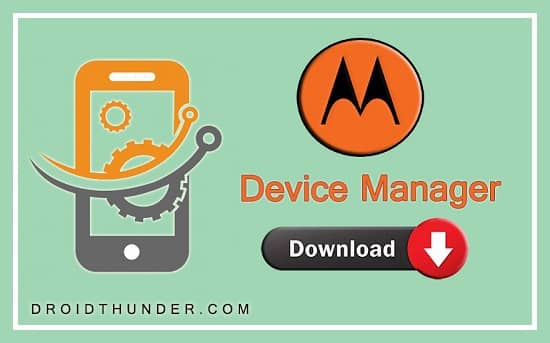 Each Android smartphone manufacturer has its own PC Suite to perform operations involving a computer. Samsung has Kies and Smart Switch. Xiaomi has Mi Suite, Sony has Xperia PC Companion, etc.
In the same way, Motorola has its own official Android PC Suite called the Motorola Device Manager. In this guide, we'll download Moto PC Suite for the Windows and Mac operating systems.
This software offers more than just the data transfer feature. You can control the phone from a PC, synchronize contacts and calendar, transfer phone data, take backup and restore, and much more.
In case, if the Motorola USB Drivers are not working on your PC, then this device manager can definitely help you out. Besides, this Motorola PC Suite can easily fix USB Device not recognized error on your PC.
What is Motorola Device Manager?
It is nothing but a PC Suite for Motorola Android smartphones and tablets. This free software tool can help you establish a successful connection between your Moto phone and the computer.
Moreover, you can also use this device manager to install a Motorola software update. Yes, you heard it right. All you need to do is connect your mobile PC via a standard USB cable.
Then launch this Moto Device Manager and click on the Update button. The tool will automatically start updating your phone with the latest Motorola firmware update.
If you do not receive the official OTA software update from the company, then this tool can help you find the latest Moto stock firmware update. Furthermore, this Motorola PC Suite is compatible with both 32-bit as well as 64-bit Windows 10, Windows 7, Windows 8, Windows XP, and Vista.
Moreover, it also works on the Mac operating system. With a simple drag and drop features, you can easily transfer photos, videos, music, PDF files, documents, contacts, etc. from your Moto handset on your PC.
Besides, there is no need to manually install Moto USB Drivers separately. As soon as you connect your mobile to a PC wirelessly or using a USB cable, this official tool will automatically detect your device.
This PC Suite works on almost every Moto phone such as Motorola One Vision Plus, Moto G, G2, G3, G4, G4 Plus, G5, G6, Moto E, Moto X, Moto X Play, Moto X Style, Moto Z, Moto C, Xoom, Atrix, Razr, and Droid, etc.
Motorola Device Manager Features
Check out some of the highlighted features of the Moto PC Suite.
1. Easy to use UI
This device manager comes with a simple user interface. All the options do exactly as they say and you do not require to manually implement any command.
2. Flash Motorola Firmware
This software can upgrade or downgrade moto firmware to an old version. Just plug in your phone to the PC and click on the updates button. The tool will immediately look for the latest Moto software update for your Android device.
3. Auto-Installer
To install this tool on your Windows or macOS, there is no need to change the PC settings. Simply launch the setup.exe package, and follow the on-screen instructions.
4. In-built USB Drivers
This Motorola PC Suite can automatically detect your USB-connected device. That means you no longer need to install the Moto USB Drivers on your PC.
5. Supported Device
This tool supports 32-bit and 64-bit Windows 10, Windows 7, Windows 8, Windows 8.1, Windows XP, and Windows Vista. Moreover, it is also compatible with the Mac operating system.
Downloads
Motorola Device Manager v2.54 – Windows
Motorola Device Manager v2.2.9 – macOS
How to Install Motorola Device Manager
At first, uninstall Motorola Device Manager older version installed on your PC.
Reboot your Windows or Mac computer.
Now, open the downloaded MotorolaDeviceManager_2.5.4.exe file.
Click Next, and choose the I accept the terms of the license agreement option.
Moreover, choose a location on your PC to install the device manager tool.
At last, click on the Install button to start the process.
It will take a few minutes to complete successfully. Hence, be patient and wait.
As soon as it finishes, a congratulations message will appear on the screen.
Close everything and restart your Windows or Mac PC.
Finally! This is how you can download and install the latest version of Motorola Device Manager on your Windows and macOS. Now you can easily manage your Motorola handset from your PC. In case of any issues, please drop a comment below.