UAB Digitek, a company located in Lithuania, developed DC-Unlocker Modem Unlocking Tool. The company provides DC Unlocker Dongle, a pen-drive look-a-like device. All you need to do is attach this dongle to your computer's USB port, and you can use it for the data card unlock process. Moreover, you can use this dongle to unlock the manufacturer's modems and routers.
DC Unlocker
This tool is a unique software specially designed to unlock the bootloader, generate codes, unlock data cards, reset the lock counter, etc. Moreover, you can even use this tool to unlock modems or routers of various devices.

Besides, the tool even supports plenty of Android smartphones and tablets. Some of them are Huawei, Honor, LG, Pantech, ZTE, etc. A few of them include Huawei, Netgear, Sierra Wireless, Gemtek, ZTE, Micromax, Nokia, Novatel, Option, and Pantech.
If you want to unlock more than 10 data cards, the company recommends you to be a dongle user. Visit their official website to download DC Unlocker credits. Most important, the company also provides various tutorials on YouTube for unlocking devices.
How to use DC Unlocker
It is easy to unlock since the tool provides a simple user interface. Most importantly, this software requires a username and password to log in. You can do it in two ways. Firstly, attach the DC-unlocker dongle to your PC.
Then enter Dongle login details and detect your device to work as a premium client. For professionals or service center employees, a dongle is strongly recommended.
Furthermore, the other way to log in is to enter the DC Unlocker username and password. You can get your id and password from the official website. To buy credits, all you need to do is download the software.
Next, install and launch the software on your PC. It is essential to run it as an administrator. Moreover, from the main UI, click on the buy credits option.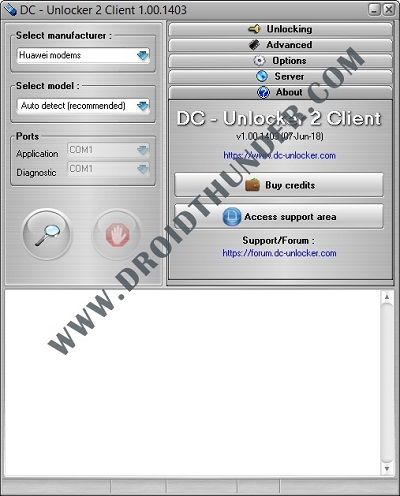 Once you get the login id and password, you need to select your device model and tap on the unlock button. The tool automatically starts the unlocking process.
You need to be patient and wait. Within 15-60 seconds, the unlocking process completes successfully. It is indeed the best modem unlocker tool to unlock USB modems, routers, or bootloaders.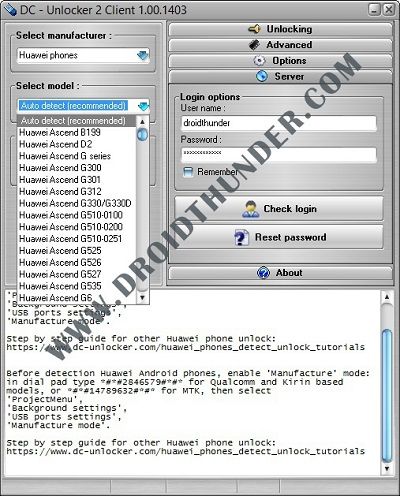 Recently, the company launched an updated DC Unlocker 2 client 1.00.460 version with plenty of advanced features to unlock the bootloader of Huawei. On the contrary, the latest modem unlocker tool can read unlock code and auto-enter to the modem.
Moreover, you can read firmware code, create unlock code by IMEI, generate firmware code by IMEI, or even lock the bootloader. They also provide live support for 24 hours. For that, you can visit the contact section on their official website.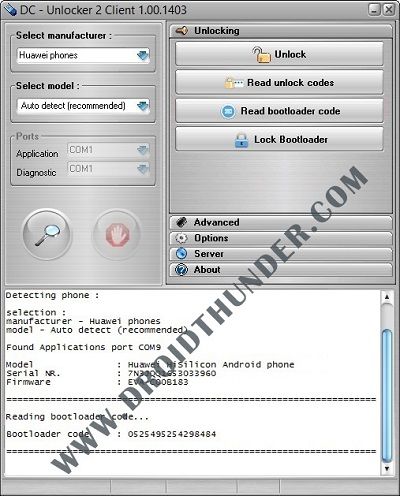 How to Activate DC Unlocker
All modem unlocker software free download link is mentioned ahead. Install this software on your Windows PC, and it will automatically flash dc unlocker crack 2019. Note that this is a cracked full version tool.
Hence you'll not require any separate username or password. Additionally, it is strongly recommended to disable security-related tools such as Antivirus and firewalls on your computer as they might interrupt the process.
DC-Unlocker features
World's first universal unlocking software
Unlocks any device within 1 minute
Simply requires a standard USB cable
Updated regularly
Minimizes time to unlock any device
No need to select any COM ports
Provides one year of free updates
New devices are added weekly
Auto-detects any connected device
Simple and easy instructions
Clear UI with no complications
Requires no special cable or adapter
Video Tutorial:
Downloads
The username and passwords don't work anymore. We are currently working on a new update. Sorry for the inconvenience.
Note: There are certain rumors about the developers building the dc unlocker APK file for Android phones. But it is not yet confirmed. But till then, you can go through this guide and use the dc unlocker credits hack to unlock the bootloader of any Huawei or Honor smartphone. Finally, if you come across any difficulty, then please comment below.