If you are looking for a tool to flash TOT and KDZ firmware files, then LG Uppercut Tool is the best all-in-one tool available out there. LG Flash Tool and the LGUP Tool are also firmware flashing tools for LG phones. However, they do not support all LG Android smartphones and tablets. Hence, in this guide, we'll download and install the latest version official LG Uppercut Tool and use it to flash LG Stock ROM.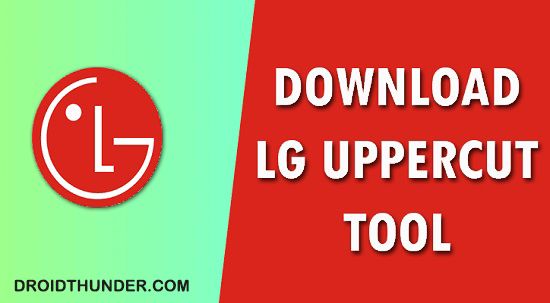 Is the LGUP Tool not detecting your device? Does the LG Flash Tool not support your LG phone? Don't worry. The all-new LG Uppercut Tool can fix your Android phone problems in a single click. All you need to do is connect your LG mobile to your Windows PC using a standard USB cable. Furthermore, the installed Uppercut Tool will automatically recognize the connected Android device.
Here, we've shared LG Uppercut Tool's latest version download links along with the Installation guide. All the credit goes to Autoprime, a recognized XDA developer for building this easy-to-use and handy tool for LG. Most importantly, you can use this tool on older LG devices as well. Isn't it amazing! The earlier LG Flash tool was only compatible with new Android phones which were quite irritating.
To increase the performance of Android, users often unlock the bootloader, root, and flash custom ROMs on LG phones. However, these risky processes can sometimes cause a boot loop, or even brick the phone. At such times, the best thing to do is restore default settings, and flash stock firmware on LG phones. This is when the LG Uppercut Tool can help you out.
What is LG Uppercut Tool?
It is an alternative to the LGUP flash tool. It is designed to flash the KDZ, DZ, and TOT firmware formats on LG mobile phones. This tool supports every LG Android smartphone and tablet available out there. Besides, this tool is used by employees at the LG service center to repair LG phones. Moreover, it is compatible with Windows 10, Windows 7, Windows 8/8.1, Windows XP, and Vista.
In the LG Flash Tool old version, users had to enter the LG model number and manually apply the settings. However, the Uppercut is an automated software that does not require any manual command. Simple run the UPPERCUT.exe files and you are good to go. Furthermore, in earlier models, it was difficult to choose a particular phone model and detect the phone. But with Uppercut, you can easily install official LG firmware without any issues.
LG Uppercut Tool Features
Let's check out some of the highlighted features of this Flash Tool.
1. Simple User Interface
This tool comes with an easy-to-use and simple UI. It is quite easy to implement any function with a single click. Due to the clickable buttons, there is no need to enter the commands manually.
2. Supported Devices
Finally, it supports all of the LG Android smartphones and tablets. Besides, it is compatible with both the 32-bit as well as the 64-bit of Windows 10, Windows 7, Windows 8/8.1, XP, and Vista.
3. Lightweight
It is a lightweight software of just 4 MB. Moreover, it comes with a single executable file that packs all the functionalities to install stock ROM on Android phones.
4. Absolutely Free
The Tool comes free of charge. You do not have to pay a single penny to use this LG ROM flash tool.
Requirements
A Windows computer
A standard USB cable
Downloads
How to Install LG Uppercut Tool on Windows OS
At first, install the LGUP_Store_Frame_Ver_1_14_3 file on your Windows PC.
Follow the on-screen instructions and complete the installation process.
As soon as the process completes, close everything, and reboot your PC.
Now, temporarily disable the Antivirus and Firewall on your computer.
Extract the downloaded UPPERCUT_1.0.0.0 .zip file.
There is no installation process for the Uppercut software.
Simply run the Uppercut.exe file to initiate the flashing process.
How to Use LG Uppercut Tool to Flash TOT and KDZ firmware
Make sure to install the LGUP tool at first.
Switch off your LG phone and boot it into download mode.
Connect it to your Windows computer using a standard USB cable.
Confirm that the device appears in the device manager.
In Device Manager, it will appear as LG Serial COM port under the Ports section.
If it does not appear, then again install LG USB Drivers.
Extract the downloaded UPPERCUT_1.0.0.0 .zip file.
Launch the Uppercut.exe tool inside the extracted folder.
Moreover, add the downloaded KDZ or TOT firmware file in the tool.
Once it is loaded, click on the Start button to begin the LG firmware flashing process.
It will hardly last for a few minutes.
Upon completion, your LG handset will restart automatically.
Finally! This is how you can download and use the LG Uppercut Tool to flash KDZ, DZ, and TOT firmware files. If you come across any problem, then please contact us using the comment box below. Thank you!