20+ Best VPN apps for Android (August 2023)
Since I was feeling a bit stressed and lonely last night, I decided to visit 'some' websites to relieve my stress. But to my surprise, I noticed that many popular websites were banned by the government. I immediately searched for ways to access the blocked websites. At first, I tried replacing HTTP with HTTPS in the URL. I even tried using the Google DNS server and browser extensions, but nothing worked. Finally, I realized that the only way to fix this is to download a free VPN for Android.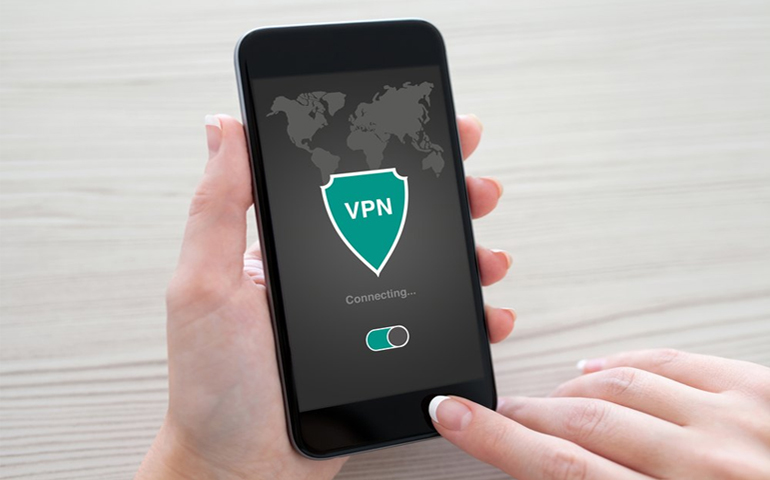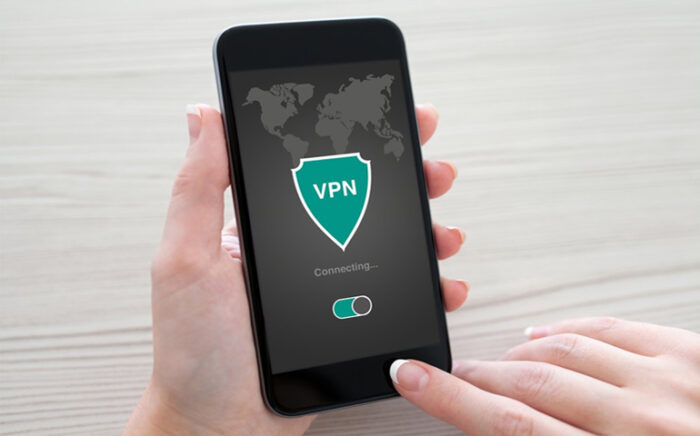 As soon as I searched for the best VPN for Android on Google Play Store, I was bombarded with plenty of VPN apps. It was pretty difficult to choose a good free VPN app from the list. Hence, I started installing every app one by one. Soon I noticed that most of these are fake VPN apps with annoying, invasive, and unwanted ads. Each time I connect to any VPN server location, the app would show a 15 seconds ad. Besides, I also noticed that my internet connection speed has become entirely sluggish.
Although I could visit the blocked websites, I was still unable to download the videos with such a slow internet speed. My main motive for visiting the sites was to reduce stress, but everything was going the other way around. At first, I blamed my internet service provider for giving me such a slow broadband connection speed. But then I also saw new ads and popups in my Android browser. I finally realized it was not my ISP's fault but the free VPN app I've just installed.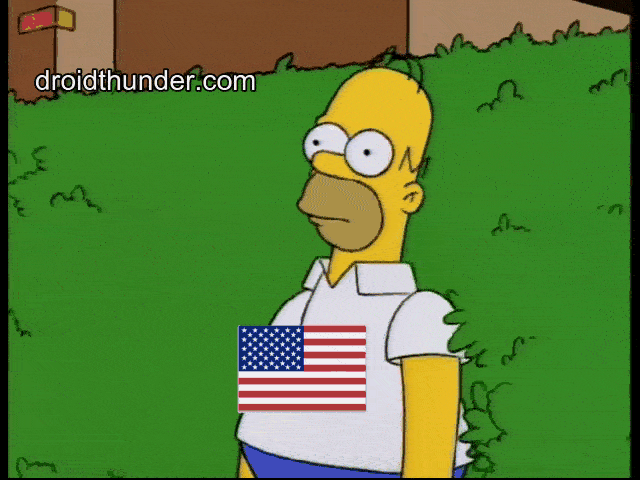 I immediately Googled 'are free VPNs safe to use?' and what would happen if I used a free VPN app instead of a paid one. And trust me, the results were absolutely shocking! Did you know that a free VPN app for iOS or Android can track you online and save your personal as well as private information? Moreover, these apps can further share your browsing and personal data with third-party advertisers, thus compromising your online privacy. This entirely defeats the main motive of using a VPN service.
Most VPNs claim to use SSL to encrypt your internet data. However, in reality, these applications provide an easily crackable and unreliable P2P network. Such services send your mobile data via other users' devices and vice versa. This can, therefore, increase the risk of DNS and malware attacks. Another significant disadvantage of using a free Android VPN is the server limit. Many Virtual Private Network services offer limited server locations in their free packages.

You might also face data caps which is a limit on the amount of data usage. Yes, you might find the fastest VPN for Android free on Google Playstore, but you might have to deal with the service limitations. Every virtual private network application often tries to convince its mobile users to opt for premium VPN plans. That means even if you have the fastest free VPN for Android, still the provider will add many limitations to it. This is just to persuade you to buy the paid versions.
For example, many free VPN versions offer a 700MB data limit per month with the overloaded server. They even cannot unblock US Netflix, BBC iPlayer, proxy hotspots, and other torrenting or online streaming websites. Such free applications are okay for basic browsing. However, the slow speed and the less data limit might irritate you for a long time use. If you want to avoid geo-restrictions and stream online content worldwide, I'll suggest you use a paid VPN service app.
What is VPN for Android?
In simple language, VPN (Virtual Private Network) is a secure connection between your mobile phone and the internet. You can use the VPN service to connect your Android phone to a server anywhere on the internet. This allows you to use the internet through that server. That means if the server is in the USA, it'll appear as if you are located in the USA.
Do I need a VPN on my phone?
Over the past decade, worldwide internet usage on mobile phones has increased drastically. As a result, it is essential to use a VPN on your phone and your computer or laptop. If you use public WiFi or a Hotspot on your Android phone, I strongly recommend you install the VPN apk app. VPN protects your identity from hackers by hiding your IP address. Moreover, it also keeps your phone data private and secure from prying internet eyes.
Apart from security, a VPN can bypass the geographic restrictions on websites or torrenting and streaming online content. Besides, you can also use VPN to unblock Netflix, BBC iPlayer, StarMaker, PUBG lite, Hotstar, Netflix, Telemundo, NBC, HBO, Sky Go, Bein Sports, YouTube TV, ITV Sports, Channel 4, Fox Sports, Disney+, ESPN+, Paramount+, Peacock Sports, Fubo TV, Sling TV, Amazon Prime Video, 7Plus, SBS.
To be honest, I use VPN to talk with strangers on Omegle. This online chat website is well-known for unfairly banning users for any specific reason. Since Omegle bans your IP address, using the best VPN app can mask your actual IP address with the new one. This way, you can easily unblock the Omegle ban using a VPN. Besides, you can even use a VPN for a safer online banking experience.
In this guide, we've listed the top 20 best virtual private network services for Android. I've tested over 107 best VPN apps for iOS as well as Android phones. Finally, I can say that there are only a few free VPN apps that provide unlimited data, server locations, robust and secure encryption, no ads, no logs policy, and unblock Netflix and BBC iPlayer.
Best Free VPN Apps for Android
Here is the list of the top best VPNs for Android smartphones and tablets. I've personally tested these VPN apps on different Android devices to see how secure and fast they are.
1. Proton VPN
Best VPN with Unlimited Data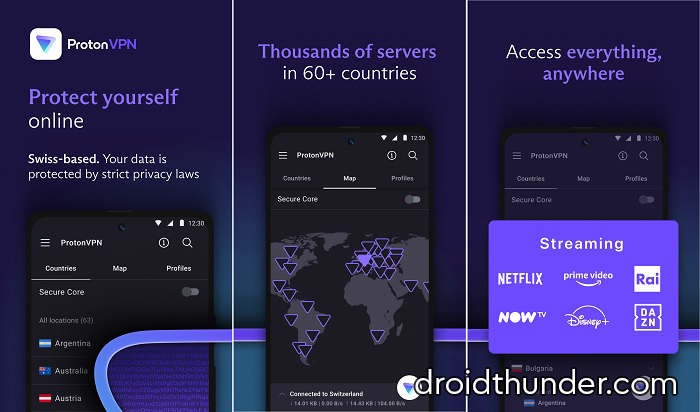 Price: Free, with in-app purchases
Requires Android: 5.0 and up
Size: 27 MB
Are you looking for a free VPN for Android that is best in almost everything? Then, you need the one and only ProtonVPN. This virtual private network app delivers the fastest speed, with 1,700+ servers across 63 countries and unlimited data. Using Proton VPN, you can browse the internet for as long as possible without considering the data usage limit. Since it is based in Switzerland, Proton VPN has strict privacy laws worldwide.
Proton VPN free version has no ads at all, which is quite rare. This security-obsessed Swiss VPN also provides an encrypted email service. Moreover, it also unblocks Netflix, Disney+, iPlayer, Amazon Prime Video, and other streaming sites. Most importantly, Proton VPN paid version offers split tunneling, alternate routing, and even tunneling protocols, including WireGuard.
2. Hotspot Shield
Fastest VPN for Android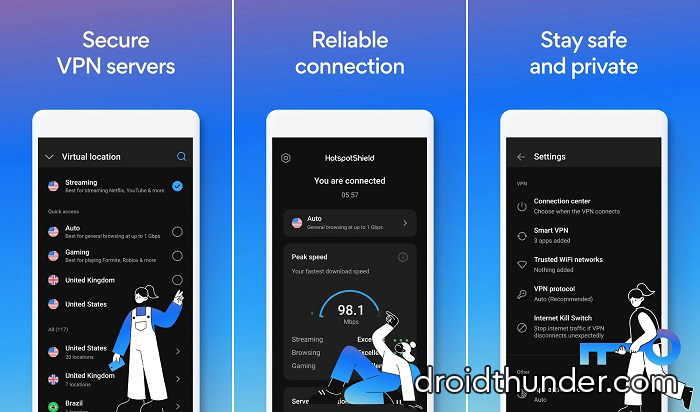 Price: Free, with in-app purchases
Requires Android: 4.0 and up
Size: 29 MB
HotsportShield is one of the top fastest free VPNs for Android devices. Surprisingly, a free VPN delivers excellent VPN speeds. Other VPN alternative apps often use IPSec, SSTP, or OpenVPN as VPN protocols. However, HotspotShield uses Hydra, its own proprietary protocol. This technology is supposedly designed to deliver lightning-fast speeds and fix latency issues.
Due to Hydra, HotspotShield gives 2.5x faster long-distance connection speed as compared with VPN alternatives. Since McAfee and BitDefender, both security firms, use Catapult Hydra, the protocol is said to be legitimate. Recently, the Hotspot Shield VPN won Ookla's Speedtest badge for delivering the fastest free VPN speed of all time.
I did the VPN speed test on my mobile to find out the exact speed. To my surprise, HotspotShield VPN showed a 1Gbps download speed and 345Mbps upload speed. On the other hand, this fast VPN comes with an easy-to-use UI and unblocks streaming services.
3. Betternet VPN
Basic VPN with decent speed and limited servers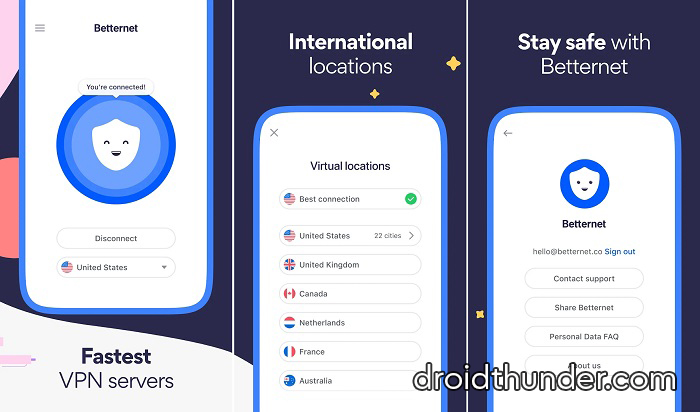 Price: Free, with in-app purchases
Requires Android: 6.0 and up
Size: 35 MB
Launched in 2016, Betternet VPN is hugely popular with millions of worldwide Android users. Betternet provides secure encryption protocols, decent apps, multiple server networks, and a 7-day free trial. You might find in-built ads; however, they aren't too intrusive. As per many VPN review websites, Betternet VPN is not safe to use.
To test out if that's true or not, I installed Betternet VPN on my iOS, Android, and Windows devices. I can finally confirm that Betternet VPN is not entirely safe from all the tests. Yes, it does offer OpenVPN and IPsec encryption, allows torrenting, and access to Hulu, HBO Max, and BBC iPlayer. Unfortunately, Betternet VPN is not better at the privacy policy and basic security.
4. Hide.me VPN
Best Security VPN with free P2P access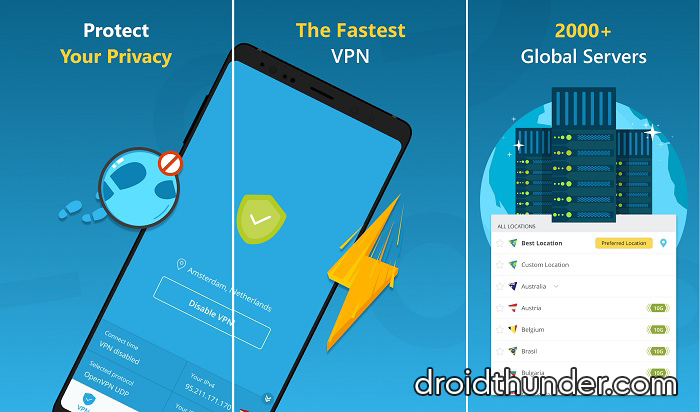 Price: Free, with in-app purchases
Requires Android: 5.0 and up
Size: 15 MB
If you are looking for safe, fast, and free P2P access, especially in Asia, then Hide.me is your go-to VPN. This high-security virtual private network offers zero logs, hides your internet protocol address, and encrypts your web browsing data. Besides, Hide me VPN provides 24/7 pretty impressive customer support. I emailed them regarding my upload speed issues, and they replied within 30 minutes, which was unbelievable.
This Malaysian-based VPN app provides robust privacy features with transparency reports at regular intervals. With Hide.me, you can unblock Netflix US, UK, Australia, and Japan using fast-optimized servers. And yes, you can even watch Hulu, BBC iPlayer, and HBO Max. This shows the data security commitments of the developer. Apart from Android, Hide.me is also compatible with iOS, Windows, and macOS.
5. VPNhub
Best free VPN to unblock Netflix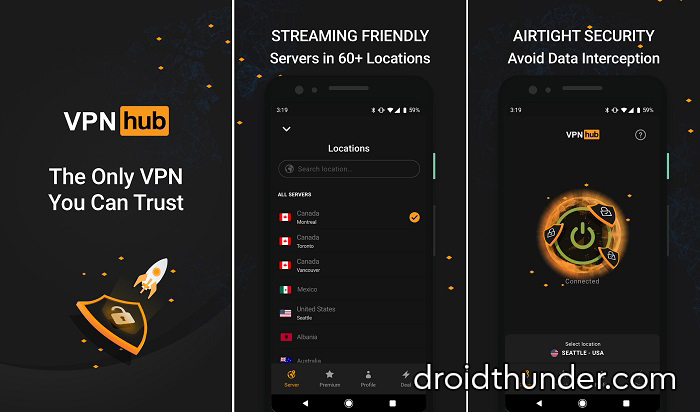 Price: Free, with in-app purchases
Requires Android: 5.0 and up
Size: 19 MB
Many free VPN apps guarantee to unblock Netflix and other streaming websites. However, most apps add data caps, mainly required while streaming. But, with VPNhub, you can access Netflix and use the data as long as you want. Since this app is designed by the famous adult website (yup, exactly the one you're thinking of right now!), use VPNhub to Netflix and chill, you know what I mean.
VPNhub provides AES 256-bit encryption with the OpenVPN protocol and unlimited bandwidth. Since the firm has over 95 million website traffic per day, the company want to encourage its user to use VPNhub for complete privacy and confidentiality. And don't worry, this application is entirely family-friendly, like any other VPN app for Android.
6. Atlas VPN
Best VPN to bypass streaming restrictions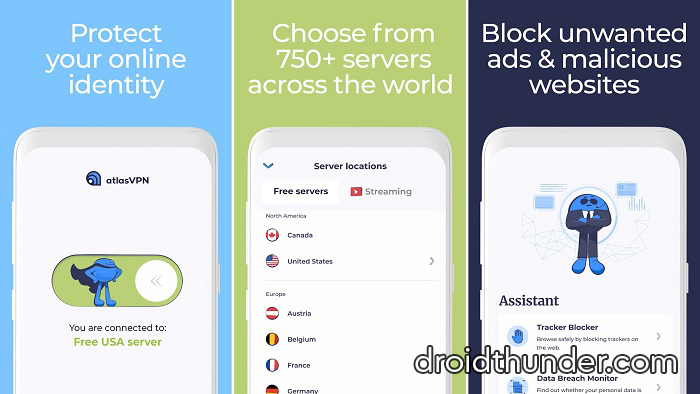 Price: Free, with in-app purchases
Requires Android: 7.0 and up
Size: 25 MB
Experience safer internet browsing with the best WireGuard protocol of Atlas VPN. If you are a beginner and don't know much about VPNs, go for Atlas VPN. This Android app is mainly used to bypass regional streaming restrictions.
It is easy to use, safe, and secure, and it allows access to torrents and Netflix. Most importantly, you can use this free VPN without any payment details! What more do you want?
7. Secure VPN
Free VPN with minimal Ads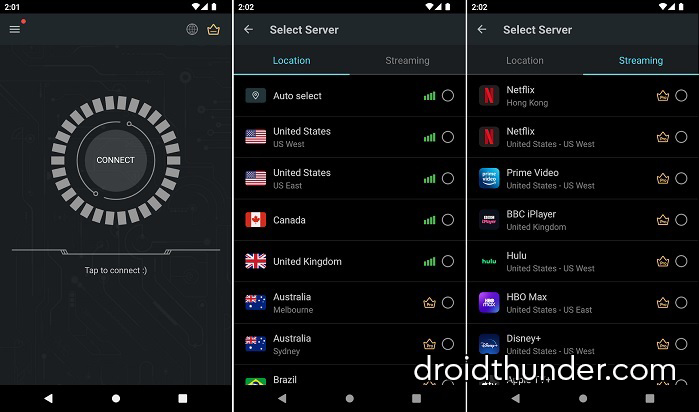 Price: Free, with in-app purchases
Requires Android: 5.0 and up
Size: 11 MB
Secure VPN is a US-based virtual private network service that offers limited features in the free version. If you want a free VPN with basic features to browse anonymously, unblock sites, and secure public WiFi hotspots, then definitely go for the Secure VPN app.
However, the free package of this app comes with 15 seconds ads that might be annoying sometimes. But, it certainly does its given task.
8. Quick VPN
Decent VPN app with 30 seconds Ad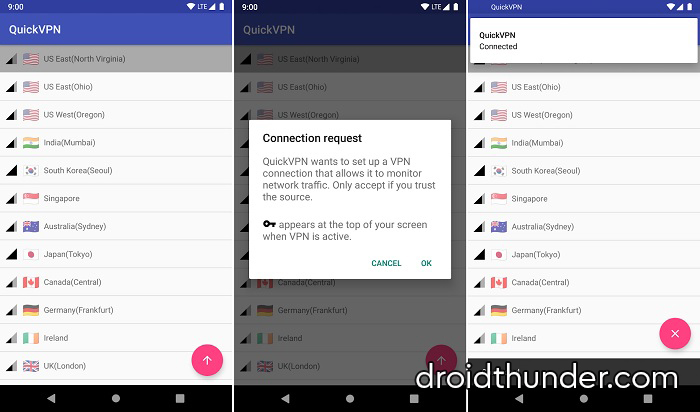 Price: Free, with in-app purchases
Requires Android: 5.0 and up
Size: 2.9 MB
Quick VPN sports limited server networks in the free package. However, when you tap to connect, the app shows a 30-second ad. If you do not select the server, it automatically finds the nearest available fast server.
You'll get around 50-60% of the original speed for closer servers. Moreover, for servers that are far away, Quick VPN offers about 30-40% speed.
9. Potato VPN
VPN with Unlimited WiFi Proxy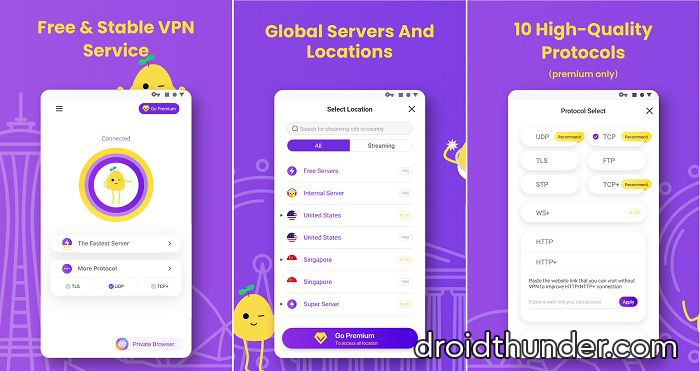 Price: Free, with in-app purchases
Requires Android: 4.2 and up
Size: 11 MB
If you want to stay safe while surfing the internet, then Potato VPN might be the one for you. This free VPN provides unlimited WiFi proxy, hides IP addresses, unblocks streaming sites, and doesn't save user logs.
Most VPN android apps require registration and payment details before use. However, PotatoVPN offers free service without registering or subscribing to paid plans.
10. Privado VPN
VPN with the fastest speed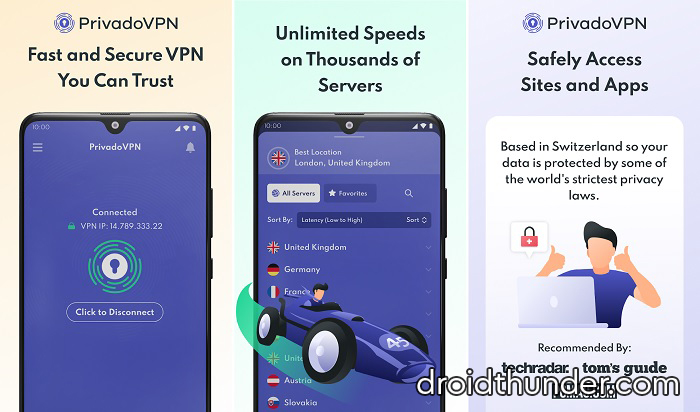 Price: Free, with in-app purchases
Requires Android: 4.0 and up
Size: 42 MB
If you are a VPN beginner, then Privado VPN is the best choice for you. This Switzerland-based app offers the fastest speed you'll ever see on a VPN. Privado VPN outperforms everyone mainly with its speed, Swiss jurisdiction, safe privacy policy, and P2P-friendly servers compared to the best free Android VPN providers.
When it comes to online streaming websites, Privado is an excellent VPN. It can unblock and access StarMaker, ESPN+, Hotstar, Netflix, Telemundo, PUBG lite, NBC, YouTube TV, Paramount+, Peacock Sports, etc. The best feature of this Virtual private network service is the free 10GB of data allowance with AES-256 encryption protocols.
11. NordVPN
Best Gaming VPN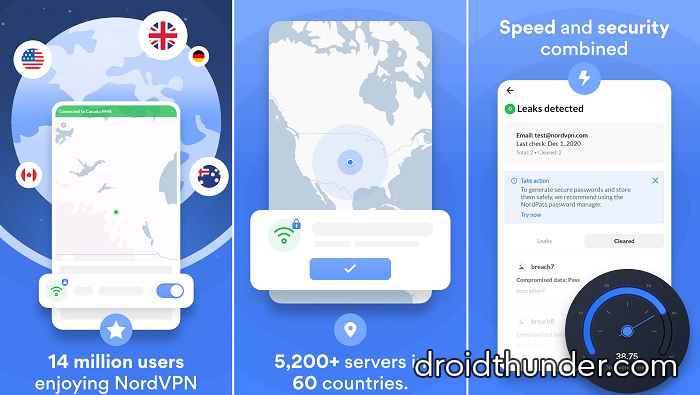 Price: Free, with in-app purchases
Requires Android: 5.0 and up
Size: 19 MB
Which VPN is best for gaming? Well, the answer is Nord VPN. There is no doubt that Nord VPN is one of the few VPNs that come under the best gaming VPNs category. Yes, you can use NordVPN to play Clash Royale or PUBG Mobile without any data throttling and high ping issues. Gamers consider NordVPN as the best free VPN for PUBG lite Asia servers.
Change IP address and global access content without geographical restrictions. Besides, gamers can also use NordVPN to protect themselves from DDOS attacks. On the other hand, Nord VPN can help you encrypt your data, thus making it difficult for internet service providers to figure out whether you're gaming or simply browsing the internet.
12. Turbo VPN
Most downloaded VPN app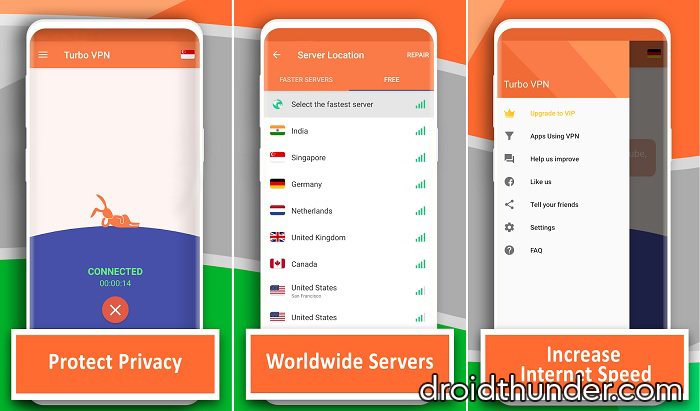 Price: Free, with in-app purchases
Requires Android: 4.4 and up
Size: 19 MB
Whenever you search VPN on Google Play Store, you'll undoubtedly come across Turbo VPN and Turbo VPN lite. This is because of the extensive paid marketing by the company. The developer claims to offer improved network speeds, the best reliable connectivity, and a safe browsing experience. Due to this, Turbo VPN is the most downloaded VPN app of all time. However, Is Turbo VPN secure to use? The answer is no.
Turbo VPN is unsafe due to its intrusive and inappropriate popup ads. Since I tested this app on various devices, I found out that this app shares several doubtful links to China. Furthermore, Turbo VPN also leaks DNS, has malware, and asks for unsafe permissions. It also doesn't work with Netflix or HBO Max. Finally, I can say that if you just want to change IP and ignore the security threat, then go for Turbo VPN, but at your own risk.
13. Express VPN
VPN with the best Privacy Policy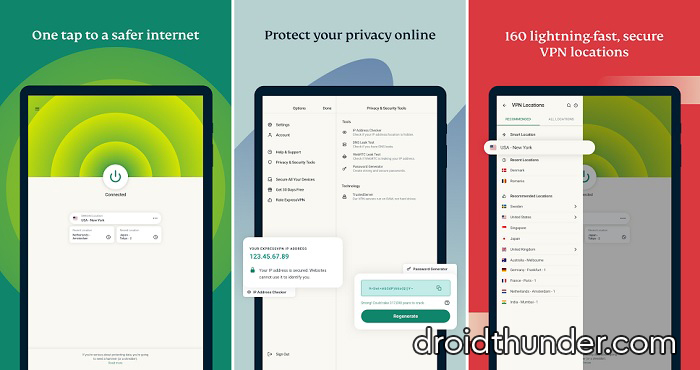 Price: Free, with in-app purchases
Requires Android: 6.0 and up
Size: 24 MB
If you search, which is the best-paid VPN for Android? I doubt that Express VPN won't be mentioned anywhere. This is by far the best VPN that outperforms every other competitor in the VPN market. In other words, ExpressVPN is a true all-rounder with phenomenal speed, numerous servers, unblock geo-restricted websites, supports torrents, and saves no logging information.
Just like its name, this VPN also has an express chat support. Whenever I message the ExpressVPN team regarding any issue, they hardly take five minutes to reply and solve my problem. In short, Express VPN is an all-in-one app that tops in about every area.
14. Aox VPN
Free VPN with no log policy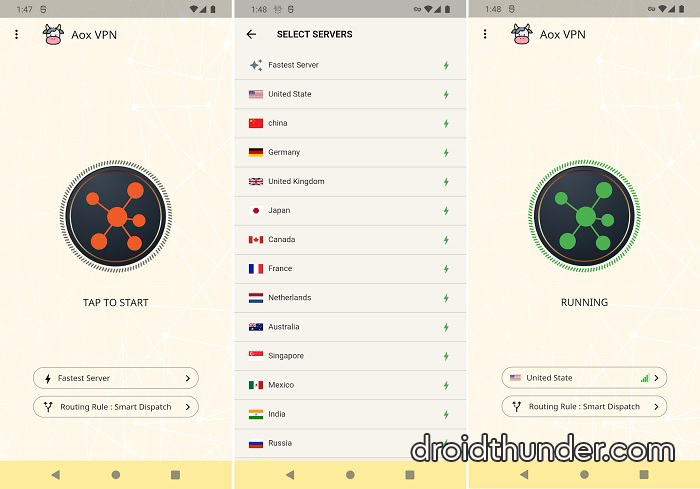 Price: Free, with in-app purchases
Requires Android: 6.0 and up
Size: 27 MB
Aox VPN is yet another free app for Android phones. This application provides WireGuard and IKEv2, the safest tunneling protocols. It does not save any user information and gives 100% privacy protection.
Besides, Aox VPN also has the most trustworthy no-logs policy. Just tap to start connecting to the fastest nearby server. You can easily switch between the servers, including India, the United States, Germany, Japan, Russia, China, the United Kingdom, etc.
15. Vypr VPN
VPN that owns its server network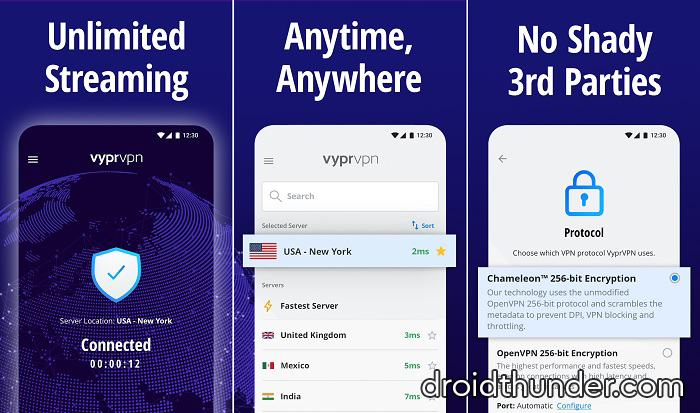 Price: Free, with in-app purchases
Requires Android: 7.0 and up
Size: 9.3 MB
Most VPN providers rent servers from third parties. However, this increases the chance of a security breach. To overcome this issue, Vypr VPN has launched its own server network to gain user trust and add an extra layer of security.
Furthermore, Vypr VPN also provides excellent data encryption, DNS leak protection, kill switch, and 750 servers in 70 countries. Without a second thought, use Vypr VPN to browse, stream, and play online games safely.
16. Surfshark
VPN with GPS spoofing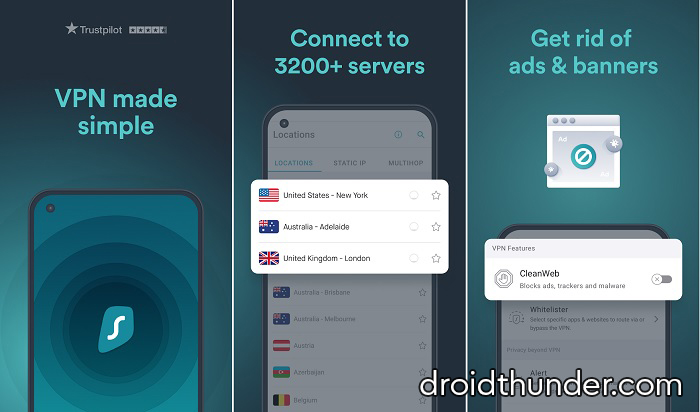 Price: Free, with in-app purchases
Requires Android: 5.0 and up
Size: 20 MB
Surfshark VPN provides 3,200 servers in over 95 countries with connection speeds and military-grade AES encryption. This free VPN best suits those with strict censorship laws and bandwidth throttling issues.
Moreover, Surfshark also provides GPS spoofing, P2P-optimized servers, and split tunneling. This is the only VPN application that offers consistent new updates and features to enhance the Android VPN experience.
17. Windscribe
Best free VPN for iOS and Android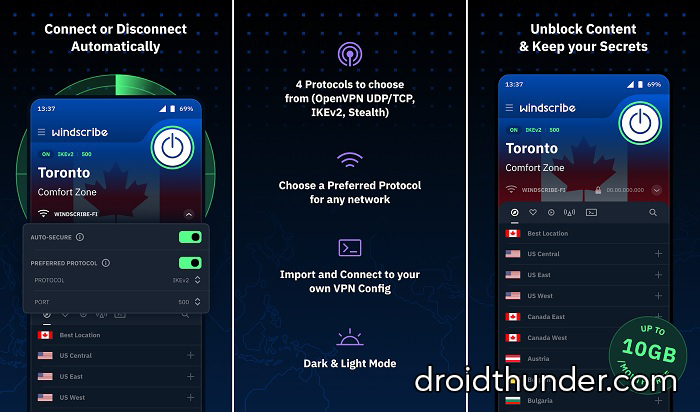 Price: Free, with in-app purchases
Requires Android: 5.0+
Size: 16 MB
With an extensive server network and a fantastic collection of privacy tools, Windscribe VPN is difficult to beat. Due to the consistent local and global speeds, Windscribe VPN it's an excellent choice for buffer-free streaming. Moreover, Windscribe also unblocks famous streaming apps, including 11 Netflix libraries, Hulu, DAZN Canada, Prime Video, etc.
18. Tunnel Bear VPN
Free VPN without Ads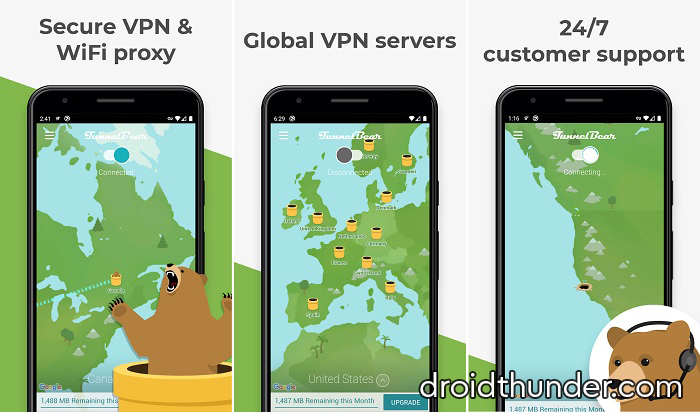 Price: Free, with in-app purchases
Requires Android: 4.2 and up
Size: 15 MB
If you want to hide your regular traffic, TunnelBear VPN is a good choice. However, when it comes to streaming online movies or downloading torrents, TunnelBear does an average job.
Overall, I can say that this free VPN is good if you want to browse or stream content locally. But servers are terrible for streaming international sites. Besides, a free VPN without a single ad is a plus point.
19. X VPN
Free VPN for Android TV box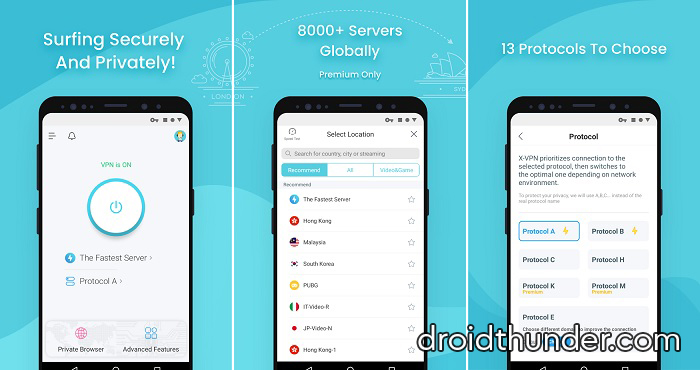 Price: Free, with in-app purchases
Requires Android: 4.4 and up
Size: 19 MB
X VPN claims to work best on Amazon Fire TV. It also boasts impressive server networks of over 8,000 connection points across 25 countries. Besides, X VPN even unblocks Netflix US UK, with fast nearby connections.
Unfortunately, XVPN lacks a little bit in data privacy and security. However, if your task is only to hide your IP address and change your current location on the web, then X VPN can be the app for you.
20. Zoog VPN
Cheapest VPN for Android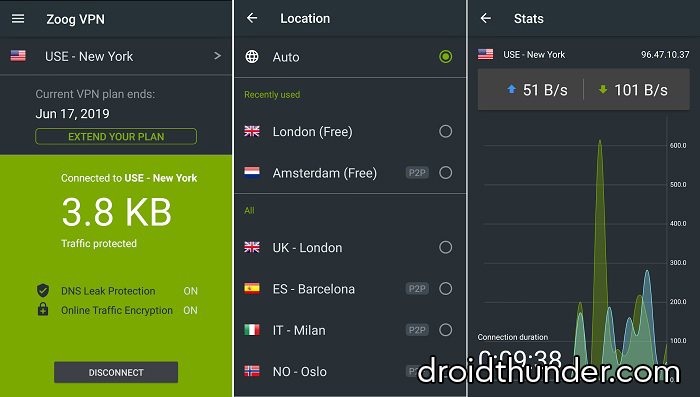 Price: Free, with in-app purchases
Requires Android: 5.0 and up
Size: 21 MB
Although ZoogVPN is a mid-level VPN, it is still one of the most secure VPNs. I didn't find any advanced functions in Zoog VPN, but it provides just enough to keep you safe while web browsing.
Moreover, Zoog is average for torrenting or streaming, but you can enhance the network speed with the paid plans. The good news is that Zoog is the most affordable VPN in India.
21. Avira Phantom VPN
Best VPN with the strongest encryption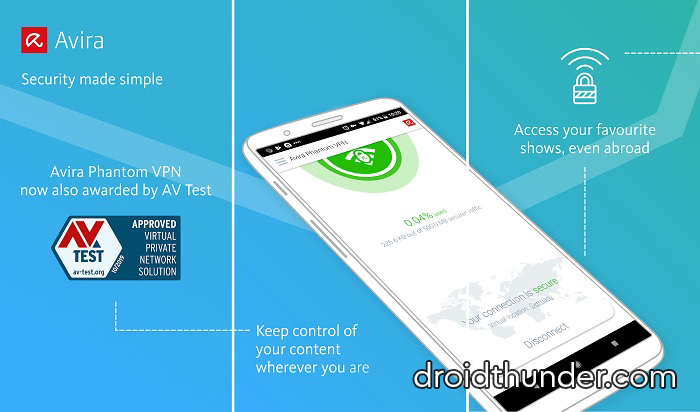 Price: Free, with in-app purchases
Requires Android: 5.0 and up
Size: 19.58 MB
Just like other VPNs, Avira Phantom offers AES-256 encryption, OpenVPN protocol, access to US Netflix, and saves no user log. However, the only downside of Avira Phantom is the monthly data limit of 500MB.
But with the VPN premium version, Avira Phantom outperforms many top VPN apps. Avira Phantom is a good choice if you are looking for a free VPN without looking at the drawbacks.
22. Kaspersky VPN
Best VPN for Russia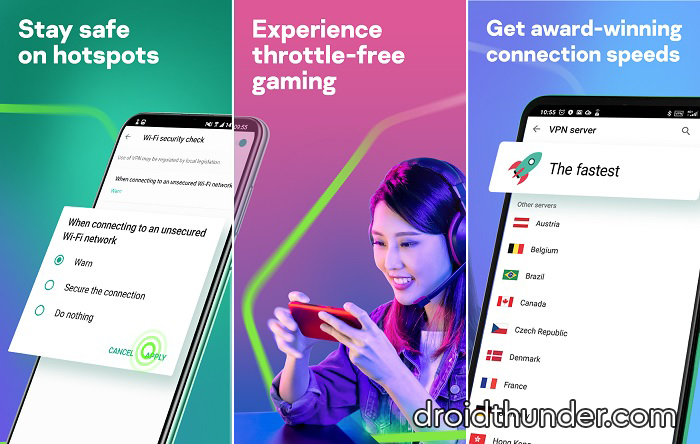 Price: Free, with in-app purchases
Requires Android: 4.1 and up
Size: 32 MB
Based in Russia, Kaspersky VPN sports fast speed, good security features, no logs policy, and a kill switch function. This Russian VPN also offers industry-standard 256-bit AES encryption security to protect user data. But, it does lack some essential features, including an ad blocker, split tunneling, and smart DNS.
Overall, Kaspersky VPN stops hackers, ISP, and the government from tracking your online presence. However, this free VPN is unsuitable for gamers due to high ping and latency issues. Due to controversial privacy concerns, the USA has restricted the use of Kaspersky VPN in the country.
23. Finch VPN
VPN with server usage graphs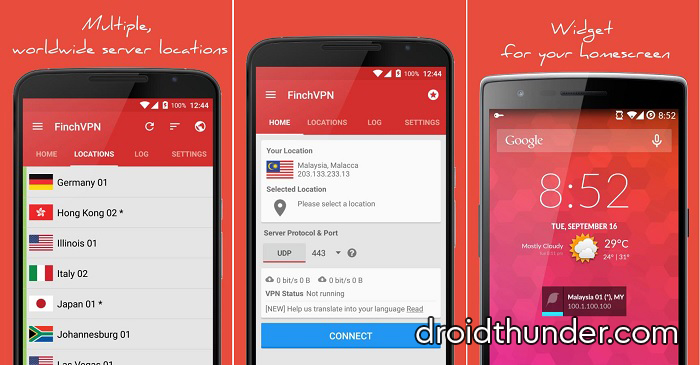 Price: Free, with in-app purchases
Requires Android: 4.1 and up
Size: 10.3 MB
Finch VPN offers only 25 servers in 13 locations. This includes India, Australia, Russia, North America, Malaysia, Singapore, Japan, Europe, and the UK. The best feature of Finch VPN is the detailed reports and stats of the daily server and network usage.
To be specific, Finch VPN shows graphs to indicate bandwidth, number of current users, data limit, etc. This is pretty amazing, as the largest VPN companies like ExpressVPN and Nord VPN don't offer this functionality.
24. Ultrasurf VPN
Simple and Clean VPN app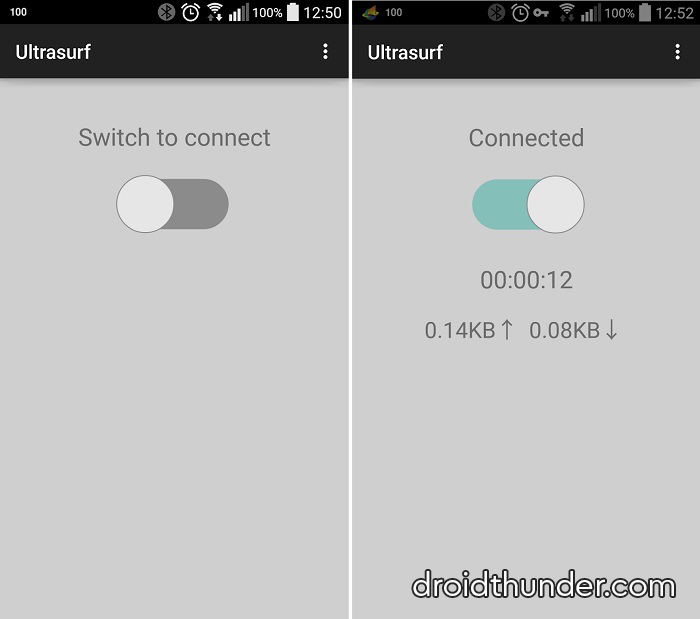 Price: Free
Requires Android: 4.0 and up
Size: 10 MB
Do you want a free VPN app that is clean, simple, and straightforward, with absolutely no ads, then try the Ultrasurf VPN once. There is not a single Android VPN app like Ultrasurf.
The developers have done an excellent job designing a VPN ahead of its time. Once you launch the app, you'll see a single toggle switch, and yes, that's it! Just turn it ON, do your thing, then turn it OFF. Simple as that.
Final Verdict: Best VPN for Android
The best free VPN for Android is Proton VPN, thanks to its fastest speed, low ping times, powerful privacy features, AES-256 encryption, and no logs policy. That's a winning combination.
However, whether it is Proton or any other free VPN, you'll often experience restrictions from the app developer, including data caps, speed limit, popup ads, etc. In such cases, it'll be better to go for a cheap paid Android VPN.