We live in a world full of competition. Everyone is running after money to create a better and safe future. However, continuous work to improve performance, and perfection can cause depression, stress, and anxiety. The only best way to cure depression and anxiety is Meditation. This mental exercise helps us to slow down the number of thoughts entering our minds as well as the speed over which thoughts enter our minds.
Related: 10 Best Free Apps for Depression and Anxiety
How to do meditation for beginners at home? Does meditation really work? If you have the same questions, then don't worry. There are plenty of apps available to learn meditation online for Free. These applications help you fight stress, develop serenity, improve concentration, focus, manage weight, and get better sleep. In this article, we'll discuss the top 10 apps to Meditate and attain mindfulness practice anywhere, and anytime.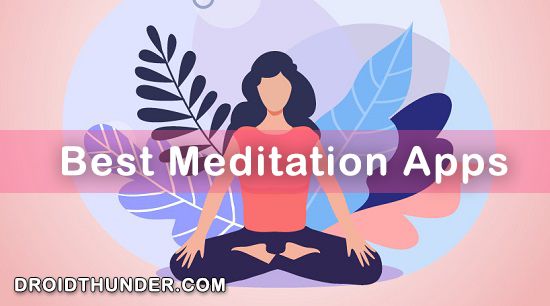 What is Meditation?
It is a mental training exercise to increase concentration and memory power. It can help reduce stress, increase calmness, promote happiness, and enhance attention as well as awareness.
Type of Meditation
Mindfulness
Spiritual
Loving-kindness
Focused
Movement
Progressive Relaxation
Mantra
Kundalini Yoga
Transcendental
Breath Awareness
Meditation Benefits
Improves immune system
Increases blood flow
Reverse heart disease
Reduces Stress and Depression
Controls Anxiety
Cure Addiction
Reduces Ageing
Increases concentration
Reduce Hair fall
Lowers blood pressure
Balances Emotion
Relaxes the mind
10 Best Meditation Apps for Android Free in 2020
To help you meditate, we've listed the Top 10 Meditation apps and noted why every app might be the right one for you.
1. Let's Meditate: Sleep & Guided Meditation
Price: Free, with in-app purchases
Requires Android: 4.4 and up
App Size: 3.9 MB
This is a desi Indian app to meditate simply and effectively. It comes with plenty of features to cure depression, and sleep apnea. Moreover, it also includes sleep stories and relaxing music to calm the mind. Just select a track and tap play to heal and experience spiritual chakra activation. Besides, you can also download every track and listen to them when you are offline. To get a soothing experience and happiness in your everyday lives, do check out this app.
2. Meditation Music – Relax, Yoga
Price: Free, with in-app purchases
Requires Android: 4.0.3 and up
App Size: 29 MB
It is a free app that includes various relaxing sounds of nature and melodies to help you find inner peace and calmness. Furthermore, it provides a compilation of high-quality calm ambient music to practice yoga, meditate, relax, and sleep. Besides, you can also add a soft piano tune, relaxing sounds of waves, and rain to achieve Nirvana. With its offline support, you can meditate without an internet connection
3. Serenity
Price: Free, with in-app purchases
Requires Android: 4.1 and up
App Size: 77 MB
Do you want to learn mindfulness skills online for Free? Then Serenity is the app for you. This app provides different mindfulness training modules that help you achieve happiness, self-awareness, and inner peace. Moreover, it sports a 7 days audio course with short sessions to practice relaxation. With such amazing features, it is the best meditate app for beginners.
4. Calm – Meditate, Sleep, Relax
Price: Free, with in-app purchases
Requires Android: 4.4 and up
App Size: 36 MB
Recommended by psychologists, therapists, and mental health experts, it is the most popular free app to meditate, relax, and sleep. As its name suggests, it is a portal to achieve inner peace, self-awareness, and mindfulness. Moreover, this app provides 3 to 25 minutes of guided sessions to change your life with positive thinking.
5. Sadhguru
Price: Free, with in-app purchases
Requires Android: 4.4 and up
App Size: 23 MB
When it comes to yoga and spirituality, Sadhguru is the most preferred app. This application provides daily insights and inspiration from Sadhguru himself. You can use these tactics to succeed in life. Additionally, it also features Sadhguru's articles, podcasts, videos, meditation quotes, etc. Moreover, the Sadhguru app is available in 8 languages, including English, Hindi, Marathi, Tamil, Gujarati, Telugu, Malayalam, and Kannada.
6. Insight Timer
Price: Free
Requires Android: 5.0 and up
App Size: 64 MB
All the apps listed here provide a free trial to a larger membership. However, Insight Timer is the only app that is entirely free to users. Here, you'll find more than 30,000 guided sessions from over 1,000 teachers along with pep talks and podcasts. Besides, it comes with also relaxing music tracks for stress relief and better sleep, a section for kids, tracks for time and productivity management, and therapeutic videos from the Indian yogi Sadhguru and psychotherapist Anthony DeMello.
7. Aura
Price: Free, with in-app purchases
Requires Android: 4.1 and up
App Size: 50 MB
Aura provides free unlimited access to mindfulness, life coaching, and sleep stories from best psychologists, and therapists. Moreover, this app automatically gives recommendations according to your mood. Besides, the app can easily track how much meditating you're doing. Additionally, you can set reminders to practice mindfulness throughout the day and improve mood swings.
8. Simple Habit
Price: Free, with in-app purchases
Requires Android: 4.4 and up
App Size: 15 MB
To be happy in a relationship, marriage, and life, use the Simple Habit app. This app provides 5 minutes of on-the-go quick meditation techniques for a busy daily life. Simple Habit app is for those people who need quick and easy ways to meditate. However, to enjoy offline meditation, you need to buy a premium subscription of $12 per month or $90 per year.
9. Meditation & Relaxation
Price: Free, with in-app purchases
Requires Android: 5.0 and up
App Size: 41 MB
This application promises to change your life in 7 days. Besides, it provides the most effective, and easiest techniques to meditate and find happiness in life. There is no doubt that this is the best way to treat depression without medicines. Furthermore, it comes with soothing music to increase concentration while studying and to improve self-esteem and self-confidence.
10. Headspace
Price: Free, with in-app purchases
Requires Android: 5.0 and up
App Size: 11 MB
Headspace is full of breathing exercises, body scans, silent music tracks, and mini sessions for kids. Besides, the most important thing about this app is that you can try it out for free before buying it. Moreover, if you are not getting sleep at night, then the soothing soundtrack can help you out. Furthermore, this app provides guided sessions on personal growth, physical and mental health, anxiety relief, and stress management.
Wrapping Up
So these are the most used top 10 Android apps to Meditate. Which one is your favorite? Do let us know using the comment section below. Thank you!