Unlock the Bootloader of Xiaomi Poco F1 (Pocophone) using our easy steps guide. Xiaomi is widely known for making attractive Android smartphones with a powerful processor, large display, great camera, and affordable price tag. This is the reason the company has managed to capture a large chunk of the Indian and Chinese markets.
Recently Xiaomi has introduced a new sub-brand named Poco. Their first smartphone Xiaomi Poco F1 launched date in India was August 22, 2019. This phone is designed with amazing flagship features at a cheaper price.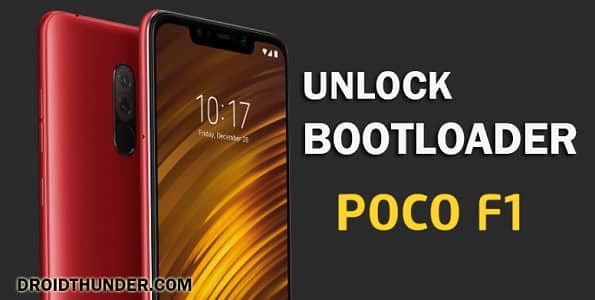 Poco F1 Specifications
Poco F1 price in India starts from Rs. 20,999. You can easily buy Xiaomi Poco F1 for Rs. 16,390 offer price on the Amazon website. Talking about Xiaomi Poco F1 features, it offers 6.18 inches screen with 1080 x 2246 pixels of resolution.
Moreover, it is powered by Qualcomm Snapdragon 845 chipset Octa-core processor with 8 GB RAM and 256 GB internal storage. Looking at the Poco F1 camera, sports a dual-camera setup of 12 + 5 MP on the rear.
Whereas, on the other hand, it features a 20-megapixel selfie camera. Poco F1 mobile runs on a non-removable Li-Po 4000 mAh battery with fast charging support. Furthermore, it sports an Android 8.1 Oreo-based MIUI Poco F1 update.
For a more detailed Poco F1 review, simply type Poco f1 gsmarena on Google. Soon after the Poco F1 release date, users went crazy for this new smartphone. Because it was really difficult to match the Poco F1 specs with other devices.
If you compare Poco f1 vs Samsung a50 or Poco f1 vs Poco f2, the first generation smartphone proves to be perfect with such amazing Xiaomi Poco f1 specifications. Do you want to root Poco f1? Do you want to install a custom ROM on Poco f1? if yes, then you have to unlock the bootloader of Poco F1 first.
On the contrary, Xiaomi does not allow users to unlock the bootloader on their own. Moreover, you should perform a specific process to unlock the bootloader of Poco F1 which takes as much as 30-60 days.
How to Unlock Bootloader of Poco F1?
The company has reduced the waiting time especially to unlock the bootloader of Poco f1. Yes, you heard it right. Now it is possible to unlock the bootloader of Poco F1 in 5 minutes. You just need a Xiaomi MI account along with the MI Unlock tool.
In this easy steps guide, we'll assist you to unlock the bootloader on Poco F1 without a PC and without losing data. On the positive side, after unlocking the bootloader, you can easily install TWRP o on Poco F1 and gain root access. So let's get started and Unlock Poco f1 Bootloader.
Disclaimer
Unlocking Bootloader will not void the warranty of the phone, only rooting will void the warranty. Moreover, we at Droid Thunder will not be liable for any damage caused to your Poco F1 by following this guide.
Pre-Requisites
Ensure to charge your Poco F1 at least 50% to avoid interruption.
Install Xiaomi Poco F1 USB drivers on a PC to recognize your mobile when connected via USB data cable.
Also, ensure to install the latest ADB & Fastboot drivers on your PC.
Back up your contacts, apps, messages, call logs, notes, etc.
Steps to Unlock Bootloader of POCO F1
On your Poco F1, open phone Settings.
Under Accounts, open Mi Account.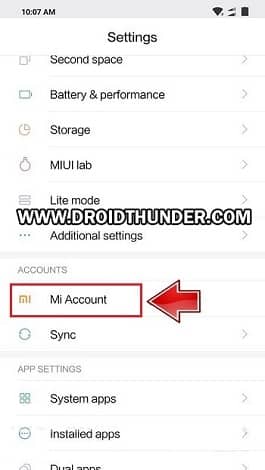 Here, Sign in if you already have a Mi account OR create a new Mi account.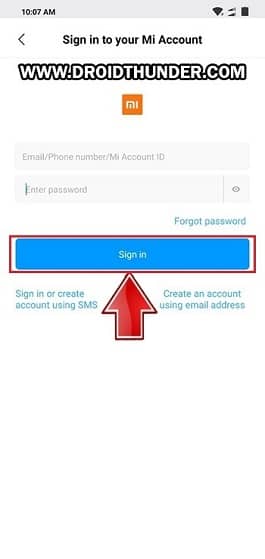 Once signed in, enable Sync and Find device options from Mi Cloud.
Then press Continue.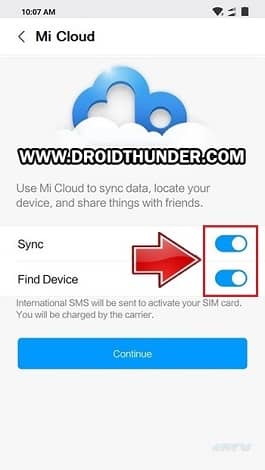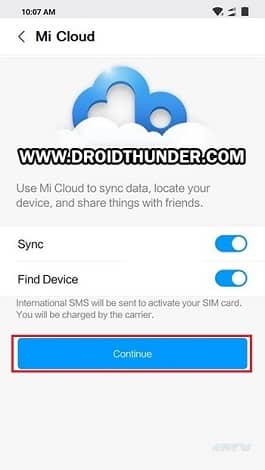 Go back to Settings, and click on About Phone.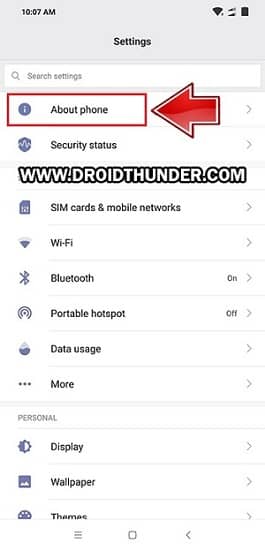 In the About Phone section, simply tap 7 times on the MIUI version (For POCO).
It'll show you a countdown message saying, "You're 4,3,2,1 steps away from being a Developer".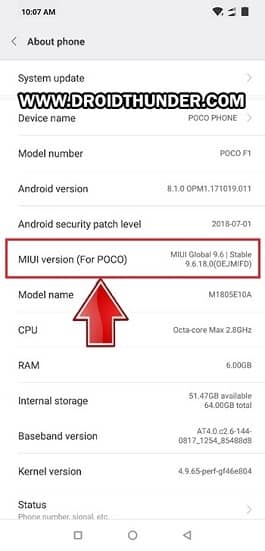 Tap on it until a message saying, "You are now a developer" pops up.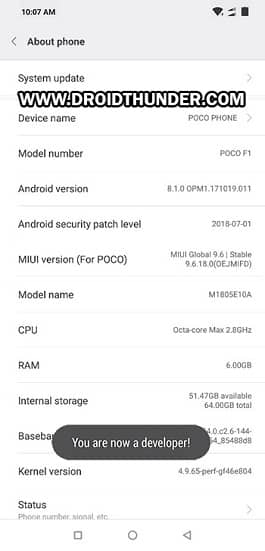 This will enable the hidden developers option on your Poco F1 device.
Go back to Settings and open Additional Settings.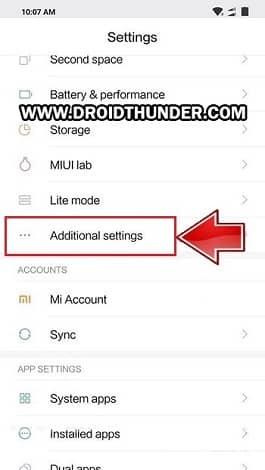 Scroll down and open Developer options.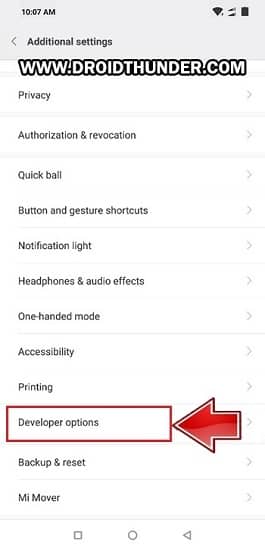 Under Developer options, enable OEM Unlocking option.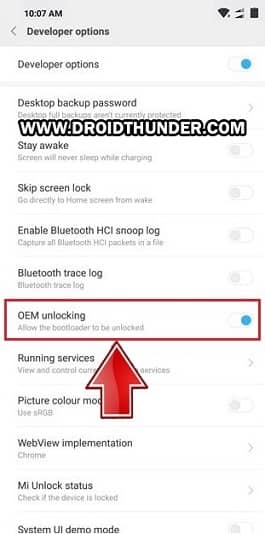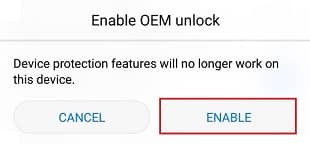 Scroll down and enable the USB debugging option.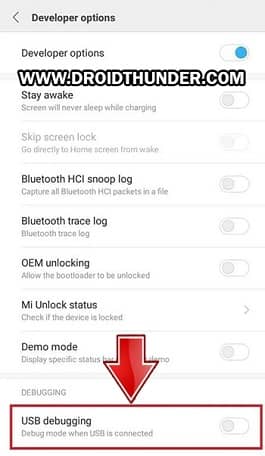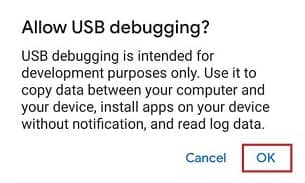 Next click on the Mi Unlock Status option.
You'll be asked for permission to view your device ID, IMEI number etc. in a pop-up dialog. Tap Agree.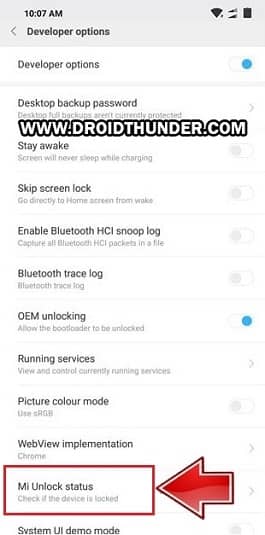 You won't be able to go ahead without a SIM card in your device, so ensure you've inserted one.
As soon as you click on Mi Unlock Status, the following screen will appear.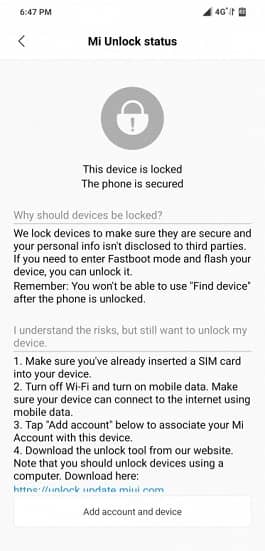 Click on Add account and device option.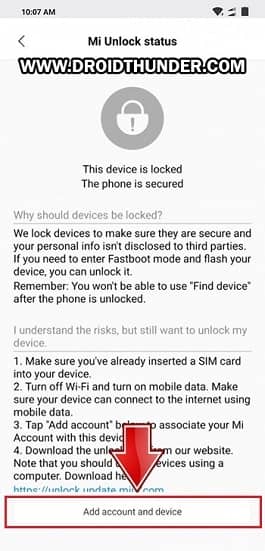 Wait until a pop-up message saying, "Added successfully. Mi Account is associated with this device now" appears.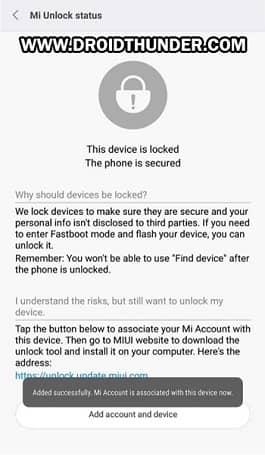 Close everything and Power off your Poco F1 mobile.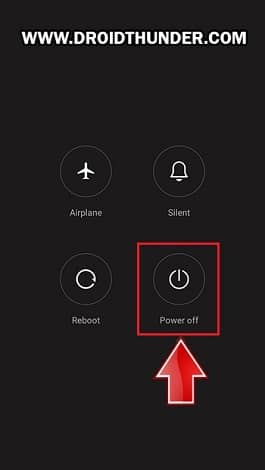 Now you need to boot Poco F1 into Fastboot mode.
For doing so, press and hold the Volume Down key + Power button simultaneously.
Leave both the keys as soon as the fastboot logo appears.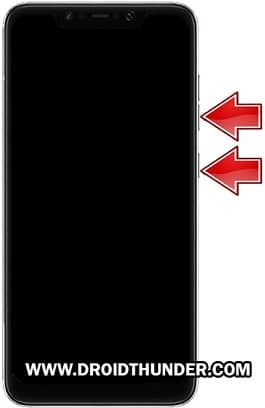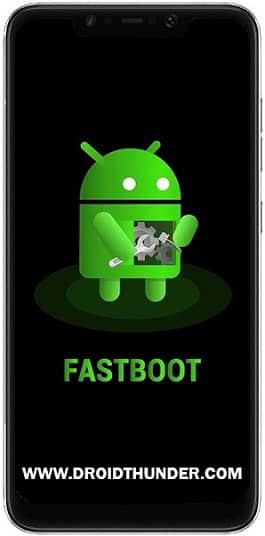 Keeping the device in fastboot mode, connect it to the PC using a standard USB cable.
Make sure the Xiaomi USB drivers, as well as ADB drivers, are installed on your PC.
Download Mi Unlock Tool.
Note: Do NOT download the latest Mi Unlock Tool from the official Mi website as it'll take 30-60 days to unlock the bootloader.
Extract the downloaded Mi Unlock Tool on your PC.
You'll see the following files in the extracted folder: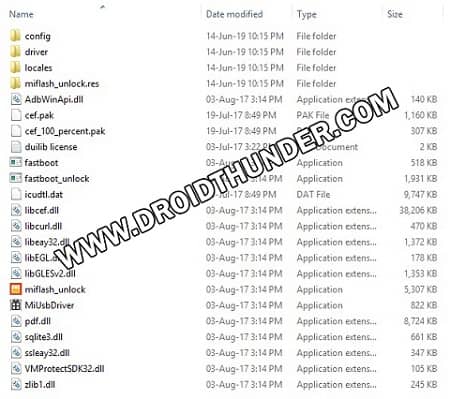 Launch miflash_unlock.exe file.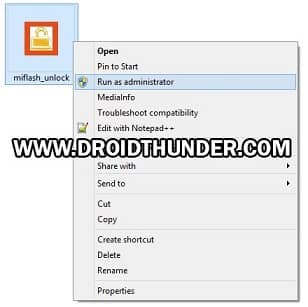 Run it as Administrator.
A disclaimer window will appear. Click on Agree.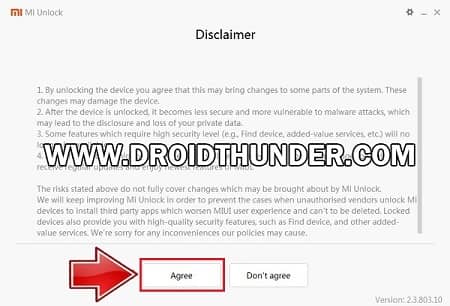 As soon as you click on Agree, a Sign in window will appear as shown below.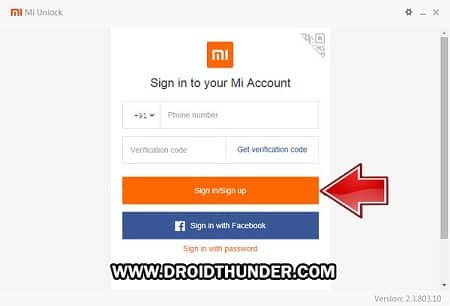 Type in your Username and Password to login to the Mi Account.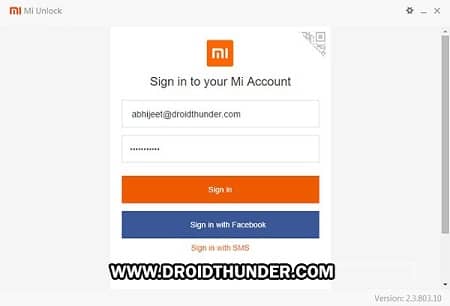 Sign-in using the same account which you've on your Poco F1 device.
Wait until the Unlock tool checks whether your Mi Account has permissions or not.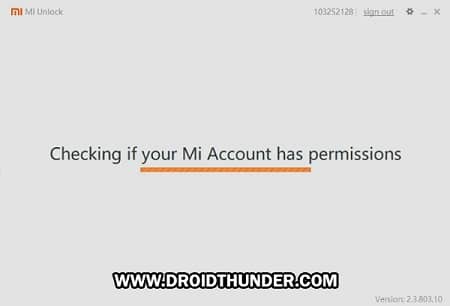 Upon successful connection, the following window will appear.
Unfortunately, if Mi Unlock Tool shows error in connecting your phone, then re-install Xiaomi USB drivers as well as ADB & fastboot drivers on your PC.
To unlock the bootloader of Poco F1, simply click on the Unlock option.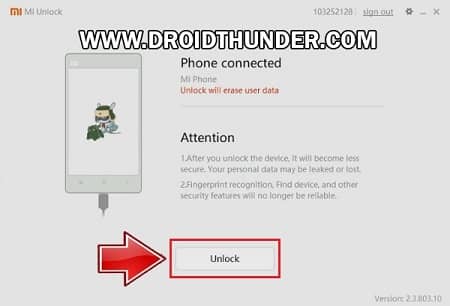 A popup will appear showing a warning unlock countdown.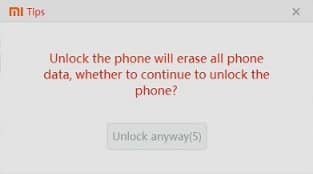 Let's start the Poco F1 bootloader unlocking process.
For that, click on Unlock anyway option.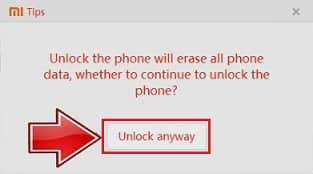 This will start the actual bootloader unlocking process of the Xiaomi Poco F1 mobile.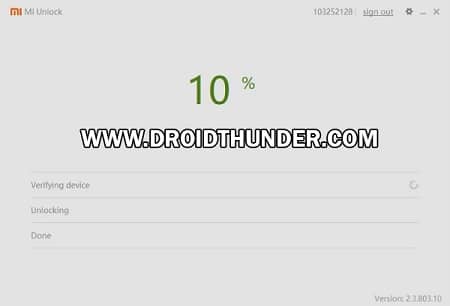 Be patient and wait until it completes.
The bootloader unlocking process will hardly last for few minutes.
As soon as it completes, a message saying Unlocked successfully will appear on the Mi Unlock Tool.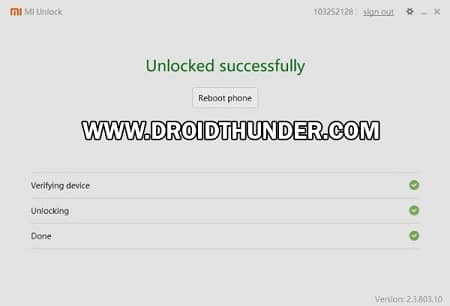 Just click on Reboot Phone to restart your Poco F1 device.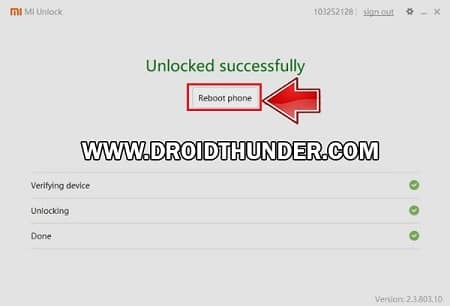 When your phone reboots, the Unlocked message will appear under the Poco F1 logo.
Conclusion
Finally! This is how you can unlock the bootloader of Poco F1 without waiting for Xiaomi permissions. In order to confirm the bootloader status, go to Settings > Additional settings > Developer options > Mi Unlock Status. If you face any difficulty while going through the process, then please comment below.