Create custom WhatsApp Stickers of your own on Android phones. This easy guide explains how to make, design, use and send the latest stickers for chatting on WhatsApp messaging app. When WhatsApp was launched back in 2009, it was a simple text to text messaging app. But as days went by, it became a much innovative, user-friendly, and completely fun app.
Also Read:
How to Download Paid Apps For Free on Android
Due to which it soon gained interest among Indians. With over 70 million active users, which are about then percent of total worldwide users, India has emerged as the largest market for WhatsApp. Developers of this Facebook-owned app keep on introducing new features just to make the platform engaging and fun.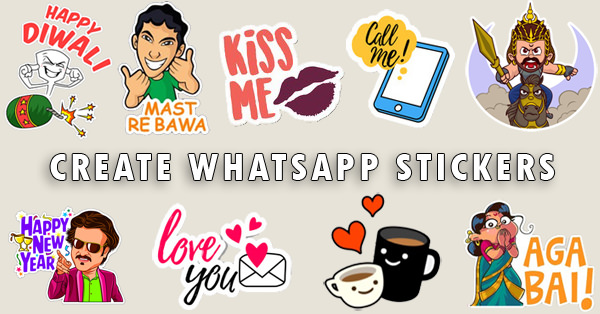 One of such recent update is the new WhatsApp Stickers. This is the much-awaited feature which will help users to express themselves in a better way. We cannot say that this is an innovative feature, because WhatsApp rivals like Hike messenger, Telegram, WeChat, and Snapchat already have this feature for years.
But since WhatsApp is considered as the top number messaging app, the only thing it was lacking was stickers. Apart from images, emojis, and GIFs, users can now enjoy sharing new stickers on their phones. This feature is launched globally and now users across Android and iOS will be able to send them to their contacts.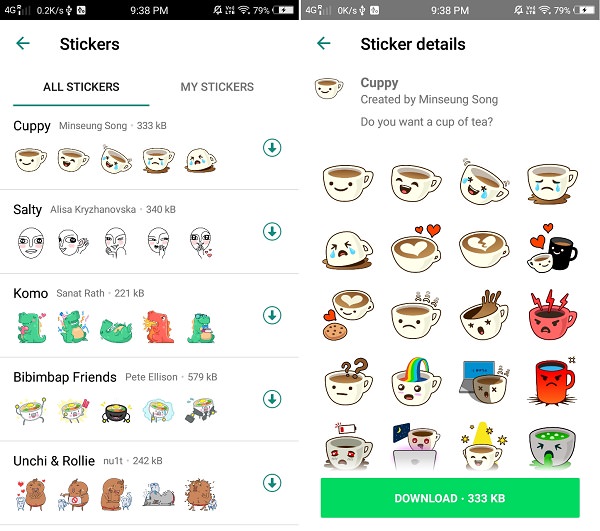 In India, WhatsApp stickers started rolling out ahead of Diwali which gave users a new way to wish their family and friends with a festive sticker. Right now only a pack of 12 stickers is rolled out. These are Cuppy, Salty, Komo, Bibimbap Friends, Unchi & Rollie, Shiba Inu, The Maladroits, Koko, Hatch, Fearless and Fabulous, Banana, and Biscuit.
Today we live in such a world where we rarely have time to type a text message. We mostly rely on emojis and GIFs for casual chats with friends. Of course calling is always the last option but a major part of our conversation is filled with these emojis and GIFs. Now in addition to these, we have these WhatsApp stickers.
During festivals like Diwali, Christmas, New year, or occasions like birthday, anniversary, we come across many forwarded messages. Replying to these messages become a tough job. At such times, Stickers can come to major rescue. If your WhatsApp is not updated and someone sends you Whatsapp Stickers, you'll receive a message saying, "You received a message but your version of WhatsApp doesn't support it. Update WhatsApp".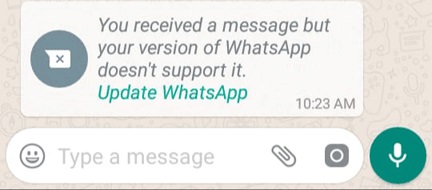 So what you need to do is just go to Google Play Store and update your WhatsApp. The Whatsapp Stickers are available from WhatsApp version 2.18.329 and above. The best part of these Whatsapp Stickers is that WhatsApp gives the option to connect with third-party apps. Because of which you can make your customized Whatsapp Stickers. Yes you heard it right. Isn't it cool! Custom stickers will make communication more fun and engaging.
Steps to create WhatsApp Stickers of your own
To begin with, all you need is an image you want to send as a Whatsapp Stickers. Either you can take a quick selfie or just Google any picture you want.
The image should only be in a PNG format. Also ensure that the background of that image is less cluttered.
For example, I have taken three pictures as shown below: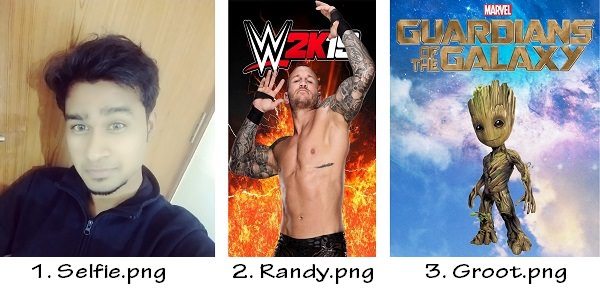 Now to remove background from images, download this Background Eraser app from Google Play Store.
Launch the app and click on Load a photo option.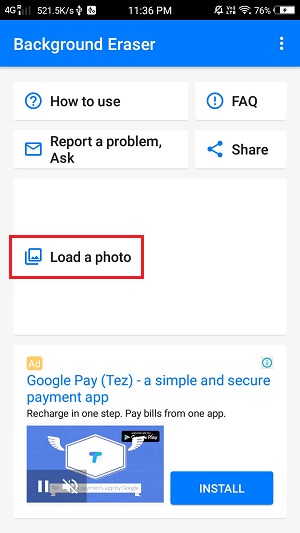 Then click on Allow option for the app to access photos, media, and files on your device.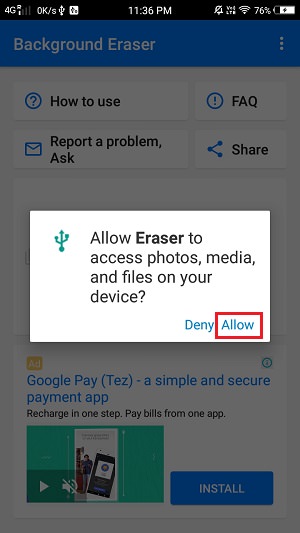 Select any image for which you want to remove the background.
Here I'll select the Selfie.png file.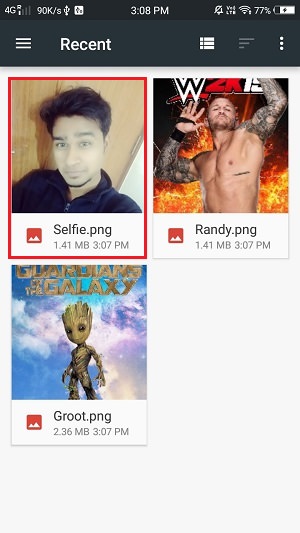 The selected photo will open in the Background eraser app.
Just crop it as per your need. Then click on Done.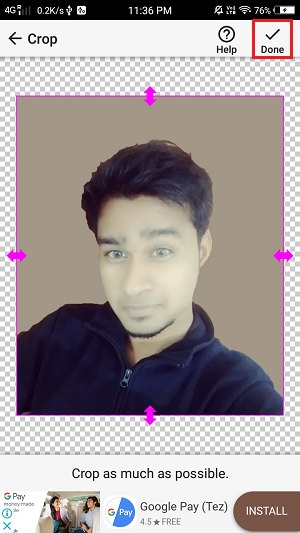 The next screen will show you the eraser types: extract, auto, magic, manual, and repair.
Click on the Magic option.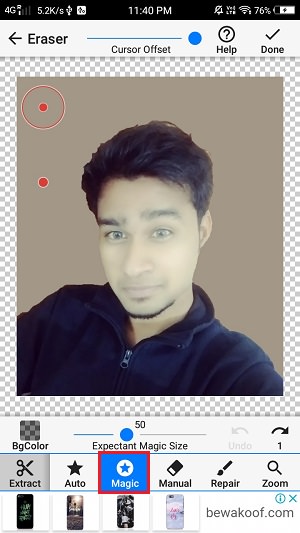 Now drag the cursor around to delete the background from the image.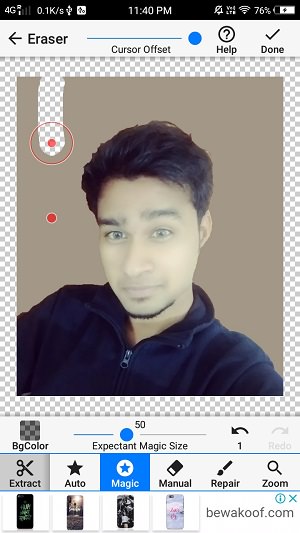 For more detailing, you can use the Zoom option.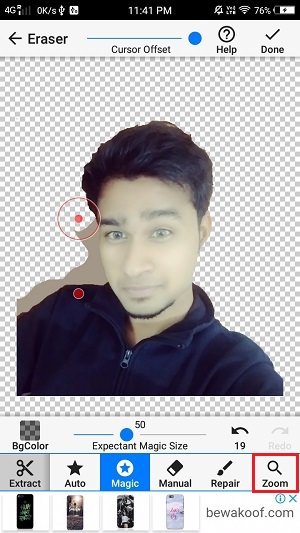 After completely deleting the background, click on Done.
On the next screen, you can set a Smooth Edge to the image.
After completely satisfied with the final image, click on Save option.
Click on Finish to close the app.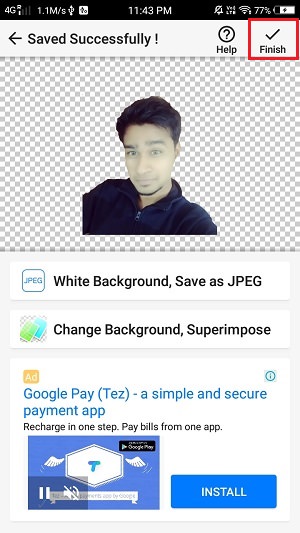 Similarly delete the background from other images.
So those three photos after using background eraser app will become as shown below: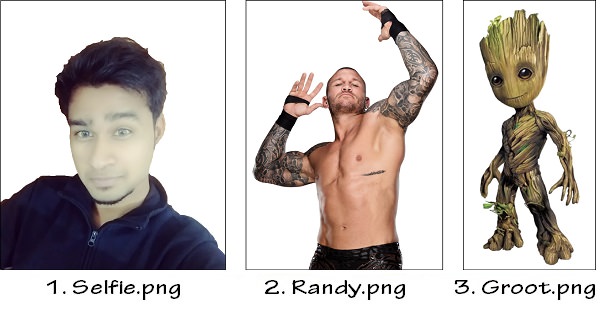 These images will be saved in a folder named Eraser.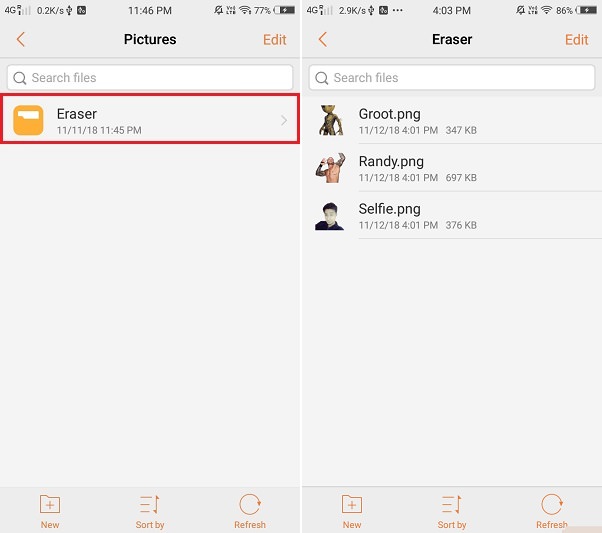 Next, download the Personal Stickers for WhatsApp from Google Play Store.
Launch the app and click on the Allow option for the app to access photos, media, and files on your device.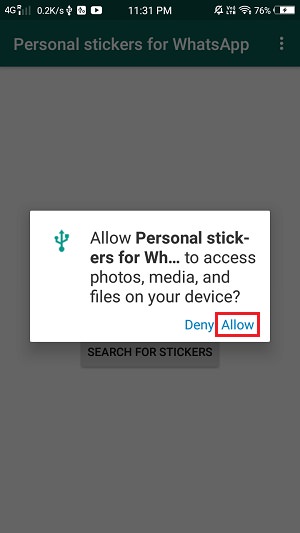 The app will show you all the photos present in your Android phone.
Just look for the Eraser folder and click on Add option beside it.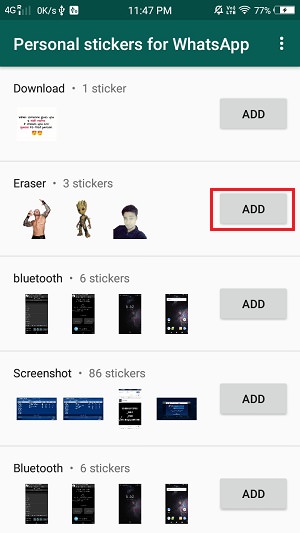 This will send these images to Whatsapp messaging app.
A popup will appear to add Eraser to WhatsApp.
Click on Add option.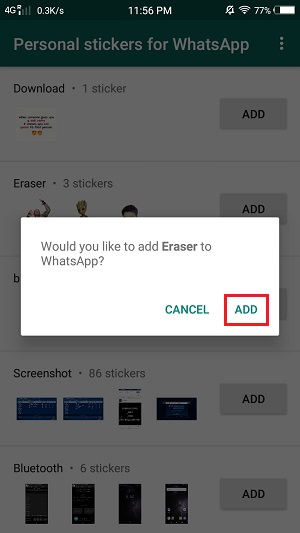 A message saying Eraser has been added to WhatsApp will confirm that the images are successfully added to WhatsApp.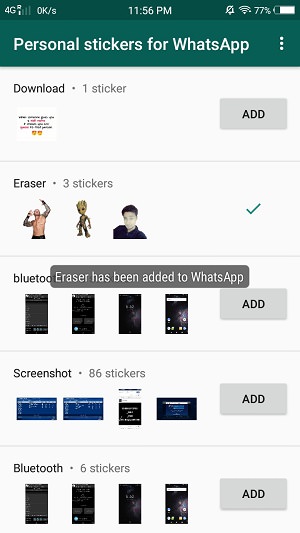 Your Stickers are now available to use on WhatsApp.
So open any WhatsApp contact and click the Emoji present on the left down corner.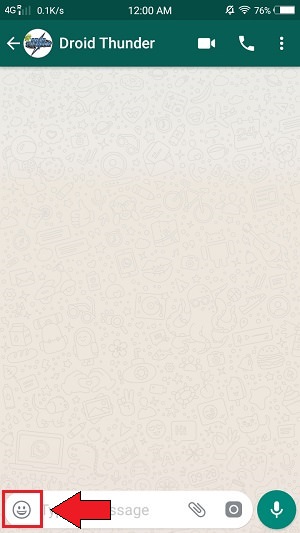 Beside emoji and GIFs, you'll find a third new option.
Click on it.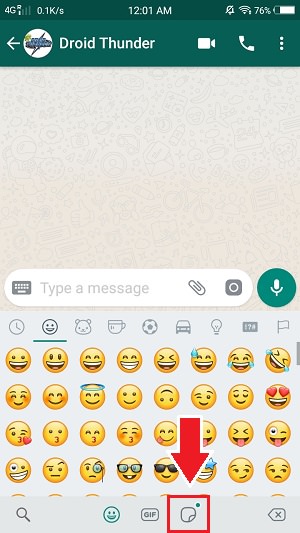 This is the WhatsApp stickers panel.
Click on the third option where your custom stickers are stored.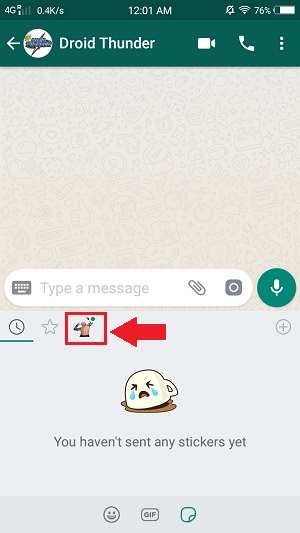 This will show you the stickers that we just created.
You can click on them to send as usual messages.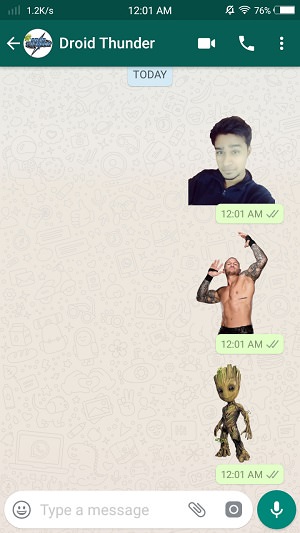 The best part is that the receiver can even save these photos for forwarding it further.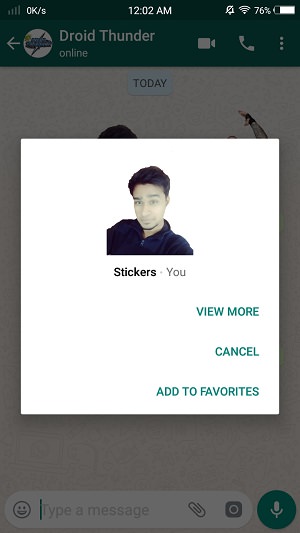 Conclusion
Finally! This is how you can create Whatsapp Stickers of your own on Android smartphones or tablets. If you have any queries related to this tutorial, then do comment below.