After the Android 13 Developer Preview and Public Beta Update, Google has finally rolled out the official Android 13, the 13th major iteration of the platform. Android 13 features expanded Material You support, improved privacy, a faster QR code scanner, an updated progress bar, new language support, notification permissions, an amazing photo picker, DNS over HTTPS support, etc. As usual, the company has released an Android 13 stable update for Google Pixel devices.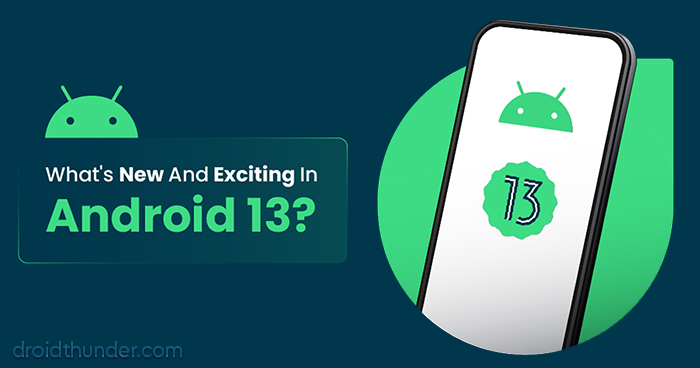 The Pixel phones that'll get to enjoy the latest update include Google Pixel 6A, Pixel 6 Pro, Pixel 6, Pixel 5A 5G, Pixel 5, Pixel 4A 5G, Pixel 4A, Pixel 4XL, and Pixel 4. Every year, Google's Pixel lineup is the first to get its hands on the latest Android version. However, interestingly, other Android OEMs will receive the Android 13 update earlier this time. To quickly check whether your device has got the Android 13 update or not, go to Settings > System > System Update and click on Check for Update.
What is Android 13?
Successor to Android 12, Android 13 is the thirteenth major release of the Android OS. Since Android 10, Google stopped giving dessert names to its Android versions. But the company continued using dessert names amongst their internal development team.
Android 10 was named Quince Tart, Android 11 as Red Velvet Cake, and Android 12 as Snow Cone. However, Google is no longer keeping the dessert names internally. So, the company publicly announced that the new Android 13 codename is Tiramisu, which is a coffee-flavored Italian dessert.
Android 13 Features
Though the new Android 13 update isn't as major as compared to Android 12, it still brings several improvements and upgrades over its predecessor. Let's have a look at some of the Android 13 features.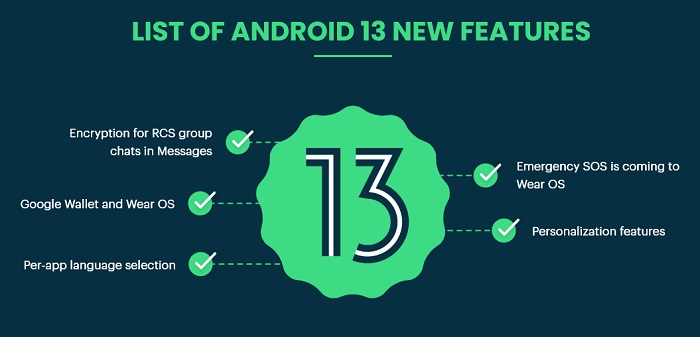 1. New Material You Color Themes
This feature allows you to personalize your user interface based on your phone wallpaper. The new Material You in Android 13 adopts the color scheme to match your wallpaper. You can choose from newly launched expressive color variants. In Android 12, Material You is limited only to system apps.
However, in Android 13, you can also use the Material You wallpaper-based theming system on third-party app icons. Moreover, this feature also has an expanded Material You media control. That means when you play a song, the music player will adopt the album artwork color. Additionally, the progress bar will also turn into an audio wave. Isn't it amazing!
2. Language Personalization
Android 13 offers multilingual app support. This allows you to change the Android app's language as per your choice. Now, you can use Google Chrome in your native language and operate the rest of the phone in English.
Unfortunately, this does not apply to all applications. To set your preferred language in any app, go to Settings > System > Languages & input > App Languages.
3. Android Photo Picker
Does this sound familiar? Yes, Google has adopted this Android photo picker feature from iOS. This feature allows you to give the app access to certain photos and videos rather than giving complete access to the entire gallery.
This company plans to launch an Android photo picker for older phones running Android 11 and above. All the users will get an update to the media provider module through Google Play System Updates.
4. Clipboard Editor Overlay
Android 13 features a new clipboard editor, giving you a pencil overlay icon to edit copied content. This is definitely a handy shortcut to quickly edit whatever you can copy before pasting it somewhere. Moreover, copying a phone number or link will immediately show you options to call/message or open Google Chrome.
5. Quick QR Code Scanner
Since the pandemic, the use of QR codes has increased tremendously. Every grocery store, restaurant, and shop uses QR scan codes as the main payment terminal. Android 13 has added a QR code scanner on the phone lock screen. This way, you can quickly access the QR code scanner whenever possible.
6. Smart Home Controls
Android 13 also brings quick access to smart home gadgets. Now, you can easily control the smart lights, cameras, fan, and TV, without unlocking your phone lock screen. The feature is disabled by default.
To turn it on, go to Settings > Display > Lockscreen > Control from locked device. To access your smart home devices quickly, use the Home icon at the bottom left of your mobile lock screen.
7. Bluetooth LE Audio Support
Android 13 features Bluetooth low-energy Audio and Low Complexity Communications Codec support. Therefore, with Android 13, you'll get better audio quality for earbuds and headphones than the SBC codec. Moreover, you get this audio quality even at a 50 percent low bit rate and reduced power consumption.
Android 13 Release Date
10 February 2022: First Developer Preview
26 April 2022: Public Beta Update
15 August 2022: Official Android 13 rollout worldwide
List of devices getting the Android 13 Update
Here is the list of devices that'll receive the Android 13 official update:
Google
Pixel 6A
Pixel 6 Pro
Pixel 6
Pixel 5A 5G
Pixel 5
Pixel 4A 5G
Pixel 4A
Pixel 4XL
Pixel 4
Xiaomi
Xiaomi Pad 5

Xiaomi 12

Xiaomi 12 Pro
Samsung
Samsung Galaxy A53
Samsung Galaxy Z Flip 4
Samsung Galaxy Z Flip 3
Samsung Galaxy Z Fold 4
Samsung Galaxy Z Fold 3
Samsung Galaxy S21
Samsung Galaxy S21 Plus
Samsung Galaxy S21 Ultra
Samsung Galaxy S22
Samsung Galaxy S22 Plus
Samsung Galaxy S22 Ultra
Samsung Galaxy Fold
Samsung A90 5G
Samsung Galaxy A21s
Samsung Galaxy A21
Samsung Galaxy S21 FE
Samsung Galaxy S20 Ultra
Samsung Galaxy S20+ 5G
Samsung Galaxy S20+
Samsung Galaxy S20 5G
Samsung Galaxy S20
Samsung Galaxy Note 20 Ultra 5G
Samsung Galaxy Note20 Ultra
Samsung Galaxy Note20 5G
Samsung Galaxy Note20
Samsung Galaxy Note10+ 5G
Samsung Galaxy Note10+
Samsung Galaxy Note10 5G
Samsung Galaxy Note10
Samsung Galaxy Note10 Lite
Samsung Galaxy Z Fold2 5G
Samsung Galaxy Z Fold2
Samsung Galaxy Z Flip 5G
Samsung Galaxy Z Flip
Samsung Galaxy Fold 5G
Samsung Galaxy Fold
Samsung Galaxy Tab S8
Samsung Galaxy S8+
Samsung Galaxy S8 SE
Samsung Galaxy S7+ 5G
Samsung Galaxy Tab S7+
Samsung Galaxy Tab S7 5G3
Samsung Galaxy Tab S7
Samsung Galaxy Tab S6 5G4
Samsung Galaxy Tab S6
Samsung Galaxy Tab S6 Lite
Samsung Galaxy A71 5G
Samsung Galaxy A71
Samsung Galaxy A51 5G
Samsung Galaxy A51
Samsung Galaxy A90 5G
Asus
Lenovo
OnePlus
OnePlus 10T
OnePlus 10 Pro
OnePlus 9RT
OnePlus 9R
OnePlus 9 Pro
OnePlus 9
OnePlus Nord 2
OnePlus Nord 2T
OnePlus Nord CE
OnePlus Nord CE2
OnePlus Nord CE2 Lite
OnePlus 8T
OnePlus 8 Pro
OnePlus 8
LG
LG Velvet
LG V60 ThinQ 5G
LG Wing
LG Velvet LTE
ZTE
Nokia
Vivo
Sharp
Tecno
Motorola
Motorola Edge+
Motorola Edge
Motorola Edge 30 Pro
Motorola Edge 30
Moto G Stylus 5G
Moto G 5G 2022
Moto G82 5G
Moto G62 5G
Moto G42
Moto G32
Realme
Oppo
Oppo Reno8 Pro 5G
Oppo Reno8 5G
Oppo Reno7 Pro
Oppo Reno 7 5G
Oppo Reno 6 5G
Oppo F21 Pro
Oppo K10 5G
Oppo A76
Oppo Reno 6 Pro 5G
Oppo Reno6 Pro Diwali edition
Oppo Reno5 Pro 5G
Oppo F21 Pro 5G
Oppo F19 Pro+
Oppo K10
Oppo A96
Oppo Find X2
Oppo A74 5G
Oppo Pad Air
Oppo F19 Pro
Oppo F19
Oppo F19s
Oppo A77
Oppo A57
Oppo A55
Oppo A53s
The Android 13-supported device list mentioned above is confirmed by the specific Android OEMs. I'll include more devices once confirmed.