We live in a digital world where every single paper document is digitized. There are plenty of apps available to scan and save documents to make things much easier and efficient. However, due to the recent ban on Chinese apps, the famous CamScanner app is banned by the Indian Government. This is why you will most likely need a new CamScanner alternative app to scan your documents.
Losing an important paper document can hamper the credibility of your business. Hence, it becomes necessary to scan and save the documents in a safe electronic vault. Every smartphone now comes with a good camera that can click amazing pictures. Because of this, you can now easily scan a document and save it in any format including PDF, JPEG, or PNG, etc.
Also Read: 15 Best SHAREit Alternative Apps for Android
CamScanner is a Chinese app developed by INTSIG Information Co. Ltd. It is the best free scan to pdf app that is used by millions of people all around the world. Recently, it was found that CamScanner contains a malicious malware that displays intrusive ads on mobile phones. Since then, Google has removed CamScanner from Google Play as well as Apple App Store.
But, if you are still using this document scanner tool, then we request you to uninstall CamScanner and support the #bycottchina movement. Such Chinese apps are dangerous as they steal valuable information from your smartphones. If you are looking for a similar app like CamScanner, then you are in the right place. In this article, we've listed the best CamScanner alternative Indian app for Android.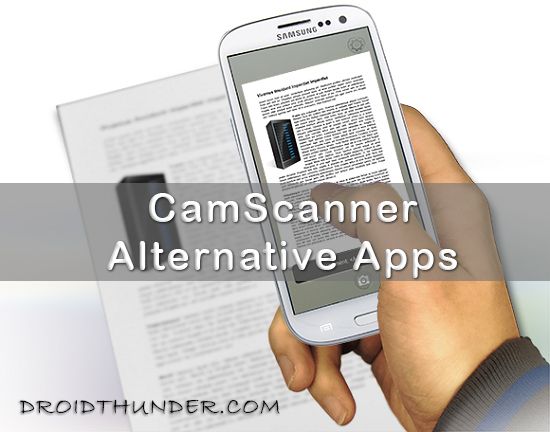 10 Best CamScanner Alternative Apps for Android
There are various Indian document scanner app for Android phones. However, it becomes a little difficult to find the right one. Hence, this article will help you find the best CamScanner alternative app. Check out the list of CamScanner Alternative Non-Chinese apps for Android given below.
1. Simple Scan – Free PDF Scanner App
Simple Scan is the top best CamScanner alternative app available out there. This app can scan your bills, legal documents, business cards, ID cards, papers, and almost anything. Besides, it can also backup and restore files between multiple smartphones. Moreover, Simple Scan app can share the saved documents through Email, print, Fax, WhatsApp, Google Drive, Dropbox, and Evernote, etc. It is the best PDF scanner app without the watermark that can convert PDF to JPG online free.
2. Adobe Scan: PDF Scanner, OCR
Adobe Scan is a world-famous fast scanner app developed by Adobe, a recognized brand. With its endless features, you can easily scan documents, tax receipts, ID cards, notes, and business cards, etc. Besides, it also detects the type of document and crop the image accordingly. Most importantly, Adobe Scan supports OCR, that means it can precisely scan text from the documents. Do you want to scan documents without a watermark? Then Adobe Scan is the best CamScanner alternative app for you.
3. Microsoft Office Lens – PDF Scanner
Do you want to save a document as PDF online? Are you looking for a free online scan document editor? Then use the Microsoft Office Lens app. This app by Microsoft lets you scan any type of document and save it in MS Word, MS Powerpoint, or MS Excel spreadsheet. Moreover, it can convert images to PDF, Word, and Powerpoint files. Additionally, you can save the scanned documents to OneDrive, or OneNote.
4. Doc Scanner – Phone PDF Creator
Doc Scanner is the first document scanner app made in India. This PDF document scanner app can scan photos, receipts, reports, documents, or anything. Furthermore, it can also add a filter to images, and set the page size to A2, A3, A4, A5, and Letter. The best thing about this application is that you can easily scan and crop multiple images at once.
5. PhotoScan by Google Photos
PhotoScan is another CamScanner alternative app that lets you scan and save your favorite pictures using your phone's camera. This app uses a smart edge detection feature that crops the image automatically. If you want to scan the ID card both sides online for free, then PhotoScan by Google is the perfect app for you.
6. TapScanner – Scanner App To PDF
TapScanner is a famous document scanning app that supports batch scanning and OCR. This application can convert JPG images into PDF of HD quality. Moreover, it also provides an ability to digitally sign your saved PDF documents. With the new cloud integration feature, you can take a backup and sync the documents to the cloud.
7. Clear Scan: Free Document Scanner App, PDF Scanning
As its name suggests, this app scan any image, receipts, magazines, documents, books, class notes, ID cards, etc. and exports high-quality PDF, PNG, or JPG files. Clear Scanner is the best scanner tool for school or college students, and business persons, etc. Do you want to scan business cards to excel spreadsheet? Then use the Clear Scan application.
8. TurboScan: scan documents & receipts in PDF
TurboScan is a high-quality PDF Scanner tool that supports edge detection, multiple scanning, and OCR. It can easily convert JPG images to PDF online free. It is a powerful multipage scanner for documents, receipts, notes, whiteboards, photos, or any text file. The TurboScan free version is limited for a three multi-page scan. However, the premium paid version removes all the limitations.
9. Fast Scanner: Free PDF Scan
Fast Scanner turns your Android phone into a multiple pages scanner for documents, receipts, notes, invoices, business cards, whiteboards, and other paper text. Moreover, this document scanning tool comes with a in-built fax sending app. Unfortunately, the free version has restrictions on the number of scan limit. You can buy the premium version to get rid of these limitations.
10. Text Fairy (OCR Text Scanner)
Text Fairy is the best Android OCR app available on Google Play and Apple App Store. This app can accurately as well as precisely scan text from images. The best thing about this app is that it comes with no watermark, no ads, and is absolutely free of cost.
So, these are the best CamScanner alternative apps for Android and iOS. Which one is your favorite? Do let us know in the comment section below. Thank you!