Have you ever faced "Error with camera: Requested device not found" on Omegle? If yes, then don't worry, you are not the only one facing this problem. Plenty of users have reported the Omegle Camera not found and Error with Camera issues. Many people complained that the Camera does work well on Skype, Zoom, Messenger, and Google Meet, etc.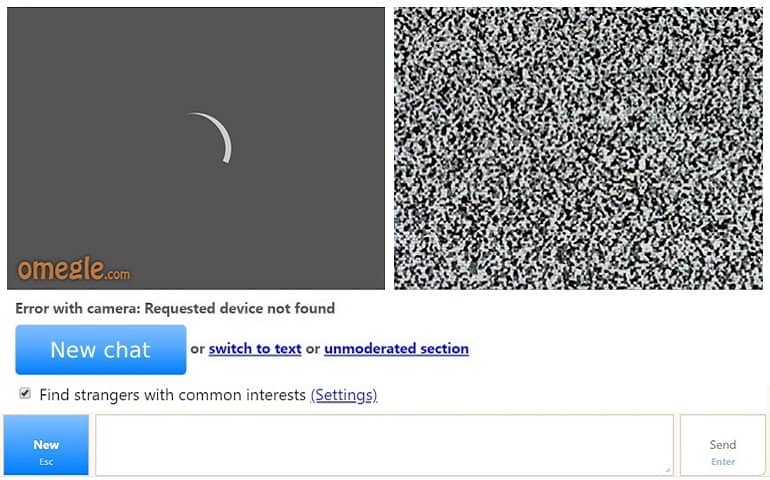 However, the problem arises when they open the Omegle Talk to strangers app. Besides, the error doesn't appear to be specific to certain Windows OS or any particular device. It is observed on Windows 10, Windows 7, Windows 8, Android as well as iOS devices. Since you require a working camera or webcam, the issue makes it quite difficult to video chat.
Because of the recent lockdown situation, people have started using video chatting apps. At first was the Zoom boom, followed by online video gaming, meetings, movie web series, and meditations, etc. Since there is no sign of the virus cure yet, people have attached themselves to the online world. Many online platforms have spiked in popularity in the last few months.
Omegle, the wildly popular online chatting website has seen a sudden spike. We can say that the website has definitely made a quarantine comeback. One person even tweeted, "did I miss something why is everyone on Omegle?" Yes, chatting with random strangers and making new friends is amazing, but the Omegle error with camera ruins it all.
Why the Camera is Not Working on Omegle?
Before diving into the solution to fix the Omegle Camera Error, it is crucial to know the main reason behind it. After doing detailed research, we have come up with a list of reasons that might cause the Camera is not working error on Omegle. Have a look at them.
1. Outdated Browser
To work smoothly, the web browser needs regular timely updates. In most cases, the Omegle does not load the camera on outdated browsers. However, people have reported that the problem was fixed after they updated their web browser to the latest version.
2. Change in Google Chrome Policy
Due to policy changes in Google Chrome, webcams and microphones are only accessible to websites with HTTPS. Unfortunately, Omegle does not always have HTTPS, which creates problems with the camera and microphone.
3. Outdated Adobe Flash Player
It is important to timely update the Adobe Flash Player to continue experiencing the online multimedia. An outdated Flash Player can create issues for a website that accesses webcam and microphone. It is always better to get the latest updates from the Adobe official site.
4. Corrupted Browser Cookies
Web browser cache and cookies are responsible for most of the Omegle functionality. Hence, clearing the browser cookies and cache can sometimes fix the Omegle camera issues. You can even use a third-party app for doing so.
5. Camera accessed by another App
Sometimes if the webcam is in use by an application other than Omegle, you might see the Camera not found error. At such times, you can identify the app and prevent it from accessing the camera.
Conclusion
Finally! This is how you can fix the 'Error with camera: Requested device not found' issue. In case you get stuck at any step, don't hesitate to contact us through the comment box below. I'll be glad to help you out.