After almost six years, Microsoft has released the Windows 11 Update, the fresh new version of the world's popular operating system. Last month, the company unveiled the next-generation OS with new features and a refreshed look. Since then, various OEMs have revealed a list of PCs and laptops that will run the Windows 11 Update.
Will my PC run Windows 11 Update? Well, if you have the TPM chips on your existing device, then yes, for sure. So what is this TPM, and why does Microsoft require it? TPM stands for Trusted Platform Modules and is integrated on PCs motherboard. It is generally used to protect sensitive data such as encryption keys and user credentials.
This helps the OS to stay away and be safe from malware attacks. Moreover, this TPM chip not only secures the software but also provides high security at the hardware level. Nowadays, every PC comes with an inbuilt standalone TPM chip on the motherboard. However, if your PC doesn't come with one, you can get it separately as an add-on module.
If you're planning to buy a new laptop or PC, or you already bought one in the last four years, it's probably already compatible with Windows 11 Update. Even though the new OS won't be available until the fall of 2021, still you can try out the unofficial Windows 11 patch. This way you can experience the newly launched features on your device.
It is said that Microsoft has confirmed to support Windows 10 through at least 2025. That means you have enough time to estimate whether you need to upgrade your PC or not. On the contrary, the company has also launched a new PC Health Check app that shows if your laptop is compatible with Windows 11 or not.
To help you guys out, in this article, we have compiled a list of PCs and laptops that'll get the Windows 11 update.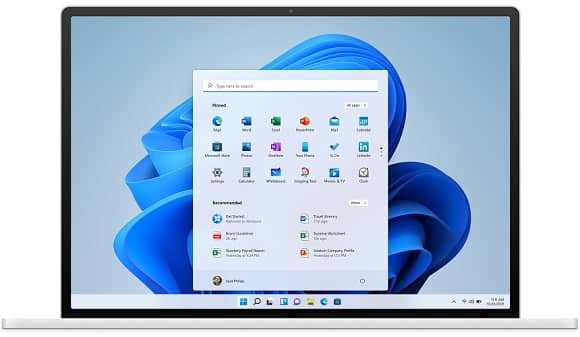 Desktop PCs and Laptops that will receive Windows 11 Update
In this article, we've mentioned a list of popular Desktops and Laptop models that are confirmed to receive the official Windows 11 Update. Some of them include HP, Dell, Asus, Lenovo, Acer, Samsung, Vaio, Sony, MSI, Xiaomi, Razer, and Microsoft. Besides, there are plenty of other brands that will support the new OS once it is publicly released.
Can I run Windows 11 on my PC?
There are various third-party apps that can help you know whether your PC is eligible to receive the Windows 11 update or not? Furthermore, Microsoft has launched an app called PC Health Check. This application confirms if your laptop or PC will be ready for Windows 11 when it is launched. However, the company has temporarily taken it down.
Also Read: What is BIOS Flashback & How to Use it?
This is because the PC Health Check app gave false results to many users. Therefore it created a lot of confusion amongst users. It is said that Microsoft will relaunch the app with fixed issues within few months. Talking about the compatibility requirements, Windows 11 supports a 64-bit processor, at least 4GB of RAM, TPM 2.0, and UEFI support.
Windows 11 system requirements
1GHz or faster processor with 2 or more cores on a compatible 64-bit processor or system on a chip
Minimum 4GB RAM
Minimum 64GB storage or more
System Firmware: UEFI, Secure Boot capable
Display: HD (720p) display greater than 9 inches diagonally, 8 bits per color channel
Graphics Card: Compatible with DirectX 12 or later with WDDM 2.0 driver
Trusted Platform Module (TPM) version 2.0
Internet Connection and Microsoft account: Windows 11 Home edition requires internet connectivity and a Microsoft account to complete device setup on first use
Windows 11-Ready Laptops and Desktop PCs
Here is the list of desktop PCs and laptops that will run the Windows 11 update.
Alienware Desktops
Alienware Aurora R12
Alienware Aurora R11
Alienware Aurora Ryzen Edition R10
Alienware Aurora R9
Alienware Aurora R8
Alienware Area-51 R7
Alienware Area-51 R5
Alienware Area-51 R4
Alienware Laptops
Alienware x17 R1
Alienware x15 R1
Alienware m17 R4
Alienware m17 R3
Alienware m17 R2
Alienware m17
Alienware m15 R6
Alienware m15 Ryzen Edition R5
Alienware m15 R4
Alienware m15 R3
Alienware m15 R2
Alienware m15
Alienware Area-51m R2
Alienware Area-51m
Dell G-Series Desktops
Dell G-Series Laptops
G7 17 7790
G7 17 7700
G7 15 7590
G7 15 7588
G7 15 7500
G5 15 5590
G15 5515 Ryzen Edition
G15 5511
G15 5510
G5 15 5505
G5 15 5500
G3 3779
G3 15 3590
G3 3579
G3 15 3500
Dell Inspiron Desktops
Inspiron 3280
Inspiron 3470
Inspiron 3471
Inspiron 3480
Inspiron 3670
Inspiron 3671
Inspiron 3880
Inspiron 3881
Inspiron 3891
Inspiron 5400 All-in-One
Inspiron 5401 All-in-One
Inspiron 5477
Inspiron 5490 All-in-One
Inspiron 5491 All-in-One
Inspiron 5676
Inspiron 5680
Inspiron 7700 All-in-One
Inspiron 7777
Inspiron 7790 All-in-One
Inspiron Laptops
Inspiron 3480
Inspiron 3481
Inspiron 3482
Inspiron 3490
Inspiron 3493
Inspiron 3501
Inspiron 3502
Inspiron 3505
Inspiron 3580
Inspiron 3581
Inspiron 3582
Inspiron 3583
Inspiron 3584
Inspiron 3590
Inspiron 3593
Inspiron 3780
Inspiron 3781
Inspiron 3782
Inspiron 3785
Inspiron 3790
Inspiron 3793
Inspiron 13 5300
Inspiron 13 5301
Inspiron 13 5310
Inspiron 13 5370
Inspiron 5390
Inspiron 5391
Inspiron 5400 2-in-1
Inspiron 5401/ 5408
Inspiron 5402/ 5409
Inspiron 5405
Inspiron 5406 2-in-1
Inspiron 14 5410 2-in-1
Inspiron 14 5410/ 5418
Inspiron 5415
Inspiron 5480
Inspiron 5481 2-in-1
Inspiron 5482 2-in-1
Inspiron 14 5485
Inspiron 14 5485 2-in-1
Inspiron 5488
Inspiron 5490
Inspiron 5491 2-in-1
Inspiron 5493
Inspiron 5494
Inspiron 5501/ 5508
Inspiron 5502/ 5509
Inspiron 5505
Inspiron 15 5510/ 5518
Inspiron 5515
Inspiron 5570
Inspiron 5580
Inspiron 15 5582 2-in-1
Inspiron 15 5583
Inspiron 15 5584
Inspiron 15 5585
Inspiron 5590
Inspiron 5591 2-in-1
Inspiron 5593
Inspiron 5594
Inspiron 7300
Inspiron 7300 2-in-1
Inspiron 7306 2-in-1
Inspiron 7380
Inspiron 7386 2-in-1
Inspiron 7390 2-in-1
Inspiron 7391
Inspiron 7391 2-in-1
Inspiron 7400
Inspiron 7405 2-in-1
Inspiron 7415 2-in-1
Inspiron 7490
Inspiron 7500
Inspiron 7500 2-in-1 Black
Inspiron 7500 2-in-1 Silver
Inspiron 7501
Inspiron 7506 2-in-1
Inspiron 15 7510
Inspiron 7580
Inspiron 7586 2-in-1
Inspiron 7590
Inspiron 7590 2-in-1
Inspiron 7591
Inspiron 7591 2-in-1
Inspiron 16 7610
Inspiron 7706 2-in-1
Inspiron 7786 2-in-1
Inspiron 7791 2-in-1
XPS Desktops
XPS Laptops
XPS 13 7390
XPS 13 7390 2-in-1
XPS 15 7590
XPS 13 9300
XPS 13 9305
XPS 13 9310
XPS 13 9310 2-in-1
XPS 13 9360
XPS 13 9370
XPS 13 9380
XPS 15 9500
XPS 15 9510
XPS 15 9570
XPS 15 9575 2-in-1
XPS 17 9700
XPS 15 9710
Vostro Desktops
Vostro 3070
Vostro 3470
Vostro 3471
Vostro 3670
Vostro 3671
Vostro 3681
Vostro 3690
Vostro 3881
Vostro 3888
Vostro 3890
ChengMing 3980
ChengMing 3988
ChengMing 3990
Vostro 5090
Vostro 5880
Vostro 5890
Vostro Laptops
Vostro 3400
Vostro 3401
Vostro 3405
Vostro 3480
Vostro 3481
Vostro 3490
Vostro 3491
Vostro 3500
Vostro 3501
Vostro 3580
Vostro 3581
Vostro 3582
Vostro 3583
Vostro 3584
Vostro 3590
Vostro 3591
Vostro 5300
Vostro 5301
Vostro 13 5310
Vostro 5370
Vostro 5515
Vostro 13 5391
Vostro 5401
Vostro 5402
Vostro 14 5410
Vostro 5415
Vostro 5481
Vostro 5490
Vostro 5501
Vostro 5502
Vostro 15 5510
Vostro 5515
Vostro 5581
Vostro 5590
Vostro 7500
Vostro 15 7510
Vostro 7580
Vostro 7590
Latitude Laptops
Latitude 3120
Latitude 3190
Latitude 3190 2-in-1
Latitude 3300
Latitude 3301
Latitude 3310
Latitude 3310 2-in-1
Latitude 3320
Latitude 3390 2-in-1
Latitude 3400
Latitude 3410
Latitude 3420
Latitude 3490
Latitude 3500
Latitude 3510
Latitude 3520
Latitude 3590
Latitude 12 5290
Latitude 12 5290 2-in-1
Latitude 5300
Latitude 5300 2-in-1
Latitude 5310
Latitude 5310 2-in-1
Latitude 5320
Latitude 5400
Latitude 5401
Latitude 5410
Latitude 5411
Latitude 5420
Latitude 5421
Latitude 5420 Rugged
Latitude 5424 Rugged
Latitude 5490
Latitude 5491
Latitude 5500
Latitude 5501
Latitude 5510
Latitude 5511
Latitude 5520
Latitude 5521
Latitude 5590
Latitude 5591
Latitude 7200 2-in-1
Latitude 7210 2-in-1
Latitude 7220 Rugged Extreme Tablet
Latitude 7220EX Rugged Extreme Tablet
Latitude 7290
Latitude 7300
Latitude 7310
Latitude 7320
Latitude 7320 Detachable
Latitude 7390
Latitude 7390 2-in-1
Latitude 7400
Latitude 7400 2-in-1
Latitude 7410
Latitude 7420
Latitude 7424 Rugged
Latitude 7490
Latitude 7520
Latitude 9410
Latitude 9420
Latitude 9510
Latitude 9520
Optiplex Desktops
OptiPlex 3060
OptiPlex 3070
OptiPlex 3080
OptiPlex 3090 Ultra
OptiPlex 3280 All-in-One
OptiPlex 5060
OptiPlex 5070
OptiPlex 5080
OptiPlex 5090
OptiPlex 5260 All-in-One
OptiPlex 5270 All-in-One
OptiPlex 5480 All-in-One
OptiPlex 5490 All-in-One
OptiPlex 7060
OptiPlex 7070
OptiPlex 7070 Ultra
OptiPlex 7071
OptiPlex 7080
OptiPlex 7090
OptiPlex 7090 Ultra
OptiPlex 7460 All-in-One
OptiPlex 7470 All-in-One
OptiPlex 7480 All-in-One
OptiPlex 7490 All-in-One
OptiPlex 7760 All-in-One
OptiPlex 7770 All-in-One
OptiPlex 7780 All-in-One
OptiPlex XE3
Precision Desktops
Precision 3240
Precision 3430
Precision 3431
Precision 3440
Precision 3450
Precision 3630
Precision 3640
Precision 3650
Precision 3930
Precision 5820
Precision 7820
Precision 7920
Precision 7920
Precision laptops
Precision 3530
Precision 3540
Precision 3541
Precision 3550
Precision 3551
Precision 3560
Precision 3561
Precision 5530
Precision 5530 2-in-1
Precision 5540
Precision 5550
Precision 5560
Precision 5750
Precision 5760
Precision 7530
Precision 7540
Precision 7550
Precision 7560
Precision 7730
Precision 7740
Precision 7750
Precision 7760
ZenBook
Zenbook Pro Duo 15 OLED (UX582LR)
Zenbook Pro Duo (UX581GV)
Zenbook Pro Duo (UX581LV)
Zenbook Pro 14 (UX450FD)
Zenbook Pro 14 (UX450FDA)
Zenbook Pro 14 (UX450FDX)
Zenbook Pro 15 (UX550GD)
Zenbook Pro 15 (UX550GDX)
Zenbook Pro 15 (UX550GE)
Zenbook Pro 15 (UX550GEX)
Zenbook Pro 15 OLED (UX535LH)
Zenbook Pro 15 OLED (UX535LI)
Zenbook 3 Deluxe (UX490UAR)
Zenbook S (UX391FA)
Zenbook S (UX391UA)
Zenbook S13 (UX392FA)
Zenbook S13 (UX392FN)
Zenbook S (UX393EA)
Zenbook S (UX393JA)
Zenbook Flip S (UX370UAR)
Zenbook Flip 13 (UX362FA)
Zenbook Flip 13 OLED (UX363EA)
Zenbook Flip 13 (UX363JA)
Zenbook Flip 14 (UX461FA)
Zenbook Flip 14 (UX461FN)
Zenbook Flip 14 (UX461UA)
Zenbook Flip 14 (UX461UN)
Zenbook Flip 14 (UM462DA)
Zenbook Flip 14 (UX463FA)
Zenbook Flip 14 (UX463FL)
Zenbook Flip 15 (UX561UAR)
Zenbook Flip 15 (UX561UD)
Zenbook Flip 15 (UX561UNR)
Zenbook Flip 15 (UX562FA)
Zenbook Flip 15 (UX562FAC)
Zenbook Flip 15 (UX562FD)
Zenbook Flip 15 (UX562FDX)
Zenbook Flip 15 (UM562IA)
Zenbook Flip 15 (UM562IQ)
Zenbook Flip 15 (UX563FD)
Zenbook Flip 15 OLED (UX564EH)
Zenbook Flip 15 OLED (UX564EI)
Zenbook Flip 15 OLED (UX564PH)
Zenbook UX310 (UX310UAR)
Zenbook UX311 (UX310UFR)
Zenbook 13 OLED (UX325EA)
Zenbook 13 OLED (UX325JA)
Zenbook 13 OLED (UM325SA)
Zenbook 13 OLED (UM325UA)
Zenbook 13 OLED (UM325UAZ)
Zenbook 13 (UX330UAR)
Zenbook 13 (UX331FA)
Zenbook 13 (UX331FAL)
Zenbook 13 (UX331FN)
Zenbook 13 (UX331UA)
Zenbook 13 (UX331UAL)
Zenbook 13 (UX331UN)
Zenbook 13 (UX333FA)
Zenbook 13 (UX333FN)
Zenbook 13 (UX334FAC)
Zenbook 13 (UX334FL)
Zenbook 13 (UX334FLC)
Zenbook UX410 (UX410UAR)
Zenbook UX410 (UX410UFR)
Zenbook 14 (UX425EA)
Zenbook 14 (UM425IA)
Zenbook 14 (UX425JA)
Zenbook 14 (UM425QA)
Zenbook 14 (UM425UA)
Zenbook 14 (UM425UAZ)
Zenbook 14 (UM425UG)
Zenbook 14 (UX430UAR)
Zenbook 14 (UX430UNR)
Zenbook 14 (UX431DA)
Zenbook 14 (UX431FA)
Zenbook 14 (UX431FAC)
Zenbook 14 (UX431FL)
Zenbook 14 (UX431FLC)
Zenbook 14 (UX431FN)
Zenbook 14 (UX433FA)
Zenbook 14 (UX433FN)
Zenbook 14 (UX434DA)
Zenbook 14 (UX434FAC)
Zenbook 14 (UX434FAW)
Zenbook 14 (UX434FL)
Zenbook 14 (UX434FLC)
Zenbook 14 (UX434FQ)
Zenbook 14 (UX434FQV)
Zenbook 14 (UX434IQ)
Zenbook 14 (UX435EA)
Zenbook 14 (UX435EG)
Zenbook 14 Ultralight (UX435EAL)
Zenbook 14 Ultralight (UX435EGL)
Zenbook Duo (UX481FA)
Zenbook Duo (UX481FAY)
Zenbook Duo (UX481FL)
Zenbook Duo (UX481FLY)
Zenbook Duo 14 (UX482EA)
Zenbook Duo 14 (UX482EAR)
Zenbook Duo 14 (UX482EG)
Zenbook Duo 14 (UX482EGR)
Zenbook 15 (UX533FD)
Zenbook 15 (UX533FN)
Zenbook 15 (UX534FA)
Zenbook 15 (UX534FAC)
Zenbook 15 (UX534FT)
Zenbook 15 (UX534FTC)
Vivobook
Vivobook Pro 15 (X570DD)
Vivobook Pro 15 (X570UD)
Vivobook Pro 15 (X580GD)
Vivobook S13 (X321EA)
Vivobook S13 (X321JA)
Vivobook S13 (X321JP)
Vivobook S13 (X321JQ)
Vivobook S13 (X330FA)
Vivobook S13 (X330FL)
Vivobook S13 (X330FN)
Vivobook S13 (X330UA)
Vivobook S13 (X330UN)
Vivobook S14 (X406UAR)
Vivobook S14 (X430FA)
Vivobook S14 (X430FN)
Vivobook S14 (X430UA)
Vivobook S14 (X430UF)
Vivobook S14 (X430UN)
Vivobook S14 (X431FA)
Vivobook S14 (X431FAC)
Vivobook S14 (X431FL)
Vivobook S14 (X431FLC)
Vivobook S14 (X432FA)
Vivobook S14 (X432FAC)
Vivobook S14 (X432FL)
Vivobook S14 (X432FLC)
Vivobook S14 (X435EA)
Vivobook S15 (X521EA)
Vivobook S15 (X521EQ)
Vivobook S15 (X521FA)
Vivobook S15 (X521FL)
Vivobook S15 (X521IA)
Vivobook S15 (X521JQ)
Vivobook S15 (X521UA)
Vivobook S15 (X530FA)
Vivobook S15 (X530FN)
Vivobook S15 (X530UA)
Vivobook S15 (X530UAO)
Vivobook S15 (X530UF)
Vivobook S15 (X530UFO)
Vivobook S15 (X530UN)
Vivobook S15 (X530UNO)
Vivobook S15 (X531FA)
Vivobook S15 (X531FAC)
Vivobook S15 (X531FL)
Vivobook S15 (X531FLC)
Vivobook S15 (X532EQ)
Vivobook S15 (X532FA)
Vivobook S15 (X532FAC)
Vivobook S15 (X532FL)
Vivobook S15 (X532FLC)
Vivobook Flip 12 (TP203MAH)
Vivobook Flip 14 (TP401MA)
Vivobook Flip 14 (TP401MAR)
Vivobook Flip 14 (TP410UAR)
Vivobook Flip 14 (TP410UF)
Vivobook Flip 14 (TP410URR)
Vivobook Flip 14 (TP412FA)
Vivobook Flip 14 (TP412FAC)
Vivobook Flip 14 (TP412UA)
Vivobook Flip 14 (TP420IA)
Vivobook Flip 14 (TP420UA)
Vivobook Flip 14 (TP470EA)
Vivobook Flip 14 (TP470EZ)
Vivobook Flip 15 (TP510UA)
Vivobook Flip 15 (TP510UF)
Vivobook Flip 15 (TP510UQ)
Vivobook 14 (X403FA)
Vivobook 14 (X403FAC)
Vivobook 14 (X403JA)
Vivobook 14 (X411UA)
Vivobook 14 (X411UAO)
Vivobook 14 (X411UF)
Vivobook 14 (X411UN)
Vivobook 14 (X411UNV)
Vivobook 14 (X411UQ)
Vivobook 14 (X412DA)
Vivobook 14 (X412DAP)
Vivobook 14 (X412DK)
Vivobook 14 (X412FA)
Vivobook 14 (X412FAC)
Vivobook 14 (X412FAG)
Vivobook 14 (X412FJ)
Vivobook 14 (X412FJC)
Vivobook 14 (X412FJG)
Vivobook 14 (X412FL)
Vivobook 14 (X412FLC)
Vivobook 14 (X412FLG)
Vivobook 14 (X412UA)
Vivobook 14 (X412UB)
Vivobook 14 (X412UF)
Vivobook 14 (X420FA)
Vivobook 14 (X420FAC)
Vivobook 14 (X420UA)
Vivobook 14 (X421DA)
Vivobook 14 (X421DAP)
Vivobook 14 (X421EA)
Vivobook 14 (X421EAY)
Vivobook 14 (X421EPY)
Vivobook 14 (X421EQ)
Vivobook 14 (X421EQY)
Vivobook 14 (X421FA)
Vivobook 14 (X421FAY)
Vivobook 14 (X421FFY)
Vivobook 14 (X421FL)
Vivobook 14 (X421FPY)
Vivobook 14 (X421FQY)
Vivobook 14 (X421IA)
Vivobook 14 (X421IAY)
Vivobook 14 (X421JAY)
Vivobook 14 (X421JFY)
Vivobook 14 (X421JPY)
Vivobook 14 (X421JQ)
Vivobook 14 (X421JQY)
Vivobook 14 (X421UA)
Vivobook 14 (X421UAY)
Vivobook 14 (X442UAR)
Vivobook 14 (X442UF)
Vivobook 14 (X442UNR)
Vivobook 14 (X442UQR)
Vivobook 14 (X442URR)
Vivobook 15 (X510UAD)
Vivobook 15 (X510UAO)
Vivobook 15 (X510UAR)
Vivobook 15 (X510UF)
Vivobook 15 (X510UFD)
Vivobook 15 (X510UFO)
Vivobook 15 (X510UNR)
Vivobook 15 (X510UQR)
Vivobook 15 (X510URR)
Vivobook 15 (X512DA)
Vivobook 15 (X512DAP)
Vivobook 15 (X512DAU)
Vivobook 15 (X512DK)
Vivobook 15 (X512FA)
Vivobook 15 (X512FAC)
Vivobook 15 (X512FAG)
Vivobook 15 (X512FAY)
Vivobook 15 (X512FB)
Vivobook 15 (X512FBC)
Vivobook 15 (X512FJ)
Vivobook 15 (X512FJC)
Vivobook 15 (X512FJG)
Vivobook 15 (X512FL)
Vivobook 15 (X512FLC)
Vivobook 15 (X512FLG)
Vivobook 15 (X512JA)
Vivobook 15 (X512JAU)
Vivobook 15 (X512JF)
Vivobook 15 (X512JP)
Vivobook 15 (X512UA)
Vivobook 15 (X512UB)
Vivobook 15 (X512UF)
Vivobook 15 (X513EA)
Vivobook 15 (X513EP)
Vivobook 15 (X513EQ)
Vivobook 15 (X513IA)
Vivobook 15 (X513UA)
Vivobook 15 (X542UAR)
Vivobook 15 (X542UF)
Vivobook 15 (X542UN)
Vivobook 15 (X542UNT)
Vivobook 15 (X542UQR)
Vivobook 15 (X542URR)
Vivobook 15 (X542URV)
Vivobook 15 (X571GD)
Vivobook 15 (X571GT)
Vivobook 15 (X571LH)
Vivobook 15 (X571LI)
Vivobook 17 (X705FD)
Vivobook 17 (X705FN)
Vivobook 17 (X705MA)
Vivobook 17 (X705MAR)
Vivobook 17 (X705MB)
Vivobook 17 (X705UAR)
Vivobook 17 (X705UBR)
Vivobook 17 (X705UDR)
Vivobook 17 (X705UFR)
Vivobook 17 (X705UNR)
Vivobook 17 (X705UQR)
Vivobook 17 (X705UVR)
Vivobook 17 (X712DA)
Vivobook 17 (X712DAP)
Vivobook 17 (X712DK)
Vivobook 17 (X712EA)
Vivobook 17 (X712EQ)Vivobook 17 (X712FA)
Vivobook 17 (X712FA)
Vivobook 17 (X712FB)
Vivobook 17 (X712FB)
Vivobook 17 (X712JA)
Vivobook 17 (X712UA)
ExpertBook
ExpertBook B9 (B9400CEA)
ExpertBook B9 (B9400CEAV)
ExpertBook B1 (B1400CEAE)
ExpertBook B1 (B1400CEPE)
ExpertBook B1 (B1500CEAE)
ExpertBook B1 (B1500CEPE)
ExpertBook L1 (L1400CDA)
ExpertBook L1 (L1500CDA)
ASUS BR1100C (BR1100CKA)
ASUS BR1100F (BR1100FKA)
ProArt StudioBook
ProArt Studiobook One (W590G6T)
ProArt Studiobook Pro X (W730G1T)
ProArt Studiobook Pro X (W730G2T)
ProArt Studiobook Pro X (W730G5T)
ProArt Studiobook Pro 15 (W500G5T)
ProArt Studiobook Pro 15 (W500GV)
ProArt Studiobook Pro 15 (W500GVA)
ProArt Studiobook Pro 17 (W700G1T)
ProArt Studiobook Pro 17 (W700G2T)
ProArt Studiobook Pro 17 (W700G3T)
ProArt Studiobook Pro 17 (W700GV)
ProArt Studiobook Pro 17 (W700GVA)
E-series
ASUS E203 (E203MA)
ASUS E203 (E203MAH)
ASUS E203 (E203MAR)
ASUS E210 (E210KA)
ASUS E210 (E210MA)
ASUS E406 (E406MA)
ASUS E410 (E410KA)
ASUS E410 (E410MA)
ASUS E510 (E510KA)
ASUS E510 (E510MA)
X-series
ASUS X407 (X407MA)
ASUS X407 (X407UAR)
ASUS X407 (X407UBR)
ASUS X407 (X407UF)
ASUS X409 (X409DA)
ASUS X409 (X409DAP)
ASUS X409 (X409DJ)
ASUS X409 (X409DL)
ASUS X409 (X409FA)
ASUS X409 (X409FAC)
ASUS X409 (X409FB)
ASUS X409 (X409FJ)
ASUS X409 (X409FL)
ASUS X409 (X409JA)
ASUS X409 (X409JB)
ASUS X409 (X409JP)
ASUS X409 (X409MA)
ASUS X409 (X409UA)
ASUS X409 (X409UB)
ASUS X409 (X409UJ)
ASUS X415 (X415DA)
ASUS X415 (X415DAP)
ASUS X415 (X415EA)
ASUS X415 (X415EAN)
ASUS X415 (X415EP)
ASUS X415 (X415EPN)
ASUS X415 (X415JA)
ASUS X415 (X415JF)
ASUS X415 (X415JP)
ASUS X415 (X415MA)
ASUS X415 (X415UA)
ASUS X441 (X441MA)
ASUS X441 (X441MAR)
ASUS X441 (X441MB)
ASUS X441 (X441UAR)
ASUS X441 (X441UBR)
ASUS X507 (X507MA)
ASUS X507 (X507UAR)
ASUS X507 (X507UBR)
ASUS X507 (X507UF)
ASUS X509 (X509DA)
ASUS X509 (X509DAP)
ASUS X509 (X509DJ)
ASUS X509 (X509DL)
ASUS X509 (X509FA)
ASUS X509 (X509FAC)
ASUS X509 (X509FB)
ASUS X509 (X509FJ)
ASUS X509 (X509FL)
ASUS X509 (X509JA)
ASUS X509 (X509JB)
ASUS X509 (X509JP)
ASUS X509 (X509MA)
ASUS X509 (X509UA)
ASUS X509 (X509UB)
ASUS X509 (X509UJ)
ASUS X515 (X515DA)
ASUS X515 (X515DAP)
ASUS X515 (X515EA)
ASUS X515 (X515EAN)
ASUS X515 (X515EP)
ASUS X515 (X515EPN)
ASUS X515 (X515JA)
ASUS X515 (X515JF)
ASUS X515 (X515JP)
ASUS X515 (X515MA)
ASUS X515 (X515UA)
ASUS X540 (X540MA)
ASUS X540 (X540MAR)
ASUS X540 (X540MB)
ASUS X540 (X540UAR)
ASUS X540 (X540UBR)
ASUS X540 (X540UPR)
ASUS X545 (X545FA)
ASUS X545 (X545FB)
ASUS X545 (X545FJ)
ASUS X560 (X560UD)
ROG
ROG Zephyrus Duo 15 SE (GX551QS)
ROG Zephyrus Duo 15 SE (GX551QR)
ROG Zephyrus Duo 15 SE (GX551QM)
ROG Zephyrus S17 (GX703HS)
ROG Zephyrus S17 (GX703HR)
ROG Zephyrus S17 (GX703HM)
ROG Zephyrus M16 (GU603HR)
ROG Zephyrus M16 (GU603HM)
ROG Zephyrus M16 (GU603HE)
ROG Zephyrus G15 (GA503QS)
ROG Zephyrus G15 (GA503QR)
ROG Zephyrus G15 (GA503QM)
ROG Zephyrus G15 (GA503QE)
ROG Zephyrus G15 (GA503QC)
ROG Zephyrus G14 (GA401QM)
ROG Zephyrus G14 (GA401QE)
ROG Zephyrus G14 (GA401QC)
ROG Zephyrus G14 (GA401QH)
ROG Zephyrus G14 (GA401QEC)
ROG Zephyrus G14 (GA401IHR)
ROG Flow X13 (GV301QE)
ROG Flow X13 (GV301QC)
ROG Flow X13 (GV301QH)
ROG Strix SCAR 17 (G733QM)
ROG Strix SCAR 17 (G733QR)
ROG Strix SCAR 17 (G733QS)
ROG Strix SCAR 15 (G533QM)
ROG Strix SCAR 15 (G533QR)
ROG Strix SCAR 15 (G533QS)
ROG Strix G15 (G513IC)
ROG Strix G15 (G513IE)
ROG Strix G15 (G513IH)
ROG Strix G15 (G513IM)
ROG Strix G15 (G513QC)
ROG Strix G15 (G513QE)
ROG Strix G15 (G513QM)
ROG Strix G15 (G513QR)
ROG Strix G15 (G513QY)
ROG Strix G17 (G713QY)
ROG Strix G17 (G713IC)
ROG Strix G17 (G713IE)
ROG Strix G17 (G713IH)
ROG Strix G17 (G713IM)
ROG Strix G17 (G713QC)
ROG Strix G17 (G713QE)
ROG Strix G17 (G713QM)
ROG Strix G17 (G713QR)
TUF Gaming
ASUS TUF Gaming F15 (FX506LH)
ASUS TUF Gaming F15 (FX506LI)
ASUS TUF Gaming FA17 (FA706IH)
ASUS TUF Gaming A15 (FA506IC)
ASUS TUF Gaming A17 (FA706IC)
ASUS TUF Gaming F15 (FX506HM)
ASUS TUF Gaming F15 (FX506HE)
ASUS TUF Gaming F15 (FX506HC)
ASUS TUF Gaming F17 (FX706HM)
ASUS TUF Gaming F17 (FX706HE)
ASUS TUF Gaming F17 (FX706HC)
ASUS TUF Gaming A15 (FA506QR)
ASUS TUF Gaming A15 (FA506QM)
ASUS TUF Gaming A15 (FA506QE)
ASUS TUF Gaming A17 (FA706QR)
ASUS TUF Gaming A17 (FA706QM)
ASUS TUF Gaming A17 (FA706QE)
ASUS TUF Dash F15 (FX516PR)
ASUS TUF Dash F15 (FX516PM)
ASUS TUF Dash F15 (FX516PE)
ASUS TUF Dash F15 (FX516PC)
All-in-one (AiO) Desktops
Zen AiO 24 (M5401WUA)
Zen AiO 24 (A5401WRA)
Zen AiO 24 (A5401WRP)
Zen AiO 24 (A5200WFA)
Zen AiO 24 (A5400WFA)
Zen AiO 24 (A5400WFP)
ASUS Vivo AiO 24 (V241DA)
ASUS Vivo AiO 24 (V241DAP)
ASUS Vivo AiO 24 (V241EA)
ASUS Vivo AiO 24 (V241EP)
ASUS Vivo AiO 22 (V222FA)
ASUS Vivo AiO 22 (V222GAR)
ASUS M3200 (M3200WUA)
ASUS M3400 (M3400WUA)
Workstations
E500 G5
E500 G5
ESC700 G4
Pro E800 G4
E900 G4
ExpertCenter
ExpertCenter D5 SFF (D500SC)
ExpertCenter X5 Mini Tower (X500MA)
Mini PC
Mini PC ProArt PA90
Mini PC PN40
Mini PC PN41
Mini PC PN50
Mini PC PN51
Mini PC PN60
Mini PC PN61
Mini PC PN61T
Mini PC PN62
Mini PC PN62S
Mini PC PB40
Mini PC PB50
Mini PC PB60
Mini PC PB60G
Mini PC PB60V
Mini PC PB61V
Mini PC PB62
VivoMini VC65-C1
VivoMini VC65-C
VivoMini VC66-C
VivoMini VC66-C1
Gaming Desktops
MEG Aegis Ti5 11th
MEG Aegis Ti5 10th
Aegis 3 9th
Aegis Ti3 8th
Aegis 3 Plus 8th
Aegis 3 8th
Nightblade MI3 8th
MEG Trident X 11th
MPG Trident AS 11th
MPG Trident A 11th
MPG Trident 3 11th
MEG Trident X 10th
MPG Trident AS 10th
MPG Trident A 10th
MPG Trident 3 10th
Trident X Plus 9th
Trident A Plus 9th
Trident A 9th
Trident3 9th
Trident A
Trident3 8th
MEG Infinite X 11th
MAG Infinite 11th
MAG Infinite S3 11th
MEG Infinite X 10th
MAG Infinite 10th
MAG Infinite S 10th
Infinite X Plus 9th
Infinite X 9th
Infinite A 9th
Infinite 9th
Infinite S 9th
Infinite X
Infinite A 8th
Infinite S 8th
Infinite 8th
MAG Codex 5 11th
MAG Codex 5 10th
MAG Codex S 10th
MAG Codex X5 10th
Codex XE Plus 9th
Codex XE 9th
MAG Codex 5 9th
Codex 3 9th
Codex 3F 9th
Codex 3BF 9th
Codex S 9th
Codex XE
Codex S 8th
Codex 3 8th
MAG META S 3rd
MAG META 5
Business Desktops
Creator P100X 11th
Creator P100A 11th
Creator P50 11th
Creator P100X 10th
Creator P100A 10th
Prestige P100 9th
Prestige PE130 9th
Prestige PE130 8th
Prestige P100 9th
Prestige PE130 9th
Cubi 5 10M
Cubi N JSL
DP21 11M
DP130 11th
DP20Z 5M
All-in-one PCs
AM271 11M
AM241 11M
AP241 11M
PRO 22XT 10M
PRO 24X 10M
PRO 22XT 9M
PRO 22XT AM
PRO 20EX 8GL
PRO 16T 10M
PRO 16 Flex 8GL
HP
HP Spectre x360 14
HP ENVY x360 15
HP Pavilion All-in-One
OMEN 16
Victus by HP 16
OMEN 30L Desktop
HP Elite and HP Pro portfolios, including the HP Elite Dragonfly G2
Z by HP workstations, including the HP ZBook Studio G8
HP Elite Dragonfly
HP EliteBook, EliteBook x360, Elite Folio
HP Envy x360
HP Spectre Folio
HP Spectre x360 14
HP Pavilion x360
HP Pavilion Gaming Laptop
HP ProBook, ProBook x360
Lenovo
IdeaPad 1 (Intel, AMD)
Ideapad 3, 3i (Intel)
IdeaPad Flex 5 (Intel)/ 5 (AMD)/ 5G
Ideapad Slim 7
Ideapad Slim 9/ 9i
IdeaCentre 3/ 3i
IdeaCentre 5/ 5i
IdeaCentre A-series
IdeaCentre AIO
IdeaCentre Creator
IdeaCentre Mini
Lenovo Legion 5/ 5i
Lenovo Legion 7i
Lenovo Legion Y-series
Legion Tower 7i
ThinkBook 13s/ 14/ 14s/ 15
ThinkPad E14 (Intel, AMD)
ThinkPad E15 (Intel, AMD)
ThinkPad L13/ L14/ L15
ThinkPad P1
ThinkPad P14s (Intel, AMD)
ThinkPad P15/ P15s/ P15v
ThinkPad P17
ThinkPad T14 (Intel, AMD)/ T14s
ThinkPad T15
ThinkPad T4xx-series
ThinkPad X1 Carbon
ThinkPad X1 Extreme
ThinkPad X1 Nano
ThinkPad X1 Titanium Yoga
ThinkPad X1 Yoga
ThinkPad X12 Detachable
ThinkPad X13 (Intel, AMD)
ThinkPad X13 Yoga
Yoga 6/ 7/ 7i/ 9i
Yoga C-series
Yoga A-series
Aspire Laptops
Aspire 1 A-series
Aspire 3 A-series
Aspire 5 A-series
Aspire 7 A-series
Aspire Desktops
Aspire Desktop TC-series
Aspire Desktop XC-series
Aspire All-in-Ones (AiO)
Aspire C 22
Aspire C 24
Aspire C 27
Aspire Z 24
ConceptD
ConceptD 3/ 3 Pro
ConceptD 3 Ezel
ConceptD 5/ 5 Pro
ConceptD 7/ 7 Pro
ConceptD 7 Ezel
ConceptD 9/ 9 Pro
ConceptD 100, 300, 500, 700, 900
Enduro
Enduro Rugged
Enduro Urban
Nitro
Nitro 5 Laptop AN515-series
Nitro 50 Desktop (Intel, AMD)
Spin Laptops
Spin 1
Spin 3
Spin 5
Spin 7
Swift Laptops
Swift 1
Swift 3/ 3X
Swift 5
Swift X
TravelMate Laptop
Predator Laptops
Predator Helios 300
Predator Helios 700
Predator Triton 300
Predator Triton 500/ 500 SE
Predator Triton 900
Predator Desktops
Predator Orion 3000
Predator Orion 5000
Predator Orion 9000
Veriton Desktops
Porshe Design
Porsche Design Acer Book RS
Razer
Razer Blade Stealth 13 (2017, 2019, 2020)
Razer Blade 14 (2021)
Razer Blade 15 (2020)
Razer Blade 15 Advanced (2018, 2019, 2020, 2021)
Razer Blade 15 Base (2018)
Razer Blade 15 Studio Edition (2019, 2020)
Razer Blade Pro 17 (2019, 2020, 2021)
Razer Book 13 RZ09-0357
Samsung
Samsung Galaxy Book
Samsung Galaxy Book Flex, Flex α, Flex2 α
Samsung Galaxy Book Go
Samsung Galaxy Book Ion
Samsung Galaxy Book Pro
Samsung Galaxy Book Pro 360
Samsung Galaxy Book S
Samsung Notebook Flash
Samsung Notebook Odyssey
Microsoft Surface
Surface Pro X
Surface Pro 7+
Surface Pro 7
Surface Pro 6
Surface Laptop Go
Surface Laptop 4
Surface Laptop 3
Surface Laptop 2
Surface Go 2
Surface Book 3
Surface Book 2
The above list will be updated on a regular basis. Most importantly, the Windows 11 stable update will take a few months to officially roll out. However, if you are eager to experience it, you can download the first Windows 11 Insider Preview build. This way you can enjoy the latest features, snap layouts, widgets, a new Microsoft store, and much more.