Want to root OnePlus 8? If yes, then you are in the right place. Gaining root access on any Android device now becomes quite easy and useful too. In this tutorial, we'll guide you to root OnePlus 8 Android 10 without PC. However, to perform this process you need to unlock the bootloader on OnePlus 8. Besides, you also need to flash the latest TWRP custom recovery.
OnePlus has always allowed third-party developers to implement different unofficial tasks on their handsets. The company themselves encourage their users to root Android phone. On their official website, they have posted a complete guide to unlock bootloader and install TWRP recovery. Hence, OnePlus devices are the best choice when it comes to experiencing the unofficial world.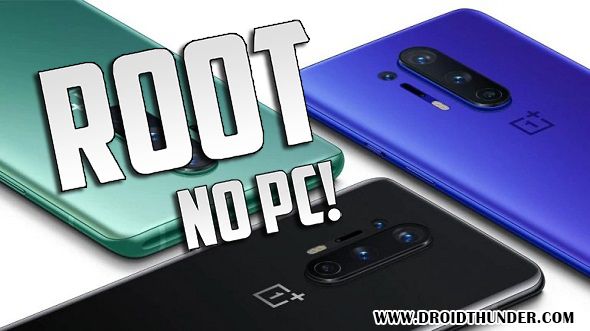 There are many advantages as well as disadvantages of rooting an Android phone. You can take Nandroid backup and restore, remove and completely uninstall bloatware, install the latest Android updates, flash custom ROMs, mods, kernels, overclock and underclock, etc. If these aren't enough reasons to root your mobile, then I don't know what is.
Google Play Store provides different apps to root an Android device. However, I believe that these apps are useless and do not work at all. Moreover, they even trip the safety net mechanism of Google. Instead, you can gain root access using SuperSU or Magisk Manager. These apps are specially designed to get official root access.
In this easy steps guide, we'll root OnePlus 8 without a PC using three simple methods. Unfortunately, this root process will void your device warranty. But don't worry as you can re-gain it back by unrooting your Android phone. Are you ready to root OnePlus 8 without a PC? If yes, then proceed ahead to our actual article given below.
How to Root OnePlus 8 without PC
In this article, we'll go through 3 easy methods to root the OnePlus 8 smartphone.
Disclaimer
This process will void your phone warranty and/or harm your device. It is recommended to follow the steps at your own risk. In case any damage occurs, then we at Droid Thunder won't be held responsible.
Requirements
Charge your phone's battery to a minimum of 60%.
From your mobile settings, enable USB Debugging mode.
Moreover, enable OEM unlock and Advance reboot from Developer options.
Unlock the bootloader of OnePlus 8 before moving ahead.
Also, install the TWRP recovery on OnePlus 8.
After performing as given above, let's start the OnePlus 8 root process.
Method 1: SuperSU
In this method, we'll use TWRP custom recovery and flash the SuperSU file. Let's get straight into it.
Downloads
Steps to Root OnePlus 8
Power off your device.
Now, boot it into TWRP recovery mode.
For that, press and hold the Volume up button + Power button simultaneously.
Leave both the buttons as soon as you see the Fastboot screen.
Now, use Volume keys to select the Recovery option and press the Power key to confirm it.
This will reboot your OnePlus 8 into the TWRP recovery mode.
From the main screen, tap on the Install option.
Browse and select the SuperSU.zip file which you've downloaded earlier.
Swipe right to start the OnePlus 8 root process.
A successful message will appear as soon as the process finishes.
Finally! This is how you can root OnePlus 8 using SuperSU and TWRP recovery.
To confirm whether your phone is successfully rooted or not, use the Root Checker app from Play Store.
Method 2: Magisk
This method works similar to Method 1. Here, we'll install the Magisk zip file using the latest TWRP custom recovery.
Download
Steps to Root OnePlus 8
Similar to Method 1, reboot OnePlus 8 into TWRP mode.
Click the Install button and select the Magisk.zip file.
Swipe right to start the One Plus 8 root process.
It will hardly take few minutes to complete.
Upon completion, a successful message will appear on the screen.
This is how you can root One Plus 8 using Magisk and TWRP.
Method 3: Boot.img
This method requires a Windows PC and a Magisk Manager app. Here, we'll use ADB and Fastboot commands to flash the boot image file on your phone. This is the easiest and preferred method to root Android phones.
Downloads
Steps to Root OnePlus 8
Download and install the Magisk Manager app on your OnePlus 8.
On your PC, install the download ADB and Fastboot drivers.
Download OnePlus 8 firmware and extract the boot.img file from it.
Copy this boot.img file on your phone.
Launch the Magisk Manager app and then click on Install, then Install again.
From the popup window, tap on the Patch Boot Image File.
Now browse and select the boot.img file which you've copied earlier.
Magisk Manager will start the patching process now.
The output file will be saved in the download folder with the name magisk_patched.image or patched_boot.img.
Copy this output file in the ADB folder on your PC.
Rename the file back to boot.img.
Boot OnePlus 8 into Fastboot mode and connect it to PC.
Navigate to the ADB folder and launch the CMD window.
In CMD window, type fastboot devices and press enter key.
Next, type fastboot flash boot boot.img and press enter.
Once the flashing is complete, just restart your phone.
That's it! This is how you can root OnePlus 8 using Magisk Manager.
Conclusion
Finally! This is how you can root OnePlus 8 Android 10 without PC. Now you can easily install custom ROM on OnePlus 8, flash mods, kernels like Xposed Framework, etc. If you have any questions related to this guide, then please comment below.