Update Samsung Galaxy Core 2 SM-G355H to Android 4.4.2 XXU0ANL6 firmware. This smartphone was launched in June 2014 after the tremendous success of its predecessor Galaxy Core i8262. Same as Core i8262 Galaxy Core 2 is a dual SIM phone and comes with Android 4.4.2 KitKat OS. It is amazing, smooth and its look makes it the sexiest phone out there.
Some of its specs and features include 1.2 GHz Quadcore Cortex-A7 processor, TFT capacitive touchscreen with 480 x 800 pixels resolution, 5-megapixel camera with autofocus and LED flash, 2000 mAh battery, 4 GB of internal storage, 768 MB of RAM and much more. The most important thing to note is that this smartphone comes at a reasonable price.
If you have any kind of custom ROM installed on your Galaxy Core 2 then it will get replaced by this official Android 4.4.2 KitKat firmware. Also, the custom recoveries like Clockworkmod or TWRP will get replaced with the official android stock recovery and your phone will no longer be rooted. But you can still root it any time after flashing this update.
Related: Install Android 7.0 Nougat ROM on Galaxy Core 2
In case, if you have rooted your phone and want to regain your phones warranty back, then flashing an official Stock firmware can do so. Also if you fed up with the bugs or issues after flashing those unofficial custom ROMs then you can flash this latest Android 4.4.2 KitKat firmware and get them cleared up. Installing a firmware can get back all the phone settings as they were when you bought it.
How to Update Samsung Galaxy Core 2 SM-G355H to Android 4.4.2 Firmware
If you want to flash the latest Android 4.4.2 KitKat XXU0ANL6 firmware on your Samsung Galaxy Core 2 SM-G355H then proceed to our simple step by step guide given below.
Firmware Details
Model: SM-G355H
Model name: GALAXY Core 2 DUOS
Country: India
Version: Android 4.4.2
Build date: Fri, 19 Dec 2014
Product Code: INS
PDA: G355HXXU0ANL6
CSC: G355HODD0ANL1
MODEM: G355HDDU0AOA1
Disclaimer
This guide for flashing the latest Android 4.4.2 KitKat firmware on your Galaxy Core 2 is risky and may brick your phone if done in a wrong way. To implement everything mentioned below properly and without any mistake. If any damage happens to your device by following this guide, then neither we nor Samsung Electronics Ltd. will be held responsible for that. However, the chances that your device will get damaged or bricked are least but still, I highly recommend you follow all the instructions at your own risk.
Compatibility
This Official Android 4.4.2 XXU0ANL6 firmware update is only for Samsung Galaxy Core 2 having the model number SM-G335H. Applying this on any other device or variant may result in unwanted outcomes or bricked devices. To confirm your device model number with the mentioned one from Homescreen–> Menu–>Settings –> About Phone.

Pre-Requisites
Charge your phone to a minimum of 60% to avoid any interruption.
Backup all your important phone data and settings including contacts, SMS/MMS, APN settings, call logs, WhatsApp messages, memos, etc.
Enable USB Debugging mode on your Galaxy Core 2.
Install Samsung USB Drivers on your PC.
Disable antivirus and firewall on your computer.
Downloads
Steps to install Android 4.4.2 XXU0ANL6 on Galaxy Core 2 SM-G335H
Download and extract both the above files in a specific folder on your PC.
Now boot your Galaxy Core 2 into downloading mode.
For that firstly switch off your phone completely.
Press and hold the 'Home Button + Volume down + Power Button' simultaneously until you see a warning message.
Leave all the three keys now.
Keeping the phone as it is, connect it to the PC using the USB cable.
Now just press Volume Up key to continue.
This will directly land you into downloading mode.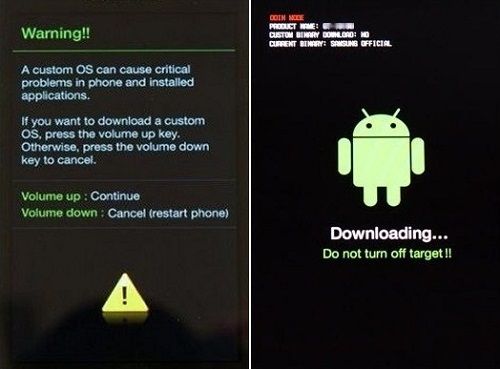 On PC, launch the downloaded 'Odin Multi Downloader3-v3.09′ software.
As soon as you open it, the ID: COM section located at the top left corner will turn light blue.
Also, an Added message will appear in the message box window.
This will confirm that your phone is successfully connected to the PC.
But if this thing doesn't happen then it's more likely to be a problem with the mobile drivers.
Hence, install the latest USB drivers from the links mentioned above.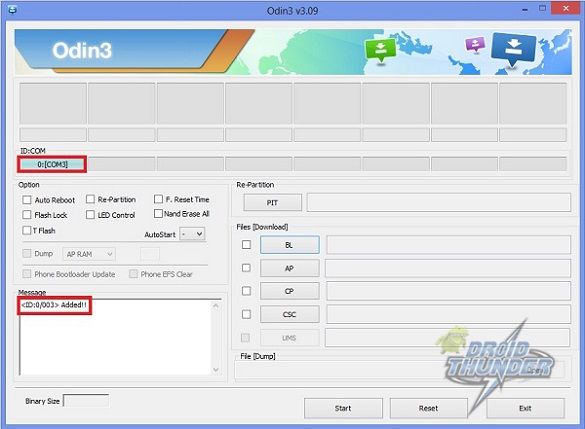 You'll find Auto Reboot and F.Reset options on the Odin window.
Tick only these two options and leave all the other options as they are.
Do not even think of ticking the Re-partition option as it may increase the risk of bricking your phone.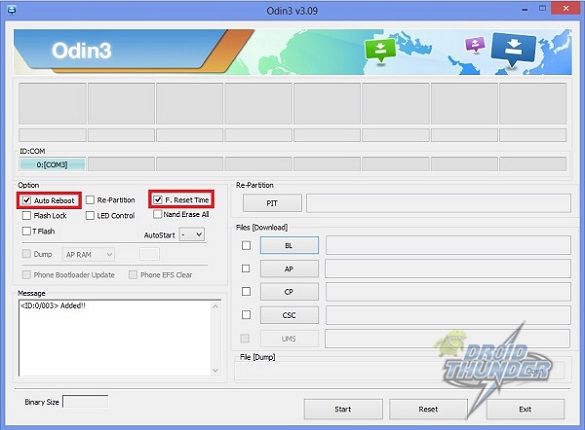 Now, tick against the 'AP' button and navigate to the firmware package & select it (The extracted firmware file may look like: G355HXXU0ANL6_G355HODD0ANL1_INS.tar.md5).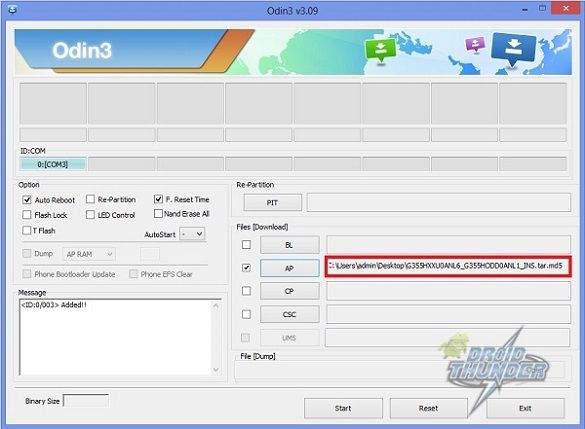 That's all! You need to just initiate the flashing now.
For that press the Start button located on the Odin window.
Note that the phone will automatically boot itself while the process goes on.
Do not interrupt the flashing process by disconnecting the USB cable.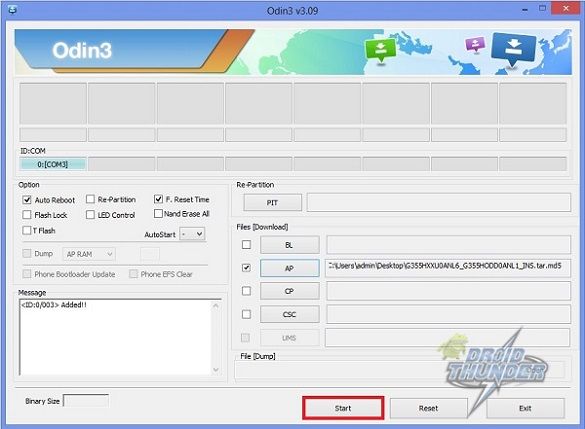 Be patient and wait for the process to complete.
Upon completion, the ID: COM section will turn green with the message 'Pass' below it.
This will confirm that the Official Android 4.4.2 XXU0ANL6 firmware is installed on your Galaxy Core 2 duos.
Now you can disconnect your phone by safely removing the USB cable.
If the process fails or if Odin gets stuck, then don't worry.
Just close the Odin window, remove the battery from your Galaxy Core 2 and re-insert it.
Again boot into download mode and repeat the entire procedure as given above.
Note: If the process fails or you get any kind of error then just try to implement all the steps with Odin3.07. Use the PDA tab in place of AP in it.
Related Articles:
Conclusion
Finally! This is how you can flash the Android 4.4.2 XXU0ANL6 firmware on your Samsung Galaxy Core 2 SM-G335H. You can confirm the same from Menu > Settings > About Phone. This is a Stock ROM officially from Samsung and is not any kind of unofficial custom ROM. So if your phone is stuck on the logo then you can flash this firmware to restore the default factory settings. If you come across any difficulty, just inform me through the comments section. I'll be happy to help you. Thank you!