Enable Android 10 Dark Mode Theme using our easy steps guide. Android 10 introduced a new feature called Dark theme or Dark mode in their latest update. This exciting new feature is not new to Android. Earlier, Google introduced a system-level toggle that switched between light and dark themes.
However, it applied to certain system UI only and not the apps. But with the latest Android 10 update, now you can turn on dark mode on Instagram, WhatsApp, Gmail, YouTube, Google Maps, etc. Along with Google, even Apple introduced dark mode in iOS 13. For now, the dark mode is only limited to the Android Q update.
However, there are rumors that it'll be updated on the older versions as well. Besides, if you are not patient enough to wait for the update, you can always try with third party custom ROMs. Because most of the custom ROMs like LineageOS, Resurrection Remix, Cyanogenmod, MIUI, etc. support dark mode features.
So why Android dark theme is important? The reason is that your mobile display is the main villain behind fast battery drain problems. Hence, keeping a low display light will consume less battery power thus extending your battery life. As soon as you enable Android 10 dark mode, the phone system UI changes its color to a completely dark theme.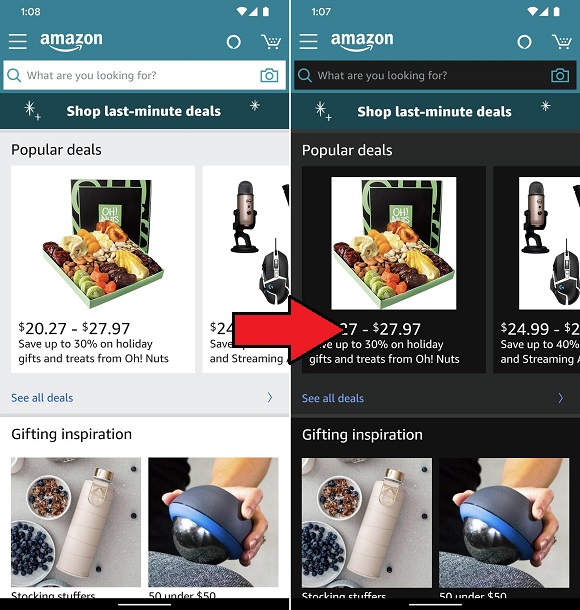 Related Post:
How to Disable Smart Reply in Android 10
Moreover, this helps to reduce the strain on eyes while using a phone, especially in a low light environment. Furthermore, the dark theme can even help use device during severe headache issues. Most importantly, this feature eliminates the blue light coming from the screen to enhance your viewing experience.
Earlier, various third party Android apps did not support night mode. However, with the latest Android Q update, Google introduced a force to enable the dark mode feature. This enables Android 10 dark mode in every app installed on your device.
Android Dark Mode Benefits
It improves battery life and eliminates the blue light from the display.
It offers a better viewing experience in dim environments.
Reduces strain on your eyes causing the bright display.
Helps during continuous use or severe headache.
There are 3 ways to enable dark mode or night mode on Android 10. Let's check them out.
How to Enable Android 10 Dark Mode Theme
In this article, we'll use three methods to enable the Android 10 Dark theme. At first, we'll go through your mobile settings whereas, in the second method, we'll simply use to notification panel. The third method is strictly for the Google Pixel phones. Let's get straight into it.
Method 1
Open your phone Settings.
Scroll down and click on the Display option.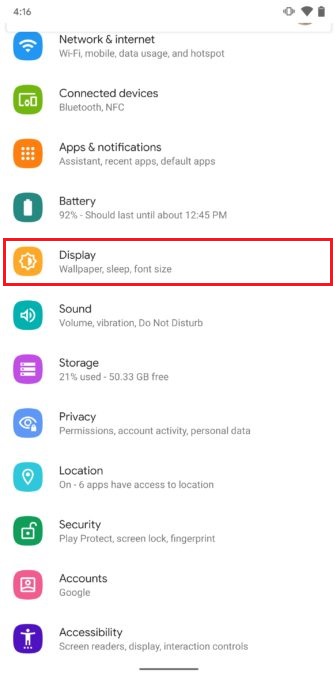 Then, enable the Dark theme mode as shown below.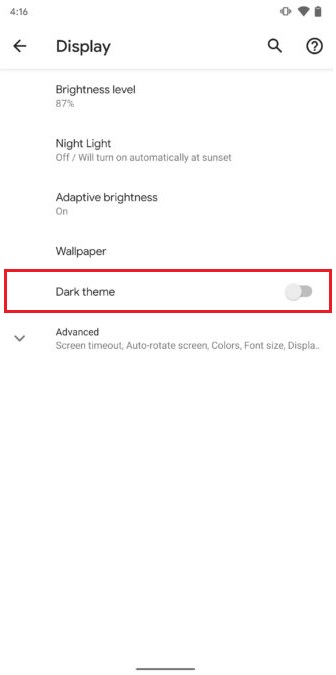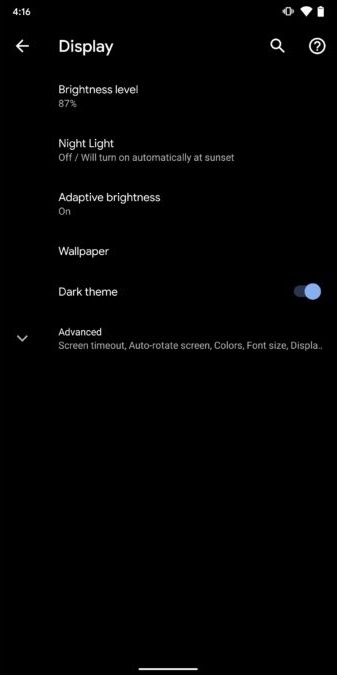 As soon as you turn on the dark theme, your phone display will turn black. This will confirm that the dark theme is successfully enabled on your phone.
This will enable dark mode on Android 10 system UI only. It'll not enable a dark theme on every app installed on your mobile. Hence, to enable dark mode in all apps, refer the method at the end of this guide.
Method 2
Pull down the notification panel of your phone twice.
Click on the pencil icon located in the bottom left corner of the Quick Settings.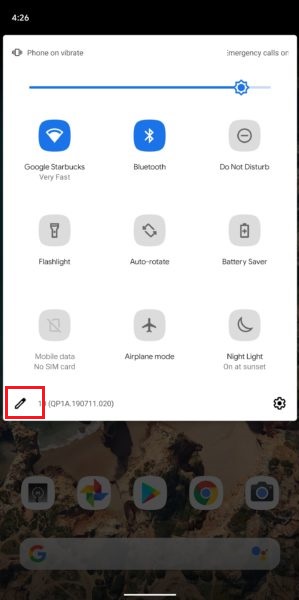 This will open the Edit Quick Settings menu.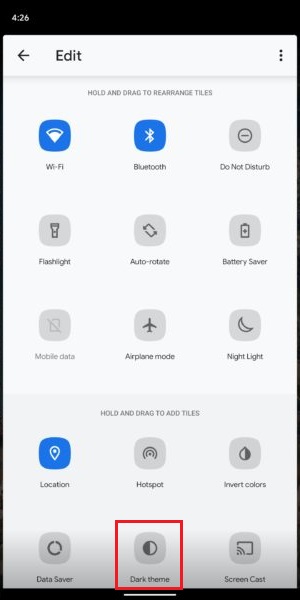 Just drag and drop the Dark theme icon to the Quick Settings screen.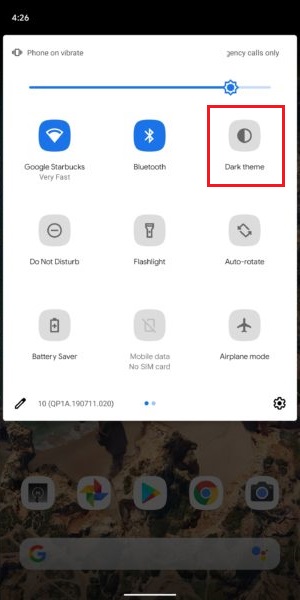 From now on, you don't need to go through the settings every time. All you need to do is pull down the notification panel and tap on the dark theme icon.
Method 3: (Only For Pixel Phones)
Pull down the notification panel of your phone.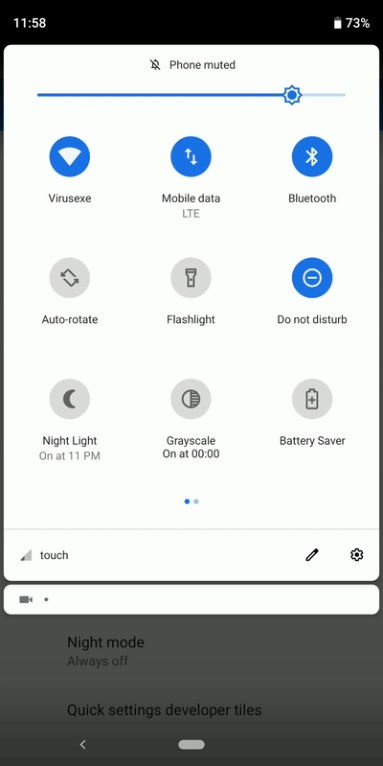 Now, simply tap on the Battery Saver mode icon.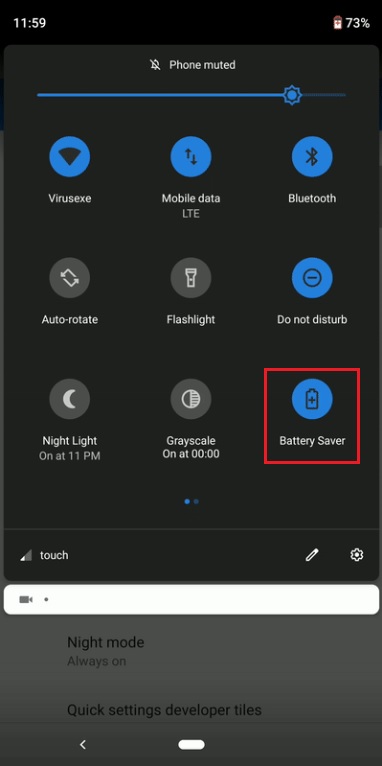 This will automatically enable a dark theme on your phone.
If you don't see the Battery Saver option on your Pixel device, go to Quick settings and drag and drop the icon to your notification panel.
This is how you can turn on the Android 10 dark theme for Google Pixel phones.
Steps to Force Enable Dark Mode for all Apps in Android 10
Firstly, enable Developer options on your phone.
In Developer Options, scroll down to the Hardware Accelerated Rendering section.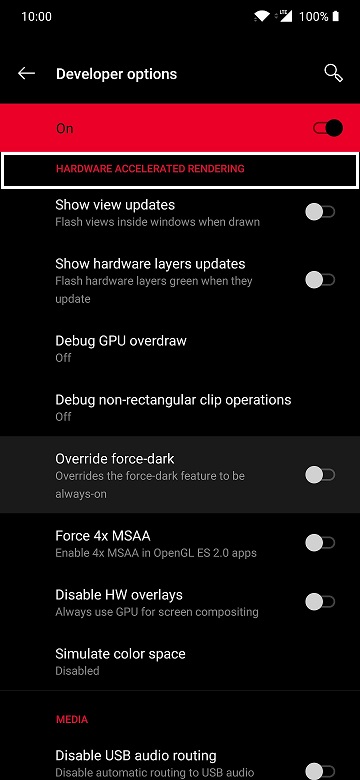 Here, Enable Override Force Dark option.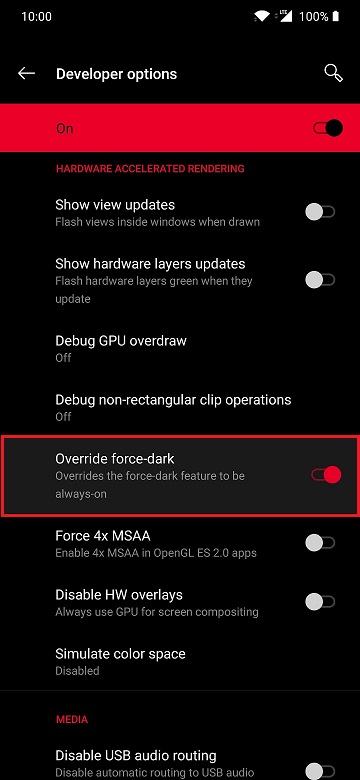 For Samsung Phones, this option is named as Force Dark mode instead of Override Force Dark.
Conclusion
Finally! You've successfully enabled Force Dark Mode in all Apps on the Android 10 Q update. Now all the apps installed on your phone will have a dark theme. This will indeed improve the visibility of the users who are sensitive to bright light or low light vision.