I loved playing PSP games on my PlayStation Portable. However, I was disappointed when Sony discontinued the PSP console. Apparently, the hardware wasn't powerful enough to run new games. But eh, I still love to kick some ass playing Tekken 6 on my PlayStation Portable. The good news is that you no longer need a physical console to enjoy PlayStation games. With an Android emulator, it is now possible to download and play PSP games on your mobile phone itself.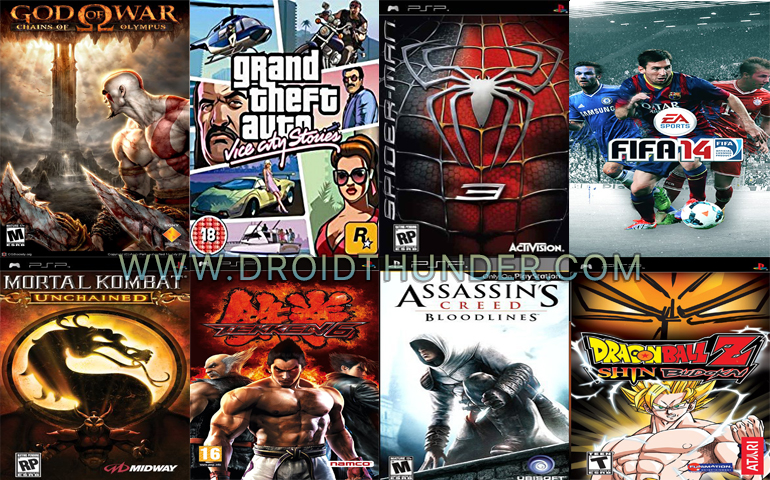 Mobile phones have changed our lives in recent times. You can almost do everything on your Android device. A mobile handset allows people to do shopping, plan, communicate, and play games on the go. However, I would've never expected to download and play the old-school classic PSP games on my Android device. Isn't it exciting! All you need is to download and install PSP games on your phone. Then use the PPSSPP emulator to play these PlayStation games. You can even connect any gamepad controller to feel the same PlayStation emotions.
But the main question is, how do I download games in the PPSSPP emulator on my Android phone? Is there any tool or website to directly download PSP games on my Android device without a PC? Well, I've got some good news for you, my friend. In this article, we've listed the top best websites and sources to download PSP and PPSSPP game ROMs for Free on your PC or Android phone. Besides, you can also download popular emulators such as NDS, N64, Sega Genesis, MAME, GBA, PSX, PS2, SNES, GameCube, NES, etc.
Disclaimer: We do not own any of the websites mentioned below. Although we've selected safe and legal websites, if you come across any malware, virus, or trojan, we at Droid Thunder will not be held responsible for that. Use these websites at your own risk.
5+ Best Websites to Download PSP / PPSSPP Games for Android
Here is the list of the top 6 websites to download highly compressed PSP Games for Free. Let's get started.
1. Romspedia
When it comes to downloading console ROMs, there is no better website than Romspedia. The essential purpose of this website is to protect classic retro arcade games from disappearing. Moreover, Romspedia provides a directory of Emulator ROMs that are no longer available in the PSP market.
Romspedia is an entirely safe and secure website to download PSP game ROMs and emulators. Besides, this website gives direct download links without any re-directs or popup ads. If you want to download PSP games iso file for android with fast download speed, then Romspedia is the one for you.
2. Emuparadise
The biggest retro gaming website on earth! Yes, this is the tagline of Emuparadise, the oldest website that has shared classic games for more than 20 years. Apart from PPSSPP ROMs, Emuparadise also provides emulators, music, videos, game guides, magazines, etc. If you are a true PSP fan, you'll love everything about this website.
Moreover, this website also has a community forum where you can ask any questions, share your experiences, or discuss PPSSPP games. Recently, Emuparadise hosted a big giveaway on its 20th anniversary. If you want to download PPSSPP ISO files for Windows, Android, and iPhone, take a look at this website once.
3. FreeRoms
FreeROMs is an alternative to Romspedia. The website provides PSP ROMs with fast download links and highly compressed game ISO files. Besides, the website is easy to navigate with no ads or popup notifications.
If you want popular PSP games such as Spider-Man 3, God of War Chains of Olympus, Grand Theft Auto Vice City Stories, etc., visit FreeROMs once. Moreover, you can also install Amiga, Amstrad CPC, Atari Jaguar emulator games.
4. CoolROM
This is undoubtedly the most famous PPSSPP ROMs downloading website available out there. If you are new to PPSSPP emulator games and don't know how it works, then CoolROM also offers a detailed tutorial guide. Besides, this website features a user-friendly interface that makes it easy to search and download PSP games.
Moreover, the download links work perfectly without any infected or malware files. The CoolROM website gives direct download links to the latest emulator version of Visual Boy Advance, Project64, PCSX2, ePSXe, DeSmuME, ZSNES, Dolphin, NO$GBA, and Fusion emulators.
5. Consoleroms
Do you want to download PPSSPP games under 100MB? If yes, then visit Consoleroms. This website focuses more on Sony PS1 and PS2 ROMs ISO and CSO files. It is similar to Romspedia with easy categorial navigation and decent download speed.
However, you can also download GBA, GBC, SNES, N64, and NDS games. Dragon Ball Z Budokai Tenkaichi 3, Mortal Kombat Deception, Pokemon Emerald, Crash Bandicoot, Super Mario World, WWE 2K20, and Marvel VS Capcom 2 are the most downloaded games on this site.
6. DownloadGamePSP
DownloadGamePSP is another well-known website to download and play console games. Do you want to play PS5 games on your Android phone? If yes, then this is the website for you. Whether it is action, adventure, racing, RPS, shooter, fighting, sports, simulation, strategy, etc., here, you'll get every genre of games.
Besides, you can also download Xbox, Wii U, PS3, 3DS, Nintendo Switch, PSVita, and PS4 emulator games. Since it provides PSP games download links on Google Drive, the downloading speed is fast and malware-free. However, you must complete the I'm not a robot captcha and click on Get Link after 3-4 ad popups.
PSP Games Installation Guide
Now that you've downloaded the PSP Emulator Game, it is time to install it on your Android device.
Websites to Download PSP Games for Free – Final Conclusion
We hope that this guide will help you download and install PPSSPP games on your iPhone or Android device. Enjoy old Sega, Game Boy Advance, and Nintendo games and retrieve your childhood memories. Make sure to bookmark these websites for quick access. If you know any other online sources to play retro games, then please let us know in the comment section below.