Update Galaxy A7 SM-A700FD to Android 4.4.4 KitKat firmware. Galaxy Alpha was the first step towards the change that Samsung was for looking for. The Alpha sported a metal frame which was one of the essential aspects a potential iPhone competitor would have.
Then Samsung launched the new Galaxy Note 4 with the chamfered edges and the metal frame which became famous in no time. Then came the Galaxy A and E series of smartphones. Samsung has finally focused on the design and build for which they were criticized a lot in the past.
Galaxy A series from Samsung not only comes with a full metal body construction but a much better-looking design with the new TouchWiz user interface. Galaxy A7 is priced at Rs. 30,499 which is less expensive than the Galaxy Alpha which was priced at Rs. 39,990.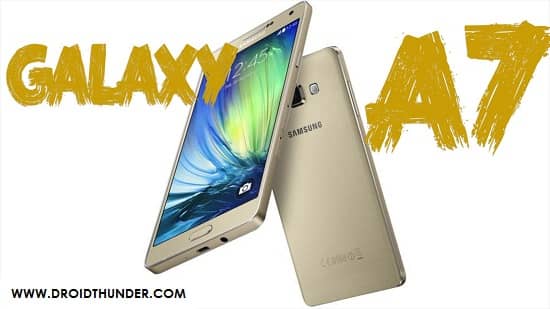 There is also a dotted pattern similar to the back of the Galaxy S5. Galaxy A7 comes with Android 4.4.4 KitKat OS and is powered by Qualcomm Snapdragon 1 GHz processor, 5.5-inch 1080p Super AMOLED display with 1080×1920 pixels, and 2GB RAM.
More of its features include 2600mAh battery power, 13-megapixel rear camera, and 5-megapixel front camera. Here in this article, we'll show you the detailed procedure on how to flash Android 4.4.4 DDU1AOD1 KitKat firmware on Samsung Galaxy A7 SM-A700FD smartphone.
How to Update Galaxy A7 to Android 4.4.4 A700FDDDU1AOD1 firmware
This is a Stock firmware and can be flashed the time if you want all your phone settings as they were when you bought it. If are stuck in a boot loop or have soft bricked your phone or lost IMEI number then flashing this official KitKat firmware can help you out.
Also, your phones warranty can be regained back in case if you have rooted it. So if you want to flash the latest KitKat DDU1AOD1 firmware on your Samsung Galaxy A7 SM-A700FD smartphone then proceed to our step-by-step guide given below.
Firmware Info
Model: SM-A700FD
Model name: GALAXY A7
Country: India
Version: Android 4.4.4
Build date: Fri, 24 April 2015
Product Code: INU
PDA: A700FDDDU1AOD1
CSC: A700FDODD1AOD1
Disclaimer
This article is risky and may brick your phone if done in a wrong way. Hence proceed with caution.
Compatibility
This Official Android 4.4.4 DDU1AOD1 firmware update is only for Samsung Galaxy A7 having the model number SM-A700FD. Implementing this on any other phone or variant may result in unwanted outcomes or bricked devices.
Pre-Requisites
Charge the battery of your Galaxy A7 at least up to 60%.
Backup all your important phone data and settings including contacts, call logs, memos, etc.
Turn on the USB debugging mode on your phone.
Install Samsung USB Drivers on your PC.
Disable all the security tools as well as antivirus on your PC.
Downloads
Steps to install Android 4.4.4 DDU1AOD1 on Samsung Galaxy A7
Download and extract both the above files in a specific folder on your computer.
Now you need to boot your Galaxy A7 into downloading mode.
For that firstly switch off your phone completely.
Press and hold the 'Home Button + Volume down + Power Button' simultaneously.
Keeping the phone as it is, connect it to the PC using the USB cable.
Now just press Volume Up key to continue. This will directly land you into downloading mode.
On PC, launch 'Odin Multi Downloader3-v3.10.6′ software which you've just received after extraction.
As soon as you open it, the ID: COM section located at the top left corner will turn light blue.
Also, an Added message will appear in the message box window.
This will confirm that your Galaxy A7 SM-A700FD has been successfully connected to the computer.
But if this thing doesn't happen then it's more likely to be a problem with the mobile drivers.
You'll find Auto Reboot and F.Reset options on the Odin window.
Tick only these two options and leave all the other options as they are.
Do not tick the Re-partition option as this may brick your phone.
Now, tick against the 'AP' button and navigate to the firmware package & select it (The extracted firmware file may look like: A700FDDDU1AOD1_ A700FDODD1AOD1_INU.tar.md5).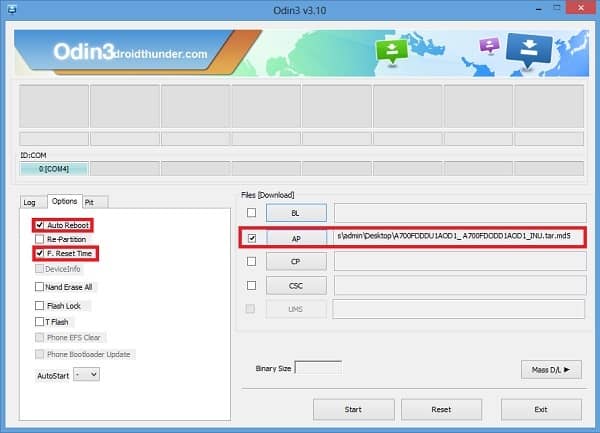 That's it! You need to just start the flashing process now.
For that press the Start button located on the Odin window.
Note that the phone will automatically boot itself as the process goes on.
Do not disconnect the USB cable until the process completes.
Be patient and wait for the process to complete.
As soon as it completes successfully, the ID: COM section will turn green with the Pass message.
This will confirm that you have properly flashed the Official Android 4.4.4 DDU1AOD1 KitKat firmware on your Galaxy A7.
Now you can disconnect your phone by safely removing the USB cable.
Note: If the process fails or in case your device gets boot loops, then close the Odin window. Again boot your Galaxy A7 into download mode and repeat the procedure.
Conclusion
Finally! This is how you can flash the latest official Android 4.4.4 DDU1AOD1 KitKat firmware on your Samsung Galaxy A7 SM-A700FD smartphone. To confirm the same go-to Menu > Settings > About Phone. In case if you come across any difficulty or have any issue with the process, just inform me through the comments section.