Samsung Galaxy Mini S5570 has now become an outdated device. But there are still many users who own this smartphone. You know even if this phone does not have that many features as compared with today's phone, then also it is liked by many.
We have posted a few custom ROMs for this device earlier which were appreciated by all. But along with that what people wanted was a stable official firmware for this device. Here, we will flash Gingerbread 2.3.6 XWKTN Firmware on Galaxy Mini S5570.
You must note that this is not a custom ROM which will void any warranty. It is just a simple stable stock ROM which is officially launched by the Company. And even if you have lost your warranty and those default settings, all those can be easily regained with this firmware.
Related: Install Android 5.0 Lollipop ROM on Galaxy Mini GT-S5570
One more fact that you must flash this firmware is that, even though there are various custom ROMs out there with extra breathtaking features. Still, all of them might be not stable. Every ROM has something or the other issue in it.
It's because the ROMs requirement is a good hardware and devastating RAM compatibility which can never be fulfilled with this aging device. At that time an official firmware can only help you. It is stable, has no lagging problem and everything works just fine.
How to Update Galaxy Mini to Android 2.3.6 XWKTN firmware
So just proceed further for flashing the most well known Gingerbread firmware on Galaxy Mini.
Disclaimer
The official firmware given below for flashing Gingerbread 2.3.6 XWKTN on your Samsung Galaxy Mini S5570 is considered to be of much risk. If anything happens to your phone by following this article then you alone will be responsible for that. Hence, implement every single step with a full attentive mind and of course at your own risk.
Compatibility
Note that this official firmware is only for Samsung Galaxy Mini with model number GT-S5570. If you try this process on any other device or variant, then it might result in unwanted outcomes. Hence, check your device model number from Homescreen > Menu >Settings > About Phone before going further.
Pre-Requisites
Ensure to charge your Galaxy Mini to a minimum of 65%.
Backup your contacts, apps, messages, APN settings, call logs, notes, etc.
Turn on the USB debugging mode on your device.
Install Samsung USB Drivers on your PC.
By assuming that you have followed all the instructions mentioned above we will proceed further with the actual Gingerbread 2.3.6 XWKTN firmware flashing process.
Downloads
Odin Multi Downloader + OPS File
Android 2.3.6 XWKTN Gingerbread
Steps to update Galaxy Mini S5570 to Gingerbread 2.3.6 firmware
After successfully downloading both the files given above, extract them into a specific folder.
You'll find the following five files inside the firmware package:
APBOOT_S5570XWKTN_CL1019135_REV02_user_low_true.tar.md5
CODE_S5570XWKTN_CL1019135_REV02_user_low_true.tar.md5
CSC_S5570XWKTN_CL1019135_REV02_user_low_true.tar.md5
MODEM_S5570XWKTN_CL1019135_REV02.tar.md5
SS_DL.dll.
From which, SS_DL.dll is just a script file and is of no use. So ignore it.
Now switch off your Galaxy Mini completely.
You need to enter into downloading mode now.
For that, press and hold the 'Home Button (middle button) + Volume down key + Power Button' simultaneously.
Keeping the phone as it is in downloading mode, connect it to your PC using a USB cable.
Open 'Odin Multi Downloader_v4.38' which you have just downloaded.
As soon as you open it, the ID: COM section in it will turn yellow.
f it's not showing, then confirm you have properly installed those device drivers on your PC.
Select the 'OPS' tab on the Odin Downloader window and select 'TASS-v1.0.ops' file.
On the top left side of the Odin window, you'll find the One Package option.
Un-tick that option as it's of no use in this process.
Now select the 'BOOT' tab and open the 'APBOOT_S5570XWKTN_CL1019135_REV02_user_low_true.tar.md5' file from the firmware package.
Similarly, select 'Phone' tab and locate 'MODEM_S5570XWKTN_CL1019135_REV02.tar.md5 file'.
Furthermore, select the 'PDA' tab and locate the 'CODE_S5570XWKTN_CL1019135_REV02_user_low_true.tar.md5′ file.
Finally, select the 'CSC' tab and locate the 'CSC_S5570XWKTN_CL1019135_REV02_user_low_true.tar.md5' file.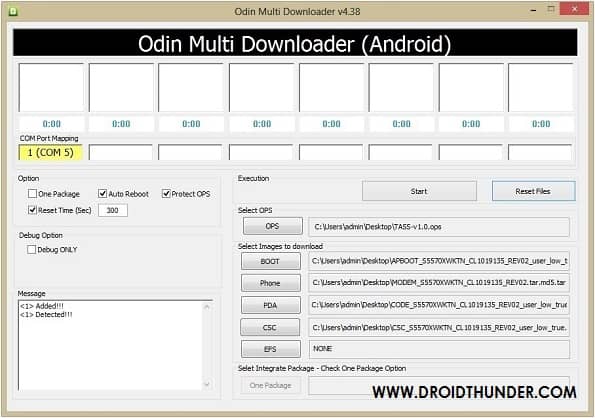 At last, press the Start button to begin the flashing process.
Your phone will automatically reboot itself while going through the process.
Do not touch or remove the USB cable until the process completes.
The process will last up to a few minutes to complete.
Upon completion, the ID: COM section will turn blue with a Pass message.
This will confirm that you have installed the Galaxy Mini Gingerbread 2.3.6 XWKTN firmware.
You can now safely disconnect your phone by removing the USB cable.
Note: If Odin fails, then close the Odin window, remove and re-insert the battery. Again enter your device into download mode and repeat the entire process.
Conclusion
Finally! This is how you can flash the Official Gingerbread 2.3.6 XWKTN firmware on your Samsung Galaxy Mini S5570. Moreover, you can confirm this from Menu > Settings > About Phone. This is a stock ROM that you can flash whenever you want to restore the default system. Do tell us your views and experience after using it.